Cleveland Browns Still Have Options on Offensive Line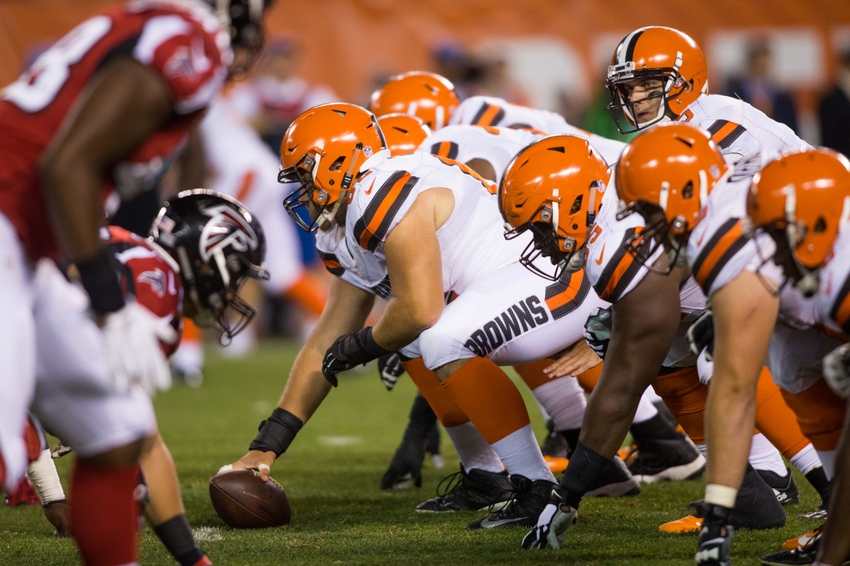 The Cleveland Browns offensive line has been savaged by injuries and the running game has suffered. However, there are still options up front.
After leading the NFL in rushing yards for the first month of the season, the Browns have rushed for just 67 yards combined the past two games. Injuries have been brutal on the interior. The most notable loss is that of Joel Bitonio to foot surgery, forcing them to shuffle their lineup more than anyone would like. Hue Jackson still has a few cards left to play, though, which might be able to strengthen the offensive line and help develop their group for the future.
Against the Tennessee Titans, the Browns from left to right went Joe Thomas, Alvin Bailey, Cam Erving, John Greco and Austin Pasztor. The big problem area was at left guard and center.
There are a few reasons this was such an issue, both because of what the Browns are doing and what opposing defenses are doing. The good news is the players the Browns have can improve. The bad news is that defenses are going to keep doing what they're doing and it's effective.
First, defenses are doing everything they can to stop the run. Obviously, the Browns are on their third quarterback in Cody Kessler, who is also a rookie. Focusing their defense to do everything to stop the run puts the Browns offense in bad down and distance situations.
Kessler has to pass to move the Browns offense. Defenses are able to pin their ears back and might give up some plays, but they have ultimately been able to capitalize on mental as well as physical mistakes to get to and hit Kessler. In addition to possibly knocking him out of the game, which the New England Patriots succeeded in doing, it makes him uncomfortable and more likely to make mistakes.
This is not likely to change and opponents capable of doing so will adopt this formula. Kessler did an admirable job passing the ball against the Titans, throwing for 336 yards and two touchdowns. Those numbers are impressive, but they are also virtually all the offense the Browns had in that game. The Browns had 341 total yards in the game. Being that one-dimensional, they lost.
The other issue that's affecting the Browns along the offensive line is mental mistakes. Particularly in pass protection, the Browns are running up against teams with talented defensive fronts who are trying to find the weakest link.
This past week, that was Bailey and Erving. Physically, they have more than enough ability to do the job and when they are confident, they can be effective. Unfortunately, especially with Erving—who simply doesn't have much experience playing offensive line—they can find themselves unsure on mental aspects, which makes both players look bad on the physical end.
Against the Titans, mental mistakes on stunts had Erving responsible for Kessler getting decked twice. Clearly, those mistakes can't happen and the head coach sees the same thing fans do in that instance and cringes when he sees his quarterback get virtually decapitated because of a bad mental error. The team loves what Erving can be, which is why they are insistent on playing him. But first, he has to get there.
Having said all of that, the Browns can change things up to help them improve at a couple spots. Thomas, Erving and Greco stay exactly where they are. Thomas is great, Greco is solid and Erving needs all the reps he can get so he can improve. It's on him to master the mental aspects of the game, but he needs to see it and learn to deal with it.
Pasztor should kick inside to left guard. He is a perfectly good run-blocking right tackle. Playing with a nasty demeanor, he really brings it when he pulls. Pasztor's biggest problem is when he is exposed in space. If the Browns are going to be stuck in pass protection a substantial amount of the time, his benefits are basically neutralized and he's just a guard playing tackle and getting exploited.
At guard, he doesn't have to cover as much space, which helps him in pass protection. Additionally, he is a nasty puller and showed some promising signs last year when he had to go to left guard to replace Bitonio, whose season ended due to a high ankle sprain. It was only a couple games, but when the running game was simplified with more gap concepts, he was able to be successful opening up holes.
Erving is a capable run blocker. Again, it's all about when he's confident in his assignment. He's extremely effective when he's got someone lined up over him and can just drive them off the ball. Erving also has terrific agility and can get out and run if needed. This would give the Browns a left side of three strong run blocker in Thomas, Pasztor and Erving that would hopefully re-energize the Browns running game.
Greco stays at right guard, but the Browns bring in rookie offensive tackle Shon Coleman, whom they drafted in third round of the 2016 NFL Draft. Coleman was coming off a torn MCL and still recovering when he was brought to camp. The Browns were also asking Coleman to switch from left tackle to right tackle, which is easier said than done. Those two factors made it hard for him to make an instant impact.
The last piece of the puzzle for Coleman is the playbook he was running at Auburn. That offense under Gus Malzahn operates on formations, motions, and speed to catch defenses off-balance and use their physical superiority to win. For the offensive line, their assignments came down to zone left and zone right in the running game. That's it.
The staff loves Coleman and the physical tools and potential he has but he is going from running basic zone concepts to learning how to play a reasonably complicated gap scheme in the NFL. Footwork, angles, and responsibilities he hasn't done since high school (if ever) and even then, it would be taken to a different level in the NFL. He was already behind because of the injury recovery and switch of positions.
Coleman may well be the linchpin to having Hue Jackson make this move. As much as the staff would prefer he be more ready, which probably wouldn't be until next year, they might have to pull the trigger to try and stimulate the offense. And like with Erving, Coleman will need to learn on the fly and try to adjust as quickly as possible.
There would undoubtedly be mistakes made by Coleman if he's thrust into the lineup. The calculus is that if Pasztor can improve their running game in the middle, it would ease some of the stress on Coleman. Pasztor struggles in space as a pass protector anyway, so the Browns seem to be at a disadvantage at right tackle no matter how they play it.
The Browns are hopeful Coleman can be the long term right tackle. If he can be, that would free up Pasztor to play a guard spot. Obviously Bitonio is the team's left guard, but this would give the team the chance to evaluate Pasztor as a potential right guard for the future. He fits the nasty, big mauling linemen Jackson appears to like and his future at right tackle is pretty bleak, so this might give him a new lease on life in Cleveland.
The best thing the Browns can do for their offense is stimulate the running game. It is an almost impossible feat to expect a third string rookie quarterback to win a game, let alone multiple games, without the benefit of an at least functional running game. If the Browns can run the ball at a decent output, it would help to keep Kessler healthy as well as potentially open up more passing opportunities as he tries to prove that he can be the team's long term starting quarterback.
This article originally appeared on