Cleveland Browns: Spencer Drango solid at left guard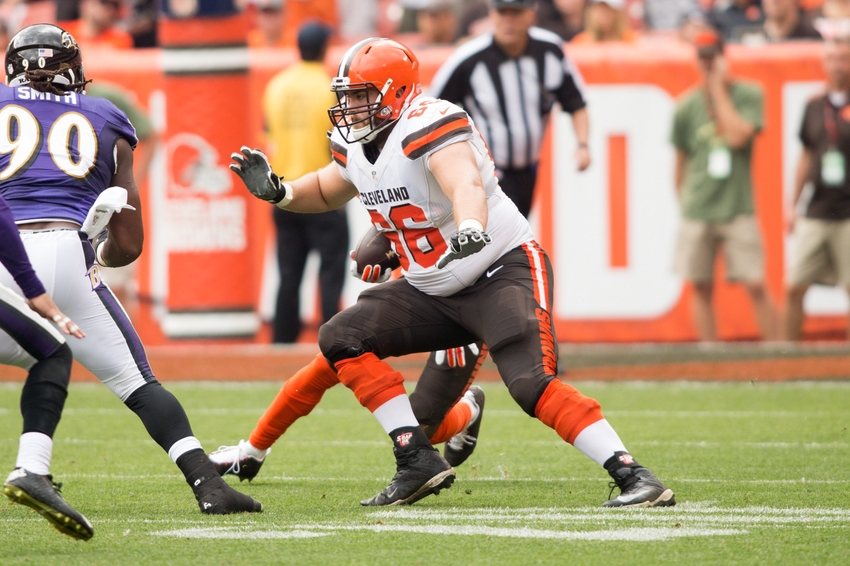 The Cleveland Browns have found a nice surprise in the play of Spencer Drango. Over the past two weeks he has developed into a solid lineman.
The Cleveland Browns head into their bye week having played their best team effort all season. The core of the defense played well. Fringe players are starting to show improvement. On offense, there are fringe players starting to show improvement as well. Most notable of those players is Spencer Drango.
Spencer Drango has been starting at left guard since Joel Bitonio was placed on IR. In Bitonio's absence, Drango has put together a few solid performances. His play has not been remarkably bad bringing attention to himself.
Outside of one embarrassing sack on Thursday Night Football (it is debatable if that sack was Drango's fault), Drango has played solid. This is encouraging for not only the offensive line but also the entire offense.
Spencer Drango was drafted in the fifth round of the  2016 NFL Draft last April. He was drafted out of Baylor and was hailed as a part of the Browns-Baylor connection which included Robert Griffin III, Corey Coleman and Josh Gordon in addition to Drango.
At Baylor, Drango excelled in pass protection while starting at left tackle. He was a two-time Big 12 Offensive Lineman of the Year. He was an Outland Trophy, the award for the most outstanding offensive lineman, finalist in 2015. He was a three-time All Big 12 offensive lineman.
His body size and shape made him a perfect candidate for an interior line position in the NFL. Early in training camp, the coaches started to play Drango at left tackle to help offset the injury of Shon Coleman. When Joel Bitonio was injured, the Browns moved Drango back to guard where he was originally drafted to play.
Since moving into the starting lineup, Drango has been progressing at learning the NFL game. As a rookie, a learning curve is expected. However, Drango has been able to significantly shorten that learning curve for a couple of reasons.
More from Dawg Pound Daily
First, Drango has been asked to pass block a lot. Pass blocking was his strength coming out of college. From his first start until last Sunday, Drango has looked progressively more comfortable pass blocking at the NFL level. Even though his play was not perfect on Sunday (neither was anyone else's for that matter), Drango become comfortable with the blocking schemes. He understands protections and plays within them.
Second, Spencer Drango plays within himself. Unlike other players on the offensive line, Drango plays his role within this overall scheme. He is not trying to do too much. He is not playing scared, intimidated and the moment is clearly not too big for him. He has settled into his role and is performing adequately at left guard.
In the run game Drango has room to improve. He had not been called upon to pull a great deal while at Baylor. The left guard position is a pulling, mauler-type player in the power scheme. Drango has the quickness and strength to do this, but he lacks experience in doing so. He will sometimes struggle to decide if a kick out block or roll block is necessary while pulling. Those decisions will come with time and experience.
In the meantime, his play at left guard has been solid. Drango can be counted on in the future as a solid starter at right guard or depth along the interior line. Spencer Drango is a draft pick that is beginning to work out for the front office.
This article originally appeared on