Cleveland Browns: Seizing Opportunity in Trade for Jamie Collins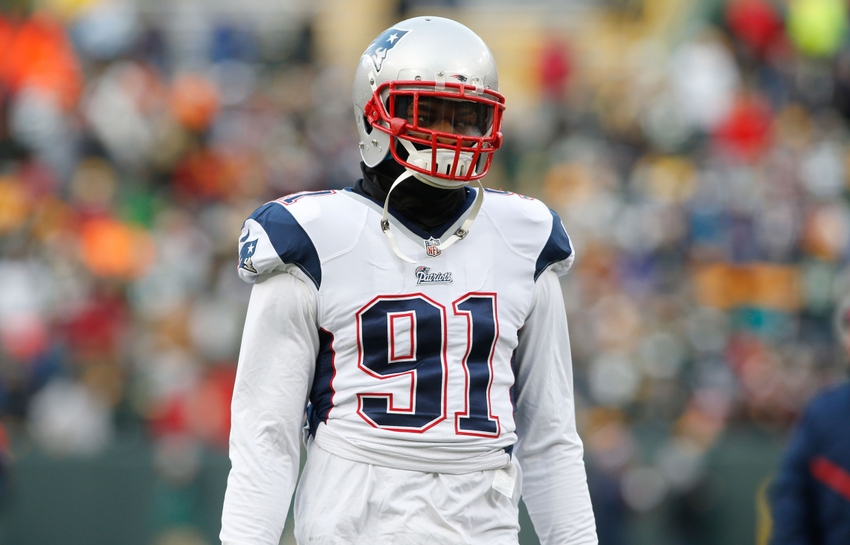 All the rumors had the Cleveland Browns as sellers at the deadline but they jumped at the opportunity to acquire Jamie Collins.
The Cleveland Browns made a big move before the trade deadline, acquiring linebacker Jamie Collins from the New England Patriots for a third-round compensatory pick. The assumption is they will get the compensatory pick the Browns are to be awarded for losing Alex Mack in free agency to the Atlanta Falcons. While there are some moving parts, the Browns may have gotten themselves a franchise defensive player during the prime of his career for a discount cost.
For the Patriots, Collins was a queen on the chess board. He could line up at a number of different spots and excel in a several different roles. If they had a specific matchup problem, they could move him there and he'd take care of it. Most notably, Collins has functioned as an off-ball linebacker next to Dont'a Hightower. He displayed the ability to fly around and make tackles, cover well and be an extra pass rusher.
Right off the bat, the part of this that stands out is his ability to play in coverage, especially against tight ends. This is an area the Browns have been killed for the last several years. Collins gives them someone strong enough to be physical with tight ends and athletic enough to run with them. He also has shown he has the ability to cause turnovers, both with forced fumbles and interceptions.
Collins can also be utilized as an extra pass rusher. Explosive off the line of scrimmage, he's able to play as an edge rusher and play opposite Emmanuel Ogbah as an example. In his four-year career, he's had just 10.5 sacks total. But 5.5 of those came last year and four the year before.
Yes, Collins can get after the quarterback and defensive coordinator Ray Horton will certainly want him to do that, since he does it with just about every position on the field. Nevertheless, Collins' ability to cover as well as he does makes it so other players can attack the quarterback. And in some cases, he can cover a tight end that might require two players to effectively blanket, freeing up a player to help elsewhere.
The Browns are likely to utilize Collins in a few different spots. He could be employed as a base outside linebacker to play opposite Ogbah on the strong side over the tight end. Collins could also simply replace DeMario Davis at inside linebacker next to Chris Kirksey behind Danny Shelton. More than likely, it's going to be a combination.
Collins can play base lined up over opposing tight ends. He can take them in coverage while being able to set the edge as a run defender, allowing Ogbah to face less pressure coming from the weak side. In nickel situations, Collins slides inside, replacing Davis and allowing them to bring in an extra defensive back, upgrading the coverage at both spots.
Davis is a pretty good run defender, but he's completely lost when it comes to pass coverage and has been consistently exploited. Collins would enable Horton to ramp up the pressure and hopefully have more success getting with their pass rush. It's not difficult to argue that based on what he's done to this point, Jamie Collins would be the best player on the Browns defense.
Collins also fits the profile of players the Browns have targeted, looking back at last year's draft. Some of the trends they focused on with their targets included production and explosiveness. Corey Coleman, Emmanuel Ogbah, Ricardo Louis and Seth DeValve also rated highly in these two areas.
Sure, Collins has been productive, but his explosiveness is outstanding. When he tested at the scouting combine for the 2013 Draft, Collins put put up a 41.5-inch vertical jump and an 11'7″ broad jump at 6-3, 250 pounds. To put that in perspective, the same year, Barkevious Mingo put up a 37-inch vertical jump and 10'8″ broad jump at 6-4.25, 241 pounds. Mingo's jumps were excellent. Collins just happened to be otherworldly in that area.
Mingo was faster in the 40-yard dash. He ran a 4.58 while Collins ran a 4.64. And Mingo was better in terms of change of direction skills, but the Browns appear more focused on explosion. In that area, Collins is the superior prospect.
The obviously brings up his availability and how the Browns could get him. Collins is 27 years old and in the last year of his rookie contract, so he'll be a free agent after the season. Reports suggest that Collins had sky-high demands that the Patriots were not willing to meet and opted to deal him, ensuring they got something in return.
Had the Patriots kept Collins and he walked in free agency next year, they would get a compensatory pick in 2018 unless their free agent acquisitions cancelled out the loss of Collins. Even if it would be a compensatory third round pick, it'd be a year deferred. They are now free to attack free agency as aggressively as they want while getting a third-round compensatory pick now.
The Patriots have a few impending free agents they are believed to be prioritizing including fellow linebacker Dont'a Hightower and cornerback Malcolm Butler. They are also believed to love what they have behind Collins in Elandon Roberts. They also have Barkevious Mingo, whom they got from the Browns earlier in the year, who reportedly will start seeing reps with this trade of Collins.
Bill Belichick and the Patriots have been active in moving players they don't feel they can keep, don't want to pay, are getting too old or just don't fit where they are going. Deion Branch, Richard Seymour and recently Chandler Jones are notable examples. The teams that acquire those players may end up with a great trade, but the Patriots simply don't care—move on and play great.
Given Collins' status, the Browns have him for half a season to start learning their scheme. They can then plan around him in the offseason, but that requires a new contract. Presumably, the Browns will be trying to negotiate that deal over the course of the rest of the season.
If not, the Browns have the franchise tag or transition tag at their disposal to ensure they keep Collins. It's important to note that the franchise tag would be hefty, given it's the average of the top five contracts of any linebacker position. That would also mean they need to take care of their other priorities to ensure they have tagging options at their disposal.
That would mean they need to get a deal done with Terrelle Pryor, who is also scheduled to be a free agent before they get to free agency. Reports suggest Pryor and the Browns are talking and Pryor is adamant he wants to play for Hue Jackson, which should help.
If for whatever reason the Browns do not get a contract done with Collins and he walks in free agency, the Browns would be eligible to get a compensatory pick for his loss in 2018. Unless they went out and signed a bunch of free agents, they'd likely get half a season of Collins to just defer a third-round compensatory pick for a year. That's a worthwhile risk.
The slight concern is that is finding where the rubber meets the road on a contract extension. Reports have surfaced that Collins was seeking a huge contract, which played a role in his departure from New England. As unrealistic as that might be, getting a deal done isn't likely to be cheap.
And then the focus turns on Collins can live up to the contract. The Patriots got all kinds of valuable play out of Collins, but the Browns haven't gotten anything from him yet. There's obviously a substantial risk in paying premium dollars to a free agent. The move is worth the risk and the Browns can afford it, but they certainly need him to come through for them.
Based entirely on the merits, the Cleveland Browns made a great decision in acquiring Jamie Collins. The fact that the Browns get no benefit of the doubt (nor do they deserve it) and the Patriots get all of it undoubtedly shapes how this deal is viewed by critics.
In a nutshell, critics are waiting for the other shoe to drop to figure out what is wrong with Collins that this deal was allowed to happen. At least right now, the Browns seemed to have capitalized on a major opportunity to improve their defense. They have secured a ton of draft assets, but what they need are impact players and it appears they've gotten one in Collins.
This article originally appeared on