Crowell, Browns run game finally come alive against 49ers
A big day from the Browns running game has Isaiah Crowell wondering what could have been this season.
Crowell piled up 145 yards and two touchdowns on 20 carries in Sunday's 24-10 win over San Francisco, becoming the team's first 100-yard rusher of the season. Duke Johnson added 78 yards on 13 carries, giving Cleveland a season-high 230 rushing yards.
Head coach Mike Pettine was happy to see Crowell running well, but also showered some credit on quarterback Johnny Manziel.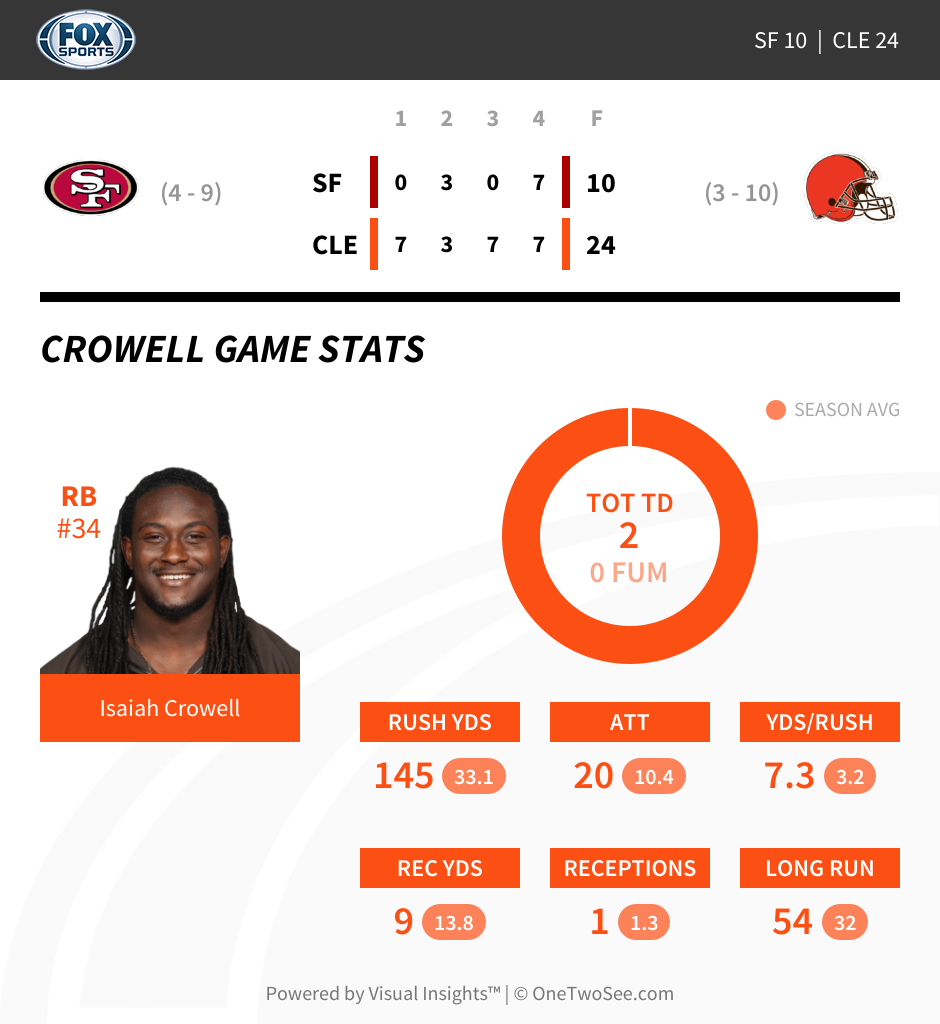 "He got us in the right calls, running against advantageous looks," Pettine said of Manziel. "I thought Crow ran hard, broke some tackles and finished runs. It was good to see."
To say Crowell's sophomore season has been a disappointment would be an understatement. Crowell came into the game with just 397 yards and one score all year. His previous season-high output of 72 yards came in Week 2.
Crowell was expected to play a bigger role in the Browns offense after posting 607 yards and eight touchdowns in a platoon with Terrance West last season. West was jettisoned just before the start of the season, freeing up Crowell to become the bellcow. Crowell has struggled to get anything going virtually all season, splitting snaps with rookie Duke Johnson, but now he's left to wonder what could've been for the 3-10 Browns if the rushing attack took off as it did Sunday.
"I think about that all the time," Crowell said. "Right after the game, I thought about that. Like if we did this every game, we'd have a lot more victories."
Pettine refused to get caught up in hindsight in regards to why his team hasn't relied on the running game more often this season. The run game was supposed to be the strength of the Browns' offense, but instead they entered this week with the worst rushing offense in the league, totaling just 887 yards. The Browns hadn't rushed for over 100 yards since gaining 109 in Week 6 against Denver. Their previous season high was 116 against Tennessee in Week 2.
"No, I'm not looking back at anything that went behind us and have regrets," Pettine said. "We have no control over what came before today. We only control moving forward. We're not going to sit here and lament. A lot of it was matchups, a lot of it was defensive looks that we felt we could take advantage of. We recognized a weakness, and we exploited it."
MORE NEWS:
Want stories delivered to you? Sign up for our NFL newsletters.