Cleveland Browns: Robert Griffin III Practicing, But Will He Start Again?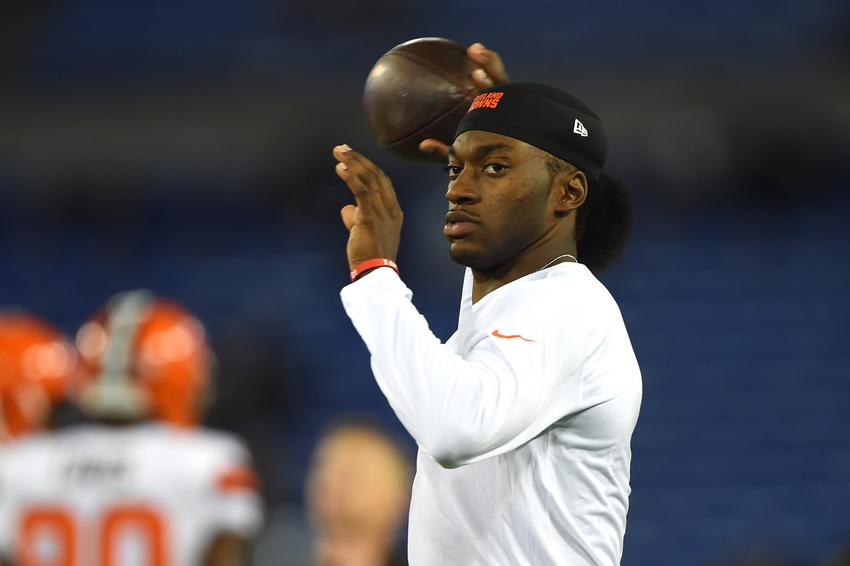 Cleveland Browns quarterback Robert Griffin III hasn't appeared in a game since suffering a season-ending injury in Week 1, but is he ready to return to the field?
Coming into the regular season, there was positive buzz surrounding Robert Griffin III. Seen as Hue Jackson's next project at the quarterback position with the Cleveland Browns, RG3 seemed to be on the road to redemption due to a positive preseason.
Sure, he continued to show a lack of pocket awareness and anticipation, but RG3 did make mild improvements in the realm of quarterbacking. Moreover, he made several big plays to Josh Gordon and Terrelle Pryor, igniting hope that the Browns could be a run-first offense with a big-play passing attack.
Griffin, however, hit the injured reserve with a fractured bone in his left shoulder in Week 1 against the Philadelphia Eagles. He completed under 50 percent of his passes before leaving the game with an interception, but he did average 7.3 yards per pass attempt.
On Wednesday, RG3 returned to Browns practice, though:
There's always been hope that Griffin could return to the field later in the season and it looks like that may happen. There had been rumblings throughout the week that he could resume practicing and on Wednesday that came to fruition.
Cody Kessler has shown some positive traits as an A.J. McCarron-esque game manager,and Kevin Hogan had one sweet rushing touchdown earlier this season. But, as expected, the Browns quarterbacks after Griffin have been underwhelming. Cleveland truly needs to have more than a one-game sample of their most gifted passer.
It will probably never work out for Griffin, but I'm betting that both he and the Browns will want to do what they can to have him starting again this year. Considering how quickly Jackson benched Kessler in the Browns Week 10 Thursday Night Football game against the Baltimore Ravens, the Browns feel like they know what they have in their other quarterbacks.
I doubt they can say the same for Griffin, but the key here is the progression he makes in practice following a serious shoulder injury. My guess is that we will see Griffin starting multiple games this season, but I would expect to see Josh McCown out there against the New York Giants in Week 12
More from NFL Spin Zone
This article originally appeared on