Cleveland Browns: Projecting the Front Seven Forward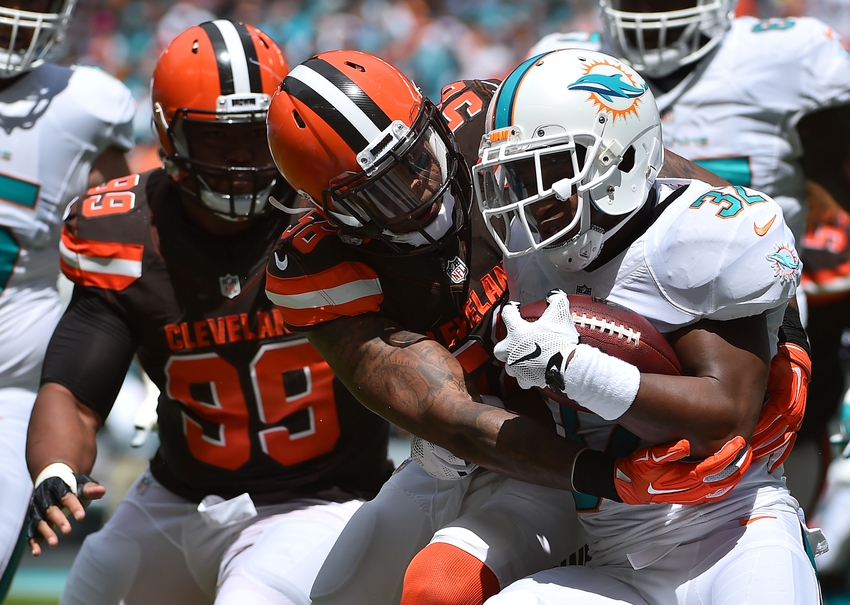 In bringing in Jamie Collins and a blueprint to build around their front seven, what's the next step for the Cleveland Browns defense?
Adding Jamie Collins to the Cleveland Browns has further cemented the direction this team intends to go. Collins fits a number of trends that were established last offseason when this regime took over and lay out a blueprint for the future. All signs point to the Browns adding a productive, explosive pass rusher in the first round of the 2017 NFL Draft and possibly with the first-overall pick.
One theme found with the entire 2016 draft class, as well as Collins is production, is that every player was highly productive in college relative to their team's output. This is often referred to as market share. Collins was productive at Southern Miss, but has the added benefit of being a proven impact playmaker in the NFL.
The other area that was a key component in what the Browns have targeted is in their athletic testing. Emmanuel Ogbah becomes the most important of the defensive rookies in this discussion. He was the first defensive player taken and exemplifies the profile the Browns are targeting. In his athletic testing, Ogbah was terrific both in his explosion and raw speed.
At 6-4.25, 273 pounds, Ogbah ran a 4.63-second 40-yard dash, had a vertical jump of 35.5 inches, and a broad jump of 10-feet,1-inch. Corey Coleman, Ricardo Louis and Seth DeValve also performed extremely well in these areas. Ogbah's change of direction tests graded pretty average, but the Browns seem far more focused on raw explosion. The Browns want players that come off the ball with speed and strength.
Collins fits this profile as well. In 2013 at 6-3.5, 250 pounds, Collins ran a 4.64-second 40-yard dash, which is good, but his jumps were otherworldly. He had a vertical jump of 41.5 inches and a broad jump of 11-feet, 7-inches. Those are double-take, Olympic caliber level numbers. And like Ogbah, his change of direction tests were average.
That gives the Browns two elite athletes in their front seven. Ogbah is an edge rusher with the hope he can develop into an impact player. Collins is currently playing outside linebacker across from Ogbah in their base package with Demario Davis in the middle. In nickel, Davis comes off the field and Collins slides into the inside to take advantage of his ability in coverage while still being a pass rush threat.
Given what the Browns have currently, this is the best usage of Collins. Davis is a decent run defender and Collins is good on the edge. If they add another elite athlete on the outside that can impact the quarterback, Collins can slide inside full time. The combination of Kirksey and Collins would never come off the field and give them an impressive inside linebacker duo.
It would also mean having high-caliber athletes on each side of the defense and up the middle. This would mean the offense can't simply hide from one or even two of them. Ogbah on one side (usually the left), Collins in the middle, and the player to be determined on the right. So, the focus becomes finding a premier edge rusher that can move Collins inside on a permanent basis.
The Browns have two first-round picks and appear headed for the top pick in the entire draft. Obviously, the quarterback position will be a major discussion for the draft and should be, but they still have the other first-round pick.
When discussing premier edge rushers, the first name that everyone mentions is Texas A&M defensive end Myles Garrett. Garrett had a monster year as a sophomore and, while his junior year hasn't been as impressive as he's been dealing with nagging injuries and teams are game planning to stop him, he's still doing plenty within the Aggie defense.
The unknown quantity with Garrett and any of these prospects is how they will test athletically. Obviously, Garrett jumps off the screen with how impressive he looks and it stands to reason that he will perform well. If his explosion numbers stand out, it should not be a surprise if the Browns decide to pick him.
The added benefit with Garrett is that he can play all the way out on the edge, but he's big enough and strong enough to play the 5-tech depending on the package. He's got a long frame that should continue to fill out, especially since he's not even 21 years old yet.
That versatility gives the Browns all kinds of options in terms of how they can line him up to get him favorable matchups. If they line him up on the edge, they can go big while still having athleticism. Line him up inside and they can maximize their speed to attack the opposing quarterback, bringing in an additional pass rusher.
Should the Browns opt to take a quarterback with the top pick, there are two names that enter the conversation; Derek Barnett from Tennessee and Solomon Thomas from Stanford. Despite being similar in size and being highly productive, they play the game differently.
Barnett is the truest edge rusher of the group. He is a terrific speed rusher that can bend around the edge or attack inside. This was on display in the game against Alabama against Cam Robinson.
The issue with Barnett is, while he's gotten thicker every year of his collegiate career, he has yet to embrace a power game. That is the last piece of the puzzle for him to be an elite prospect and what could allow him to be a truly great player in the NFL.
While Barnett thrives on the edge, Solomon Thomas loves to go right at his opponent. The Stanford defense utilizes him anywhere from nose to a bent 9-tech. Thomas is accustomed to taking on contact immediately and looks to initiate it. He does a good job using his hands and can overwhelm opponents with his athleticism, enabling him to make plays behind the line of scrimmage.
The last piece of the puzzle is off the field. When asked about Dak Prescott leading up to the Dallas Cowboys game, Hue Jackson said his DUI arrest did not impact their evaluation or opinion of him. Whether or not that's true, the Browns didn't select a single player in the 2016 NFL Draft with an arrest.
Not only that, but this regime has actively tried to eliminate problem children from the roster. Johnny Manziel, Josh Gordon, Armonty Bryant and Justin Gilbert have all been purged this year. They may loosen up their character demands going forward, but they seem to be avoiding off-field headaches. At least on the surface, Garrett, Barnett and Thomas are clean. The team will have to further investigate to see if that holds up under scrutiny, but so far, so good.
No, adding an edge rusher doesn't address a secondary full of holes. The Browns do need to improve their defensive backs, particularly at corner. But this comes down to scarcity and the quickest path to victory.
There are only so many people on the plant that are over 250 pounds and that athletic. Looking around the league, the teams that have collected the most tend to be good. Pass rushers, tight ends, defensive linemen and offensive linemen. Obviously quarterback is the most important, but this is purely about defense. The Browns would have three of those top-caliber athletes.
Football is all about the quarterback. Teams have to have a good one and then it becomes about protecting theirs and impacting the opponent's. As important as defensive backs are, having players that are constantly a threat to hit the quarterback often make the bigger impact.
Quarterbacks can shake off interceptions. But after a while, a physical pounding takes a toll. They think less and less about winning and focus more on how to make the pain stop. The second the opposing quarterback is focused on his own survival, it's a huge advantage for the defense.
The evolution of how the game is officiated agrees. Even if roughing the passer gets called more often and comes with a 15-yard price tag, it at least involves a hit that can make a quarterback think twice. Pass interference calls are something to shoot for because they don't come with the brutality and it's incredible difficult to officiate.
None of that changes how much help the secondary needs. It just makes sense that the Browns would want to put the majority of their resources in the front seven when it comes to the defensive side of the ball. They are simply more difficult to find and they tend to have the greater impact.
The Browns could go in a completely different direction, especially since their track record is so short. To this point, everything they've done to this point has them headed in this direction. Many are quick to dismiss analytics, but this is how it works. The organization determines what's important and these processes help them focus on finding players that fit. That process has them targeting a productive, explosive edge rusher that is clean off the field. And if they have the pick and he's there, there's a good chance they'll use it to select Myles Garrett.
This article originally appeared on