Cleveland Browns: Josh McCown's role on this team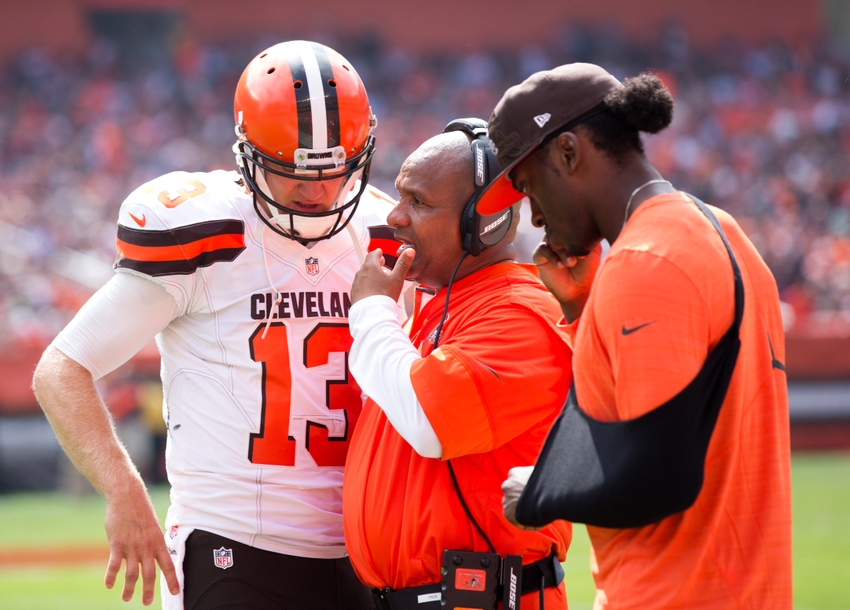 The Cleveland Browns signed Josh McCown in 2015 to serve a specific purpose. He is now in a position to serve that purpose once again in 2016.
Another season of Cleveland Browns football, another situation of pure chaos at the quarterback position. Never change, Browns, never change.
The Browns enter Week 6 having already used four quarterbacks this season, with three individuals starting games. The total number used can even be considered five if you count Terrelle Pryor, although he is being used more in run packages when in the backfield.
Using this many quarterbacks so early in the season has done nothing to help this 0-5 team, and the uncertainty continues this week as rookie Cody Kessler, the most recent starter, is recovering from a rib injury that knocked him out of last Sunday's game.
In a desperate attempt to avoid starting Charlie Whitehurst, who would become the fourth starting quarterback in just six games, the Browns may be going with Kessler if he is healthy. That is, if Josh McCown is physically unable to play.
McCown is returning to practice this week and will surely tell coaches he is fine after fracturing his collarbone in the Week 2 game against the Baltimore Ravens. This happened in the first quarter, yet he went on to finish the game, showing just how tough he is and has been for his entire career.
While Kessler may be healthier than McCown, the veteran should get the starting nod over the rookie if he is healthy. When it comes down to a 37-year-old at the end of his career and a rookie is just 23 years old, the veteran should be out there if the rookie may be dealing with an injury.
This is exactly why McCown was brought to Cleveland in the first place. At the time, Johnny Manziel was the supposed savior, with McCown holding down the position until the former college star was ready. We all know how that turned out.
This year, McCown was supposed to be ready for the inevitable moment when Robert Griffin III went down with an injury, which ended up being just one week.
After McCown went down with an injury of his own, Kessler got the nod and it only seemed like a matter of time before he was to go down as well. He appears to be ready to go if needed this Sunday, bet Hue Jackson would be smart to go with McCown, as he is here to be the fill-in quarterback until this team finds a permanent, healthy replacement.
The continuous changes at the quarterback position aren't ideal, but having McCown in the game may help bring some sense of stability to this offense. He just needs to make it through an entire game without suffering an injury. And that may even be too much to ask for a Browns quarterback in 2016.
More from Dawg Pound Daily
This article originally appeared on