Cleveland Browns: Jamie Collins Top Priority in Free Agency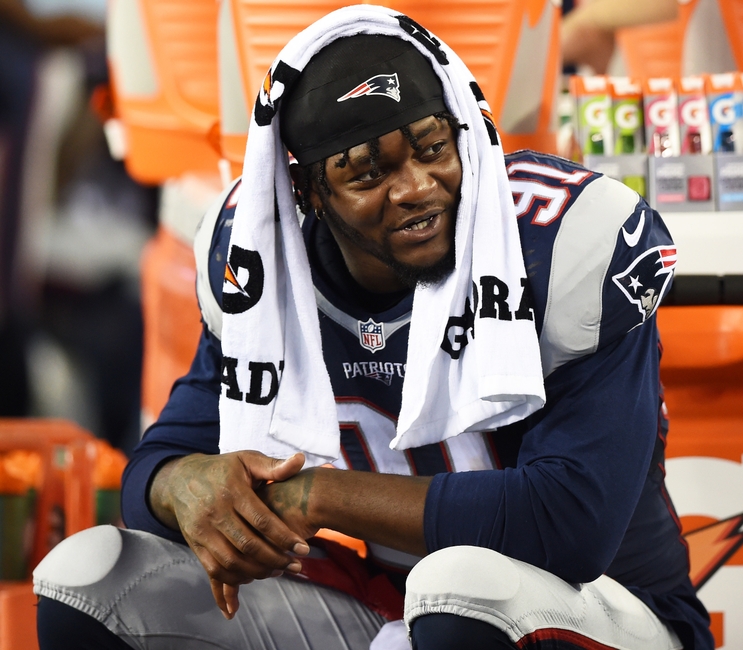 The Cleveland Browns will have a few free agents they must make decisions on in the offseason, but their top priority must be to keep Jamie Collins long-term.
Part of the reason the Cleveland Browns could acquire Jamie Collins for just a third-round compensatory pick is because he's scheduled to become an unrestricted free agent after the season. While critics argue the Browns must sign Collins to an extension to avoid embarrassment, the reality is they need to sign him because he is the best player on the team not named Joe Thomas.
Since joining the Browns, Collins has fielded a number of questions from reporters about whether or not he would like to remain in Cleveland after the season. While polite and professional, Collins has been pretty non-commital on the proposition other than to say that he likes his teammates and the family atmosphere in Cleveland. His agent, Bus Cook, has been more optimistic about him staying in the long-term.
In the event Collins leaves in free agency, the Browns would almost certainly get a third-round compensatory pick in 2018. The Browns would have eight games of elite linebacker play in exchange for deferring a third-round pick for a year. That's a perfectly reasonable transaction.
The issue for the Browns is what Collins represents. Cleveland has been regarded as a NFL city where players go to get paid, but their careers go to die. Given the overwhelming lack of success since the team came back in 1999, this is inarguable. The only way the Browns could get a player the caliber of Collins was to trade for him, because he would never have come to Cleveland freely.
The Browns have half a season to convince Collins that Cleveland would be good for his NFL future as well as financially. Adding Collins has already paid immediate dividends as he's been a standout defender, despite having been on the team for just a couple weeks.
It would also help pave the way to ending the notion that Cleveland is NFL Siberia, much in the way that Reggie White did for Green Bay. That would also need to be followed up by success in the form of winning, but simply keeping Collins would be notable.
The Browns also have leverage in the form of the franchise tag. They can and, if a deal is not struck, should use the franchise tag on Collins to ensure he stays with the Browns.
Obviously, the catch is Terrelle Pryor, who is the other notable impending unrestricted free agent. Isaiah Crowell will be a free agent as well, but he will be restricted, so the Browns have far more room to operate there.
The ideal scenario is the Browns can extend both Pryor and Collins, so that they can keep two players in their respective primes on the team and allow them to be impact players going forward. Pryor is enthusiastic about staying with Cleveland and playing for Hue Jackson. His agent has had some negotiations with the team, but no deal has been reached to this point.
Collins' and Pryor's agents could easily wait until free agency to sign a deal, trying to maximize the earning power for their respective clients. The Browns would be forced to make a choice with the franchise tag. If that happens, the answer is to franchise Collins.
Pryor is a tremendous physical specimen, having a huge frame, good strength and impressive straight-line speed. He has made substantial strides in his technique as a wide receiver in such a short time after transitioning from quarterback. He's also been a great leader and spokesman for the team.
As rare as that is, Collins is simply a more difficult commodity to find. Having elite athleticism and terrific instincts, Collins can play the run, rush the passer and is perhaps at his best in coverage. He is truly an all-around player that can do just about anything he's asked. Whatever a defense wants to do, Collins can either add to it or cover for it.
The obvious issue with Pryor is that, as good as he is and can be, he's reliant on a quarterback to be successful. And the Browns…don't have one. At least not currently. Beyond that, wide receivers are not a great investment as they simply don't lead to the Super Bowl. Calvin Johnson and Andre Johnson are surefire Hall of Fame players, but they went nowhere in terms of playoff success at least in part because of their massive drain on the salary cap.
Collins can operate independently of anyone else and, even though it certainly benefits him to have good players around him, he's already shown capable of making an impact on his own. He would allow the Browns to go in any number of directions in terms of how they want to construct their defense. It's also clear that he's the best player on the entire defense despite having just gotten there.
Both Collins and Pryor are incredibly unique opportunities for the Browns. Pryor is essentially found money. After using four draft picks on wide receivers, the team inherited Pryor from the previous regime. He has since blossomed into a promising player that could be the best weapon on the team.
Collins is one of the best players in the entire league at his position and the Browns got him for a remarkably low price from the Patriots, which is rare. He was arguably the best player on the Patriots defense and is already the best player on the Browns unit.
On balance, Collins plays a more valuable position, has a better track record, does more for his side of the ball, and can operate independently. In the event the Cleveland Browns are forced to choose, the answer is clearly Collins. The Browns have much to prove, but if they can find a way to keep both Pryor, Collins and Crowell on the team going forward and they perform at a high level, it would be a huge step in the right direction for a team that needs all the help it can get.
This article originally appeared on