Cleveland Browns: Is the offense really this bad?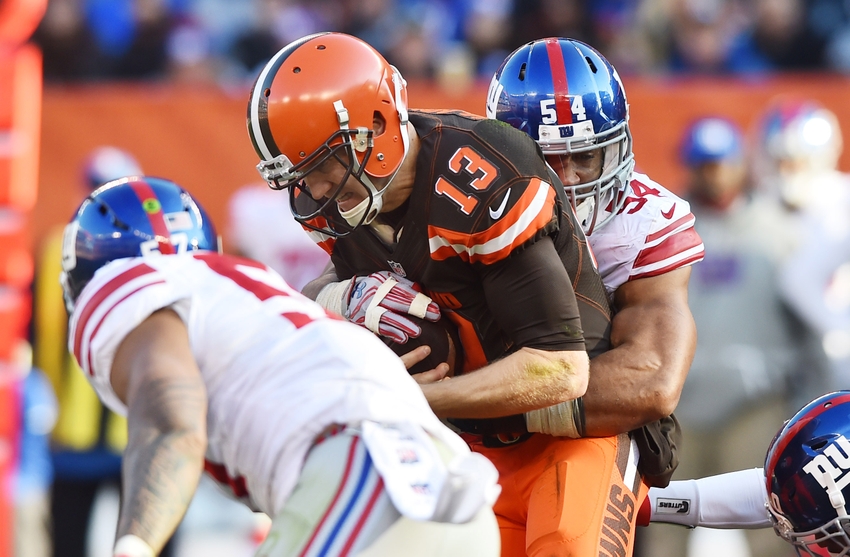 The Cleveland Browns have performed miserably on offense recently, scoring just 29 points over the last three games. But is this unit really as bad as it has played in 2016?
The Cleveland Browns have been through six quarterbacks, various injuries, and numerous bad breaks, all displayed by their 0-12 record. As bad as the defense had been, the Browns cannot ignore how poorly the offense has played, averaging less than 10 points per game over the last three contests.
Every casual football fan will look at the Browns and immediately come to the conclusion that their offense lacks weapons. Even though this seems to have been a problem for decades, it isn't what is hindering this unit from breaking out this year.
When assessing any offense, the quarterback position is most heavily scrutinized. For the Browns, this automatically puts them at a disadvantage. Any time a position is as wildly inconsistent as it has been for Cleveland this season, fans will immediately judge it as incompetent.
This isn't necessarily the case though. In fact, Browns quarterbacking has thrived this year in comparison to seasons past.
By gaining 2,684 yards through the air this year, the Browns were ranked 20th in passing offense entering Week 13. Of course, this is partially because the Browns have thrown the ball on over 70 percent of their plays, giving them more opportunity to gather all of these yards.
But this is somewhat offset by the team's struggles in time of possession, and is still a relevant stat. After all, if the quarterback play is so inept, how has it totaled more passing yards than both the explosive offenses of the Denver Broncos and the Carolina Panthers?
The bottom line is, the quarterback play hasn't really been that inept. No matter what certain statistics indicate or what fans commonly perceive about the Browns, their offense is not that bad.
Since fans do not naturally think this, and national sports media allows this falsity about the Browns to persist, this claim seems odd. But the truth is, Cleveland has some weapons that not all of football are aware of.
Obviously, Terrelle Pryor is their top weapon. But Corey Coleman and Gary Barnidge are very capable threats through the air as well, as they have proven.
And, as far as quarterback play goes, Cody Kessler and Josh McCown haven't been bad statistically. Kessler has completed 65.6 percent of his 192 pass attempts, a substantial sample size. He has also only thrown two interceptions, more evidence that major mistakes are not an issue. Also, since Kessler averages 10.9 yards per completion, these throws are not all simple.
McCown has only completed 54.6 percent of his passes and has thrown six interceptions, making him a drop-off from Kessler. However, McCown has been more efficient in the red zone, converting on six touchdown passes in three games.
On top of all of this, these stats are not even completely fair given the circumstances. After all, Kessler has been sacked 19 times this season, while McCown has suffered 18 of his own. Not only have sacks hindered their potential, but relentless pressure has as well. This has forced them to throw the ball earlier than desired at times, and often while they were being driven to the ground.
Therefore, the offensive line is the major problem. Cameron Erving has had a miserable year at center, and Austin Pasztor has struggled at right tackle protecting the edge.
But there is still more to correct than the offensive line. Cleveland's scheme has not allowed for much balance, as they have completely neglected the running game. This is partially due to the fact that the team doesn't have a good run blocking offensive line or very good linebackers. But it is also due to impatient and undisciplined play calling.
So in order for the Browns offense to improve, a lot has to happen. It is difficult to determine where this even begins. But in the midst of this catastrophe, there is at least some solace in the fact that the Browns do not have as pathetic of an offense as most think. Whether this is comforting or just even more infuriating, the truth is, some very capable players are a part of this unit.
More from Dawg Pound Daily
This article originally appeared on