Cleveland Browns: Hue Jackson Must Protect Cody Kessler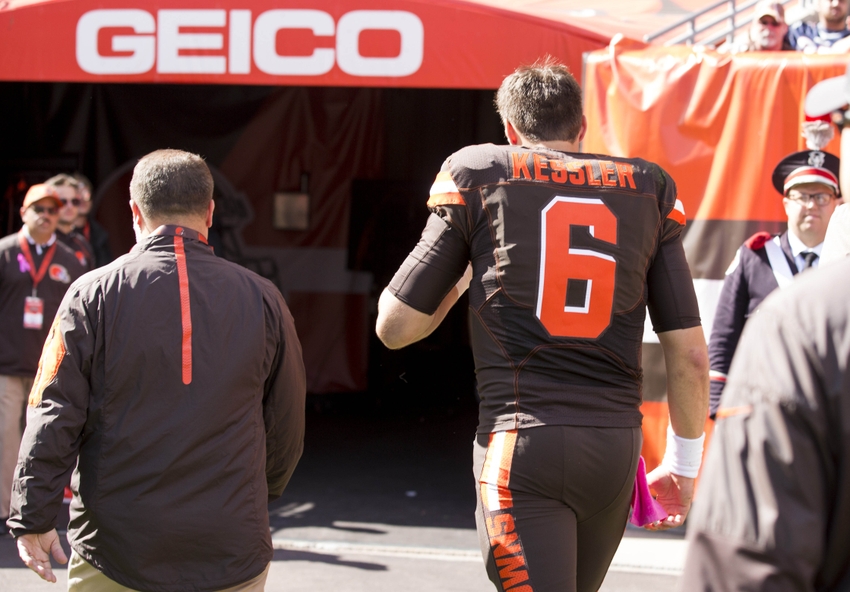 Cleveland Browns rookie quarterback Cody Kessler should not be allowed to start Sunday's game against the Tennessee Titans if he is not completely healthy.
With a record of 0-5, there is no reason for the Cleveland Browns to put young players on the field if they are not at full health.
With Carl Nassib and Corey Coleman already missing time this year due to injury, Cody Kessler is another rookie who could potentially miss time due to an injury.
While Kessler is listed as day-to-day, there is no reason to have him start Sunday if there is still lingering effects from the big hit he took this past Sunday against the New England Patriots.
The fact the X-rays came back negative is positive news, but he is likely still feeling the pain in his ribs whenever he throws a football.
There is the old argument that there is a difference between being hurt and injured, and most NFL players are likely playing hurt each week throughout the season. So even though Kessler could still play if he is just "hurt" instead of dealing with a serious injury, there is no point to put him out on the field if another option is available.
If this team was somehow competing for a playoff spot with Kessler as the starter, the situation would be different. But this team is 0-5 and on its third starter, who was never even supposed to see the field this season.
This may mean starting Charlie Whitehurst, who would become the team's fourth starting quarterback in six games, but it is better than putting a young player on the field when he is hurt, potentially stunting his career development. Like most football players, Kessler is going to say he is feeling better than he actually is, but Hue Jackson must recognize this and give the young player a rest after the beating he took just a few days ago.
Starting Whitehurst may sound awful to fans, but there is also another player who could be an option.
Josh McCown is another player who has taken a beating during his time in Cleveland, but with him nearing the end of his career, it would be better to continue the team's original plan and put McCown on the field whenever he is cleared to return. That is, the original plan once Robert Griffin III went down in Week 1.
When it comes down to letting a veteran play hurt versus a rookie who has his whole career ahead of him, McCown may even agree this is the better option. It is also tough to keep McCown off the field unless he is literally too injured to play, made clear by him finishing the game in Week 2 with a fractured collarbone. You can't teach tough, but McCown sure is the definition of the term.
Kessler has shown flashes of greatness in his first three starts, but Hue Jackson needs to focus on the future of this team. Kessler may not be the quarterback of the future, but he is certainly an option moving forward. Putting him on the field Sunday would only decrease his chances of being available to start and continue to develop later on in 2016 and beyond.
This article originally appeared on