Cleveland Browns 'Hopeful' Robert Griffin III Starts Again in 2016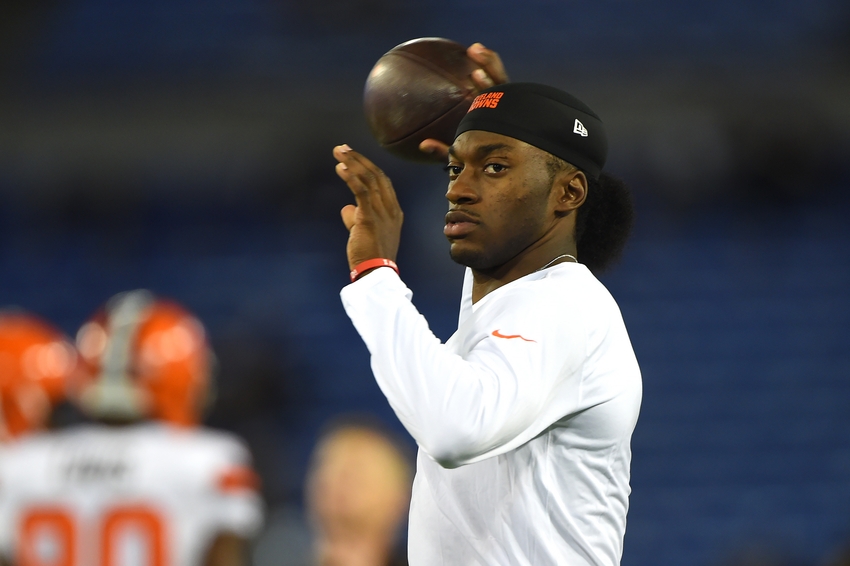 Cleveland Browns quarterback Robert Griffin III hit the injured reserve after Week 1, but there's a real chance he'll be able to suit up again this season.
Earlier this week, Robert Griffin III returned to practice, and the Cleveland Browns officially activated him off of the injured reserve. There are rumblings that he will look to return in Week 14 against the rival Cincinnati Bengals, but nothing is certain about RG3's status going forward.
The #Browns are hopeful RGIII will start for them before 2016 ends, I'm told, once he's cleared. Caveat is if Cody Kessler gets on a roll

— Ian Rapoport (@RapSheet) November 27, 2016
The Browns hope Griffin can make at least one start before the season concludes, but he still has not been medically cleared for game duty.
I doubt Cody Kessler goes on a roll, but you never know. It is interesting that the Browns are leaving that option open, though, because Hue Jackson was awfully quick to bench Kessler a couple of weeks ago in a Thursday Night Football loss to the Baltimore Ravens.
It makes a ton of sense for the Browns to start Griffin once he's healthy. They have nothing to lose by playing him and, while it is highly unlikely he succeeds in this awful offense, they have to get as much film as possible on him.
Jackson seemed quite high on Griffin after the Browns signed the former Washington Redskins one-hit wonder and I bet he believes he can be the one to "fix" the former Baylor star. Hue would likely play Griffin in 2017 if the quarterback doesn't see the field this year Thus, it's better for the Browns coaching staff to come to a consensus on the signal-caller sooner rather than later.
While there's likely nothing left in the RG3 story, I think the other decision-makers on the Browns, such as Sashi Brown, want to get more intel on Griffin before they draft next year.
One wise school of thought could be for the Browns to wait on RG3 and not risk anything. Let him heal up and then put him out there in 2017 behind what should be a better offense (they have a ton of draft picks). Those in the organization already high on Griffin, potentially Jackson, may be interested in this, but I think others just want to make a quick call.
This article originally appeared on