Cleveland Browns: Going 0-16 Would Be Unforgivable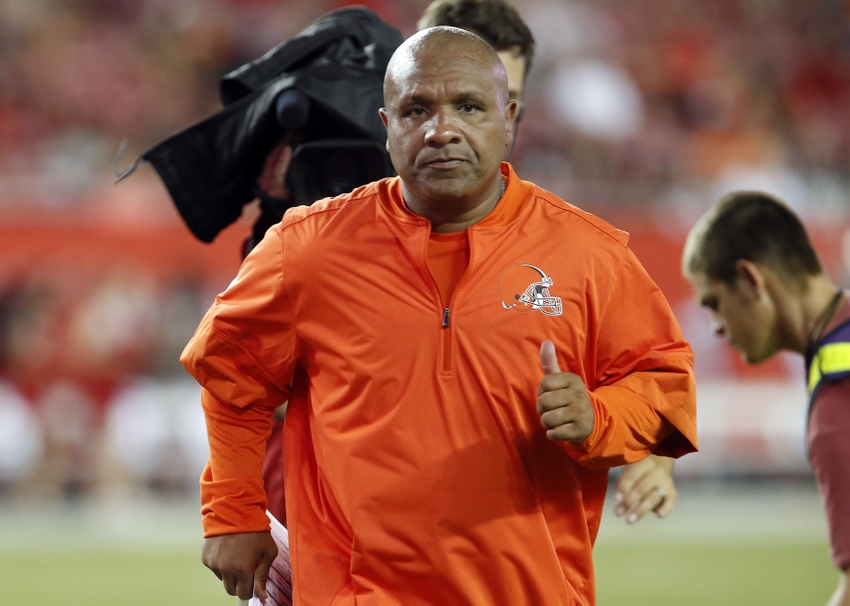 We all realized the 2016 Cleveland Browns would be awful, but owner Jimmy Haslam cannot accept his franchise going 0-16 this season.
The Cleveland Browns have to fire everybody and start all over again if they go 0-16 this season. That such a take is deemed controversial or overly negative among pockets of Browns fans says a lot about the state of the franchise heading into Week 11 of the 2016 campaign.
We have to stay the course or Jackson is the man to right the ship! are among the responses Browns supporters may retort if somebody tells them head coach Hue Jackson, his staff and the team's front office should be booted out the door if the Browns finish the campaign without a single victory. They'll try to convince you and possibly also themselves that this isn't an issue.
Please.
Those who remain passionate about the Browns have to stop normalizing 0-16. The NFL is, more so today than ever before, a league built on parity and a notion that the worst overall team isn't that far off from becoming a championship contender. There are numerous examples of this around the NFL entering Week 11.
The New York Jets are an absolute dumpster fire. Yet even they sit at 3-7 and are probably a decent quarterback away from flirting with a .500 record this year. A plethora of intelligent football minds believe the 2-7 Jacksonville Jaguars would immediately improve upon making a coaching change. The San Francisco 49ers are closest to the Browns as it pertains to futility. But there isn't a general manager in the league who would take the Cleveland roster over San Francisco's.
Yes, anybody who examined the Browns in August should've known the team was going to be awful. However, there is a big difference between a lousy squad and one that can't win a game. Teams forget bad seasons; 0-16 remains on resumes forever. It's unforgettable, it's unforgivable and it's a fireable offense.
0-16 haunts NFL personalities, and fans who continue to think otherwise clearly have never spoken with a player or coach about the subject. ESPN's Pat McManamon recently touched upon this:
Quarterback Drew Stanton knows what it means to go through a winless season.

"I don't wish that on anybody," said Stanton, a member of the 2008 Detroit Lions, the only 0-16 team in NFL history.

In 2009, the St. Louis Rams went 1-15. The team the Rams beat? Detroit. After the game, Stanton crossed paths with a former teammate from Michigan State, Cliff Ryan.

"I told him, 'I'm so happy for you guys,'" Stanton said. "'Usually I can never accept losing, but the fact that you guys don't have to worry about going 0-16 makes it that much better for you guys.'"
Really think about that for a moment. Stanton expressed feelings of joy and relief because a college teammate played for a team that managed to avoid losing every game in a season. That's how 0-16 can affect players.
Stanton isn't alone in feeling this way. Je'Rod Cherry, a three-time Super Bowl champion and current ESPN Cleveland personality, described on the air this past Thursday how much worse 0-16 is than 2-14 or even 1-15.
I'd also like to take this time to point out there is currently zero evidence whatsoever that everybody's savior, Hue Jackson, and the current Cleveland front office are actually good at their jobs.
Jackson continues to make rookie mistakes as a head coach. He is responsible for the worst second-half team in the NFL and maybe the worst second-half team I've ever seen. Jackson panicked and pulled rookie Cody Kessler in the third quarter of a six-point game versus the Baltimore Ravens in Week 10, even though Kessler hadn't turned the ball over. Most concerning for the coach, though, is that the Browns are seemingly getting worse as the season progresses.
Now add in the fact Jackson and company have a poor track record, on paper, regarding big decisions.
The Browns passed on Carson Wentz. The Browns passed on Rookie of the Year and MVP candidate Ezekiel Elliott. The Browns drafted Kessler in the third round when Dak Prescott and Cardale Jones were still available. The Browns drafted Corey Coleman in the first round and Coleman doesn't look all that much better than Sterling Shepard. The New York Giants selected Shepard 40th overall.
Cleveland took a flier on Robert Griffin III and retained journeyman veteran Josh McCown when the club could've made a splash and traded for a QB such as Colin Kaepernick or even Sam Bradford.
Say, for the purposes of this piece, the Browns make history, go 0-16 and owner Jimmy Haslam decides life's too short to go winless and fires everybody. No NFL team will hire Jackson to be its head coach during the offseason.
Not a single one. None.
Sure, Jackson will likely receive a job as an offensive coach or even a coordinator after he takes a year off and spends that time counting the money still owed to him by the Browns. Jackson's stock falls with each Cleveland loss, to the point he will have zero value as a head coach if the Browns post a 0-16 record.
And while we're here, do not—for even a second—let anybody convince you that no qualified coach would dare take the available jobs if Haslam nuked the entire thing and started over (again) in January.
There are 32 NFL general manager and head coaching position. And only a handful, at most, open up each winter. Every one of them pays life-changing money. Haslam may have to offer more cash than would other teams to entice the right individuals to work for the Browns in 2017, but those people couldn't do worse than 0-16 (it's impossible). Haslam has the necessary funds in some bank account.
Sometimes, one must admit an experiment failed and Haslam needs to come to that conclusion if the Browns go 0-16.
What's worst of all about the Browns possibly going 0-16 is that they shouldn't. Cleveland hosts the lackluster San Diego Chargers for a 1 p.m. ET game on Christmas Eve, meaning a California team has to travel all the way to northeast Ohio and play a football game on the shoreline of Lake Erie less than 12 hours before what is, for many, the biggest holiday of the year. It's almost as if the NFL schedule makers tried to gift the Browns at least one win this year.
One win is all I'm asking for here. Teams fall into wins practically on a weekly basis in the NFL. Maybe the Browns will shock the football world and defeat the Pittsburgh Steelers at home in Week 11. Perhaps the win will come against the Chargers.
Just get a victory, Browns. And then everybody can keep their jobs up through the end of 2017.
This article originally appeared on