Cleveland Browns fall to 0-10 after Thursday night loss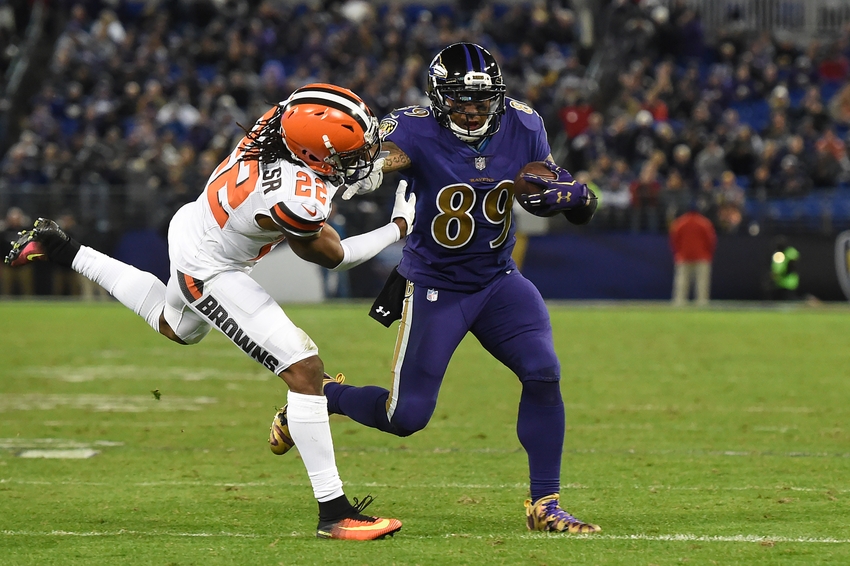 The Cleveland Browns are off to the worst start in franchise history after losing 28-7 to the Baltimore Ravens on Thursday Night Football.
The Cleveland Browns have set a franchise record, falling to 0-10 for the first time in the team's storied history.
Thursday night's loss against the Baltimore Ravens saw the Browns hold a 7-6 lead at halftime, but one would be foolish to believe it was going to last. The Ravens ultimately scored the final 25 points of the game, meaning the Browns have now allowed at least 25 points in all ten games this season.
But it is hard to blame this one solely on the defense. Seven points on offense is never going to get it done, and neither is 144 total yards and just over 21 minutes of possession. The defense even intercepted Joe Flacco twice, but it didn't make much of a difference, just delaying the inevitable.
The turning point in the game came on the Browns' second drive of the second half, when Cody Kessler was inexplicably pulled in favor of Josh McCown. Hue Jackson was likely trying to give the offense a spark, but McCown immediately threw an interception, ending any hopes of a successful second half. He finished with two interceptions in one half of play.
The move is still baffling, as Kessler was playing well enough to not be benched. If Jackson wanted to avoid going 0-10, why take out a quarterback who protects the ball in favor of one who turns it over much more? McCown has had flashes of success in Cleveland, but he always seems to fall apart in the second half when the game matters most.
The game did begin with the Browns calling a timeout before a play could even be ran thanks to having twelve men on the field, which should have been a sign to just turn the game off and enjoy the night.
The loss also brings the Browns to the .500 mark for the first time in franchise history.
Per NBC graphic, #Browns all-time record has never been under .500. A loss tonight would put them at .500. Heck of a stat

— Dawg Pound Daily (@dawgpounddaily) November 11, 2016
This season is an embarrassment, leading many to question if this is indeed a rebuild, or if the team is just destined to be awful for the foreseeable future. So much of this plan hinges upon selecting great players in the draft, so what happens if the draftees don't pan out? Thursday night is what happens.
This team is now in extreme danger of going 0-16, with the only positive of that being that they can't possibly do worse next year. It is impossible to judge this process after one year, as it is something that takes times. But it sure is hard to still be interested in tuning in for six more games based on how things have gone this season.
More from Dawg Pound Daily
This article originally appeared on