Cleveland Browns: Evaluating New Front Seven with Jamie Collins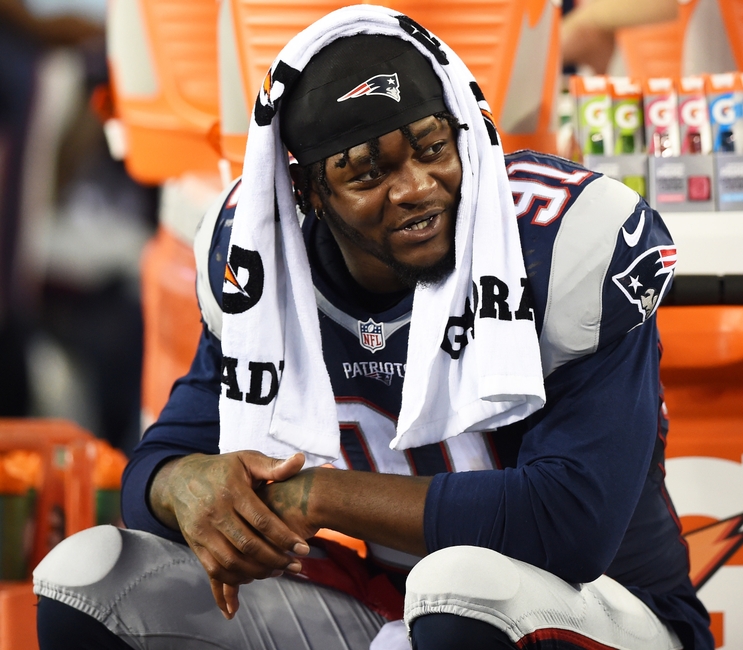 The acquisition of Jamie Collins by the Cleveland Browns gives them an elite defensive playmaker and puts the front seven in focus.
While many around the league were scratching their heads when the Cleveland Browns traded a compensatory third-round pick for linebacker Jamie Collins, the team saw an opportunity to grab a terrific defender that is a perfect fit for what they want this team to be. With Collins in the mix, it's important to look at the front seven in its current form and identify what is and isn't working to be able to project for the future.
The Hue Jackson regime basically took what the Browns had on defense and gutted it. With the front seven, the notable exceptions were Danny Shelton and Chris Kirksey. They also retained Jamie Meder, Nate Orchard and Xavier Cooper. Three of those were rookies from the previous draft class.
Karlos Dansby, Scott Solomon and Randy Starks were released in the offseason. Craig Robertson left as a free agent. Barkevious Mingo was traded before the season started. Paul Kruger was let go in the first round of cuts. Armonty Bryant and John Hughes were released during the season.
The Browns signed Demario Davis and Stephen Paea as free agent stop-gaps that have some credibility and address holes. Davis could come in and start as an inside linebacker next to Kirksey and Paea gives them depth at multiple defensive line spots as well as giving them the ability to play bigger against the run, though Paea hasn't really done much to this point.
They'd later add Corey Lemonier as a waiver claim, but the rest of the unit is made up of rookies. Emmanuel Ogbah, Carl Nassib and Joe Schobert were a second-, third-, and fourth-round picks, respectively. On top of that, the team had some undrafted free agents they liked and brought in some other rookies that didn't make their team's final cuts, such as Tyrone Holmes.
The Browns have Ogbah and Schobert as edge rushers. Ogbah will come off the edge, whether it's standing up or with his hand on the ground. Schobert can do both of those as well, but is far more likely to be on his feet given his smaller stature.
When Ogbah was drafted, it was clear he'd be a project. As productive as he was in college, Ogbah was often thinking too much and slow to react as he tried to locate the football before attacking. This is the reason he was able to last long enough for the Browns to take him with the 32nd-overall pick.
There are still times when Ogbah will get caught thinking and looks slow, but it's improving and his production reflects it. He's getting better at reacting and attacking, showing off the athleticism that the Browns love about him. The other area where Ogbah needs to keep improving is his pad level as he will occasionally get too high and take away some of his strength.
Lastly, he just needs to get confident in his technique and win more with his hands, especially rushing the passer. Ogbah can win with power, which is what makes him dangerous, but often ends up attempting to bend around the edge. This isn't an area he excels. He is progressing and the flashes he shows each week are becoming more consistent and he's finishing more of them, which is why he's leading the team in sacks—even if it is only three.
Nassib was drafted to play the 5-tech, but when Desmond Bryant went down for the year, suddenly Nassib had to start. And between preseason and the first couple games, he was extremely impressive before he broke his hand. He's back now and making some plays, but that time missed clearly impacted him.
The rookie was going to need to add 10-15 pounds of good weight, getting him up to the 285-290-pound area. It took a while to become a problem, but after he came back from the broken hand, Nassib has been targeted and victimized as a run defender. Opponents are going after him and bullying him as they work to get to the alley where they've had a ton of success pounding the ball.
The scheme change was going to be an adjustment for Nassib as well, getting accustomed to taking on and trying to beat big offensive tackles and occasionally double teams. Nassib has shown he can impact the opposing quarterback and that should improve the rest of this season and especially next year. But run defense has to be the major focus.
Because of the sheer physical development Nassib needs (and was always going to need), there might not be a player that needs to be healthy going into the offseason. Getting a major injury with a significant rehab would be a major setback. Nassib has the frame and lean build where he should be able to add muscle without too much issue. It just requires he be healthy enough to put in the work necessary to do so.
Both Ogbah and Nassib should be starters for 2017. Schobert is more of a role player. He's been a starter at times by necessity, though the acquisition of Jamie Collins put a stop to that. Schobert has struggled to make an impact on defense. He does his best work on special teams and, while he will occasionally come up with a play on defense, he doesn't look like an edge rusher.
So far, Schobert has just 10 tackles, one tackle for loss, a half-sack and a pass deflection. Obviously, he's a fourth-round rookie so the expectations weren't terribly high, but in his first game as a Brown, Collins managed to rack up five tackles and one for a loss.
Coming out, Schobert seemed a better fit as an inside linebacker because he played a hybrid strong side edge rusher position at Wisconsin. That might be where his destiny lies with the Browns, being able to play both inside and outside as a role player while being a special teams ace.
Like Nassib, Schobert has trouble holding up against the run and teams attack him because they feel they can lean on him and work their way down the field. This might improve some, but it just seems as though Schobert needs to be protected by defensive linemen so he can flow to the football as a run defender. He can still come in and attack the quarterback off the edge if he distinguishes himself there.
That leaves Jamie Collins. It cannot be understated how huge of an addition Collins is and the Browns have no intentions of letting him get away. This was a targeted move and a way for them to get a major building block on defense. He is the best player on the Browns defense and he may well have been the best player on the Patriots defense. They are intent on signing him to a long-term deal and having him be the centerpiece of this unit.
In base packages, Collins is playing opposite Ogbah with DeMario Davis playing inside. This is the best utilization of the talent the Browns currently on their roster. Davis is a credible run defender and the Browns lack a legitimate outside linebacker. Just in the first game, the difference was obvious with Collins in there.
Since Davis can't play dead in coverage, the natural move when the Browns go to nickel is to take Davis out and slide Collins inside. He thrives in that role and it gives them the ability to bring in another pass rusher. Most importantly, Collins can cover tight ends, which is something that has plagued the Browns for years.
Looking ahead to 2017, the Browns have five starters in their front seven they like and should. Nassib at the 5-tech, Danny Shelton at nose, Ogbah as an edge rusher, Kirksey as an off-ball linebacker and Collins that can play either inside or outside.
That leaves the 3-tech defensive tackle spot with versatility to move up and down the line and whichever spot Collins is not playing, likely an edge rusher. Xavier Cooper has talent, but looks more like a role player and situational pass rusher to this point. Paea barely plays and Jamie Meder is not suited to play that spot. Meder is a solid nose, but simply isn't athletic enough to play outside. Everything points to looking outside the organization to address this problem.
The edge rusher spot opposite Ogbah has been underwhelming. The combo platter of Schobert, Cam Johnson, Tyrone Holmes, and Corey Lemonier has produced a combined for 4.5 sacks. A few of those guys look promising as depth with upside, but none of them stand out as a starter to this point, let alone an impact player. An impact player is what the Browns need there, though. It's imperative that Ogbah and Nassib continue developing and go from potential players to legitimate ones. A productive offseason would be invaluable for both.
Shelton hopefully takes the next step and become a consistent force at the nose. He has shown the ability to cause havoc at times, but will also have stretches where he's ineffective or lets his pad level drift too high.
The best thing they have going now is the duo of Kirksey and Collins. Kirksey needs to continue growing into the playmaker he's shown this year and Collins just has to acclimate to this new system. Getting him with half the season to go should prove invaluable as it relates to next year.
The Browns need to add two more starters in the form of another linebacker, likely an edge rusher, and a defensive lineman. The goal is a versatile defensive lineman that can play up and down the line as a starter. Getting two, with one as depth, would be ideal.
The best way to characterize the Browns front seven right now is that it's promising and headed in the right direction. However, it's simply not where it needs to be at this point. The strength is up the middle and they need to shore up the edges, continue to develop, and add a little more talent. In the event that those things happen, this unit has the chance to be special and set the tone for the defense.
This article originally appeared on