Cleveland Browns Don't Have to Decide on Cody Kessler in 2016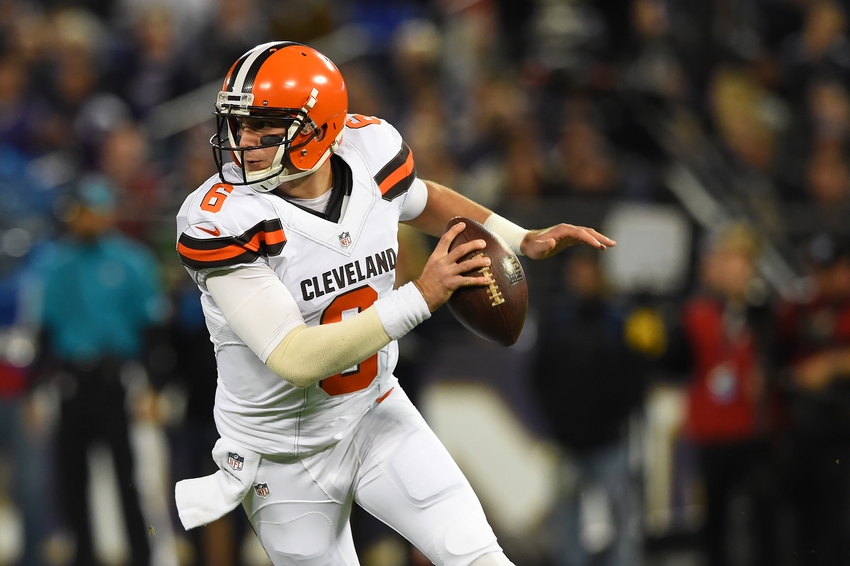 The Cleveland Browns still have time to determine if Cody Kessler is the team's quarterback of the future.
The Cleveland Browns are asking Santa for a franchise quarterback this holiday season. It's a Christmas tradition seemingly as old as decorating a tree in your living room, singing carols and fighting with strangers over Black Friday deals. The Browns are about to enter yet another December with no proven quarterback on the roster and with more questions than answers hovering over what is often said to be the single most important position in all of professional sports.
Rookie Cody Kessler probably isn't the team's long-term solution at quarterback. Kessler seems like a nice young man willing to do whatever he can to help the Browns win games and lead the team's offense. We have no doubt Kessler studies the playbook and game films each day. And nobody should question his heart and toughness considering the punishment he has endured during his rookie campaign.
Let's not kid ourselves here, though; Kessler's physical limitations are obvious to anybody who sees him play and those issues likely aren't correctable. Kessler undeniably has the weakest arm among AFC North starters. Moreover, fans and analysts alike are lying to themselves if they think Cleveland head coach Hue Jackson isn't already looking beyond Kessler. Jackson showed us this when he benched Kessler in the third quarter of a six-point game in Week 10.
With that said, all would do well to remember Kessler's audition to remain a member of the Browns doesn't end on the afternoon of Jan. 1, 2017.
The Browns will sign other quarterbacks beginning next spring. Or at least they better do so if they intend on selling any tickets to those who don't already possess season-long packages. No general manager worth even a fraction of his paycheck can rely on Robert Griffin III remaining healthy, let alone playing well, for any significant length of time. Josh McCown may enter retirement following the 2016 campaign.
Kessler should still have plenty of company in the Cleveland QB room next July.
That isn't a negative, nor is it any indictment on Kessler. Kessler was never a top-rated prospect worthy of being selected in the first round. The Browns reached in drafting Kessler 93rd overall, but that doesn't erase the fact the first-year pro was always supposed to be a project.
Kessler shouldn't be on the field this Sunday when the Browns host the Pittsburgh Steelers. He never should have seen a down of meaningful football this fall or at any point of the season. Kessler's teammates and the football fates failed him and he deserves better once the Browns can bury this lost year and pretend it never happened in the first place.
RG3 failed Kessler when he unwisely lowered his shoulder in an attempt to bowl over a defensive player late in a Week 1 game the Browns had zero chance of winning. Cleveland's offensive line and also McCown failed to keep the 37-year-old journeyman himself on the field for longer than a game in September. Charlie Whitehurst also failed Kessler and the Browns during his one outing.
The biggest positive Kessler has going for him as it pertains to his future with the Browns is his contract. Kessler's cap hits and dead money values, per Spotrac, are essentially nothing in the grand scheme of things. The Browns don't have to worry about paying Kessler anything beyond his rookie deal until 2020. This gives Jackson and his staff leverage in multiple ways.
For starters, the Browns can, and probably should, sign or trade for a quarterback who is already in the league come next spring. Some team out there will throw millions of dollars at Mike Glennon once he enters free agency. Tony Romo, Jay Cutler and maybe even Philip Rivers could be on the trade market at different points of 2017. Those running the Browns could pass on all of those options and instead select a quarterback in the first round of next year's draft.
Signing a veteran signal-caller or drafting a top prospect should not mean the end of Kessler's Cleveland career. The Browns currently have more available cap space than any NFL franchise and the club could save money by moving on from both Griffin and McCown. If anything, Kessler is the only quarterback on the roster who should be guaranteed a roster spot when the team begins training camp sessions in 2017.
Kessler probably isn't the guy. You don't have to be a student of the game or somebody who thoroughly examines All-22 film on a weekly basis to have that opinion. Griffin could and likely will return to the starting lineup for the final four games of the season once he is healthy and ready to start—unless Kessler shockingly lights up scoreboards over the next eight quarters of play.
That's alright and it's fine that Kessler will likely be asked to fight for his job next summer. The Browns are in the middle of the biggest rebuild in franchise history and nobody, not Joe Thomas or Joe Haden or an unproven commodity such as Kessler, should be promised anything once the Browns officially begin the 2017 preseason.
This article originally appeared on