Cleveland Browns Could've Had Dak Prescott and Ezekiel Elliott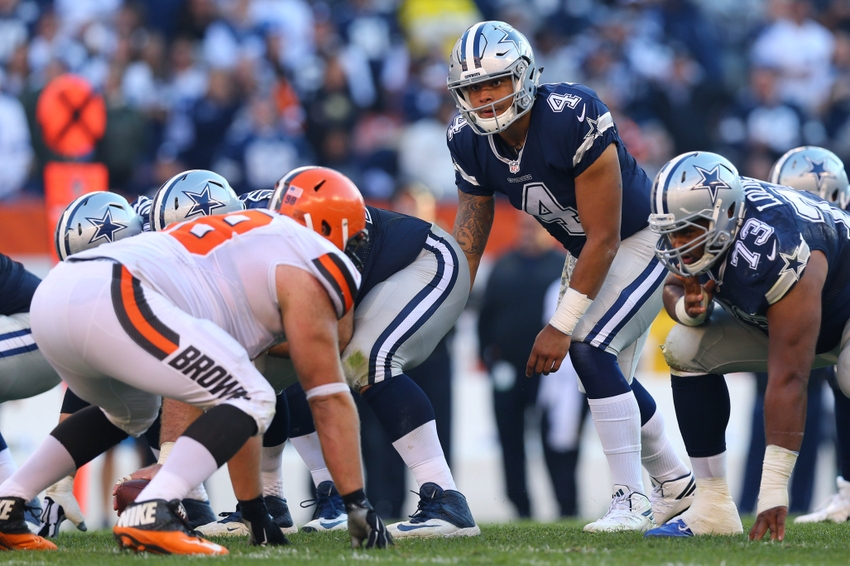 The Cleveland Browns whiffed on not drafting both Ezekiel Elliott and Dak Prescott, but those are only two costly mistakes the brass made in 2016.
We'll likely remember the 2016 Cleveland Browns for being historically bad. These Browns, at best, will be forever seen as one of the worst squads in the history of what used to be a proud NFL franchise. At worst, this team will go winless for an entire season, a feat seemingly impossible to achieve in a league built on a foundation of parity and the idea the worst club shouldn't be too far off from winning a Super Bowl.
Apologists will tell you this lost season is all part of the process for a Browns team that hit a figurative reset button early in 2016. They'll say head coach Hue Jackson and those running the club's front office need more than a season to complete a massive rebuild. They'll go so far to excuse an 0-16 record if and when the day comes.
Don't do that. Do not let anybody, whether it be a player, employee of the Browns, a media member or an outside observer convince you for even a second that this season was unavoidable. The 2016 Browns could and should have been much better.
The Browns could've drafted running back Ezekiel Elliott second-overall this past spring. Elliott, who now stars for the Dallas Cowboys, leads the NFL in rushing yards and he seems to be the most electric young back to enter the league since Adrian Peterson. Elliott also happens to be a MVP candidate three full months into his first campaign.
Cleveland later drafted quarterback Cody Kessler 93rd-overall and one full round before the Cowboys selected Dak Prescott. While Kessler has suffered a pair of concussions and has earned nothing but a roster spot for next season, Prescott has replaced Tony Romo as Dallas' starter, and the first-year pro has guided the Cowboys to a 10-1 record.
Those out there looking to defend either Kessler or the Browns may point out Dallas is fortunate to start the best offensive line in the NFL today, a unit that routinely opens holes for Elliott and that makes life easier for Prescott. They may mention there's no reason to believe Prescott wouldn't be on injured reserve after Thanksgiving had the Browns drafted him and then inserted him into a starting lineup that includes a shameful offensive front.
However, Cleveland's offensive line could and should've been better when looking back to January 2016.
Don't settle for the idea that All-Pro center Alex Mack was automatically leaving Cleveland after the 2015 season regardless of any offer made to him by the Browns. Everybody has a price and the Browns currently have more cap space than any other club. It may have taken some fancy bookkeeping, but the Browns could've kept Mack for at least one more season had they made it worth his while.
Refusing to re-sign offensive tackle Mitchell Schwartz becomes a larger mistake with every week we see Cleveland's offensive line. Rather than playing a unit that, quite frankly, doesn't belong in the NFL, the Browns could've started a line that included Mack, Schwartz and top-tier tackle Joe Thomas playing in front of both Prescott and Elliott. Cleveland's offense becomes infinitely better in that imagined scenario.
This isn't a burial of Kessler. It would be difficult to evaluate any rookie quarterback starting for such a lackluster offense. Nobody should ignore, however, Kessler does nothing as well as Prescott. Prescott even looks bigger on the field despite the fact their listed physical attributes are quite similar.
Some have suggested the Browns never would've drafted Prescott after Prescott was arrested for allegedly driving under the influence this past March because of the disaster that was Johnny Manziel's two seasons in Cleveland. As ESPN Cleveland's Tony Grossi and others have explained, that shows just how little homework the Browns did in preparing for the 2016 draft if Prescott's arrest is truly the reason the franchise passed on him.
The Browns drafted wide receiver Corey Coleman with the 15th pick, but Coleman has looked no better than New York Giants wide receiver Sterling Shepard in 2016. The Giants drafted Shepard in the second round. Linebacker/defensive end Emmanuel Ogbah has made a handful of positive contributions during his first NFL season. Defensive end Carl Nassib is barely mentioned during game broadcasts anymore. Cleveland's 2016 draft class would not receive a passing grade if fully evaluated on Nov. 26.
A lot can and will happen over time. Maybe Prescott and Elliott will prove to be one-hit wonders, while Kessler establishes himself as the franchise player the Browns have searched for since 1999. Perhaps Hue Jackson can, with better talent around him, show fans should "trust him" about drafting Kessler over Prescott and about his ability to lead the Browns to glory.
The NFL is a business based on results, and the results tell us these Browns are the worst in franchise history after 11 games.
It didn't have to be this way. The Browns could already have at least a few wins had they made only a handful of different decisions. Those tasked with making such calls for the Browns are paid handsomely to get each one right. Nobody working for the Browns deserves a free pass, especially if the team can't win a game between now and Jan. 1, 2017.
This article originally appeared on