Cincinnati Bengals: Must Break the Cycle of Mediocrity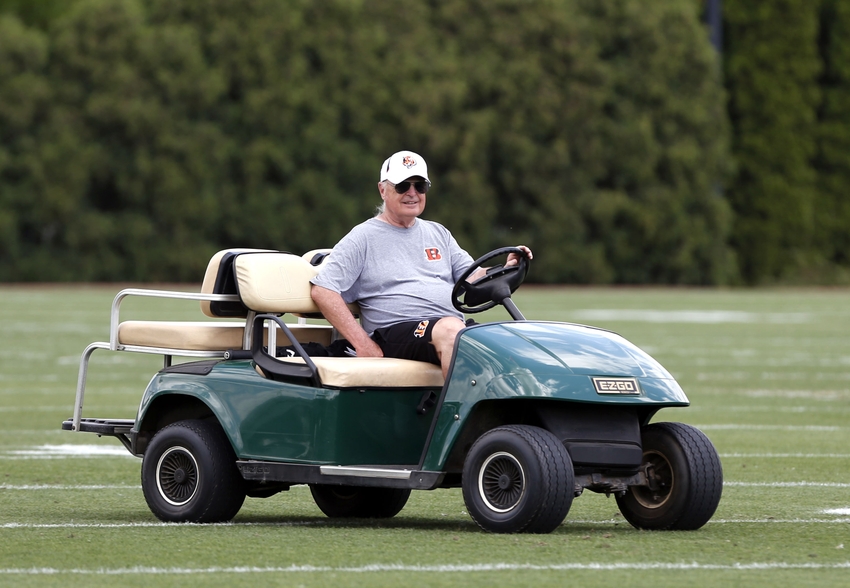 The Bengals future appears to be locked inside a vicious cycle of mediocrity with no end in sight unless some major changes are made.
What's the Plan?
Mike Brown, Majority Owner and President of the Cincinnati Bengals has no idea, what he's doing. While some applaud his long-term commitment to Marvin Lewis. the truth is that Brown is satisfied with mediocrity. The Bengals future, as it sits now, is destined for more mediocre teams with a mediocre head coach.
When Marvin Lewis was hired the Bengals found their man to make the team relevant in the AFC North. With that mission accomplished, nothing else has been accomplished. The cycle repeats itself: hope, talent, stats and late season letdown. Year after year under Lewis has been basically the same.
The hope is that Mike Brown is self-aware enough to realize changes are needed for the Cincinnati Bengals. For Bengals fans, it is a tricky time. On one hand, being in the conversation every year in the AFC North is very exciting. On the other, repeatedly getting their excitement squashed by bad coaching and bad execution is rough.
Truth is something has to change and it needs to change no later than this offseason.  The Bengals do have options and need to explore the possibilities to make this team better for the long-term and short.  Some options are more painful than others but have the potential to finally lead to postseason success.
Everything Must Go
The most painful of the options available is to leverage current assets for young talent and draft picks.  Of course, this would result in seeing players like Andy Dalton and even A.J. Green traded in the off-season or on Draft night.
Consequently, the Bengals would struggle to reach 8-8 for a few years as they stay in the early to middle spots in the NFL Draft. There would be great amounts of Cap space to lock up young players and re-face the look and feel of the Bengals. Of course, there would be no chance of winning a Championship for at least 3 years, but do they have a shot at a Championship as it sits now? No.
Fans will see many problems with this option because the Bengals future will be dim for almost half a decade. An influx of young talent could be great but at the same time the margin between greatness and disaster is one bad draft pick.
Furthermore, it could be argued that this team isn't that far away from a deep playoff run. A better Offensive Line would make a huge difference by itself.  The defense does need to get younger on all three levels but that can be accomplished in one offseason.
So, the complications of blowing the team up may not be worth the massive risk it would entail.  However, there is another option that could breathe new life into this team immediately.
Everyone Will Be Better Off
Marvin Lewis has the ability to be a Super Bowl winning Head Coach, just not with the Cincinnati Bengals. Eventually, the voice gets stale as do the stories, cliché's and tactics for most coaches minus a select few. Lewis was hired to take an AFC laughing-stock and turn them into a respectable football team, and he has accomplished this task.
Yet, for the Bengals future to be anything other than maybe the Wild Card round they will need a new coach. Quality Offensive and Defensive Coordinators have worked under Lewis and eventually became Head Coaches. Even so, the team accomplished nothing of significance and probably never will under Lewis.
When considering a coaching change, a team has to determine how confident they are in the potential replacement candidates.  No doubt the Bengals could use a new voice on the sidelines, but if that new voice isn't competent it is a major step backwards.
When bad coaching hires are made, it snow-balls into a sports tragedy very quickly (see the Browns and Raiders). The morale of the players must also be a major consideration for management. If Bengals players are sold out 100% for Marvin Lewis and he is fired there is a real risk of losing the entire locker room.
There has been success for many Bengals players and last years team was a broken thumb away from a playoff run.  So, the last option may be the best option yet.
Not That Far Off
Maybe doing nothing is not only the easiest but the best option of all. Tyler Eifert is back and looking very good in his first real action of the year. Yes, the Offensive line has had some issues but it is a line with a veteran presence. After this Bye Week expect to see a rejuvenated interior on both sides of the ball.
On defense, the Bengals need youth at defensive tackle, outside linebacker and cornerback. However, with the NFL Draft, a healthy William Jackson III next year, and cap space, these issues can be fixed in a relatively short time.  Marvin Lewis has a culture of winning in place and the respect of the players on his team. Patience can become genius when given enough time.
This season has been disappointing thus far and the "English Tie" with the Redskins puts a bow on a frustrating first half of the year. However, the fight in the players hasn't stopped and the new receiving group is starting to mesh great with Andy Dalton.
Trades will need to be made and Marvin Lewis could need to go, but if the core of the team stays the same, the future will be just fine.  A retread Coach or an inexperienced Coordinator as the new Bengals coach could do more harm than good.  Hopefully, Mike Brown listens to legitimate football minds and makes decisions based on winning the Bengals future.
This article originally appeared on