Cincinnati Bengals: Did We Make the Fandom 250?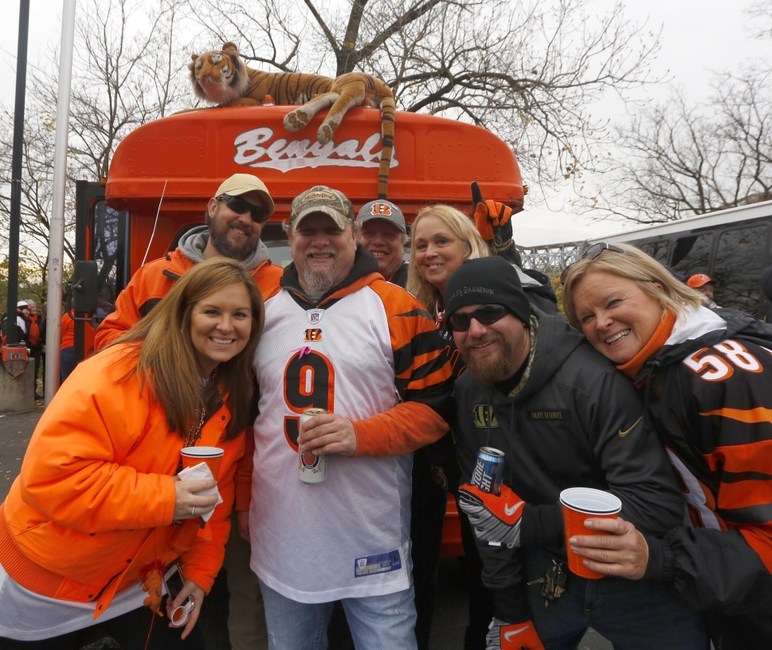 The Cincinnati Bengals have had a terrible year by expectation levels. Now, FanSided has released it's Fandom 250 and the Bengals fans didn't make the list? Why you might ask, well we may have the answer.
First off, what is the Fandom 250? It is FanSided's ultimate ranking for fandom. How do they decide the ranking? Your guess is as good as mine, but one thing is for sure, there were a lot of teams out of place and not included. Were the Bengals one? YEP!
Let's start with the who was over ranked and who was included that shouldn't have been and where better than the top.
1) Chicago Cubs
Listen, I have followed the Cubs for over 15 years. One thing I know is that they have just as many, if not more, bandwagon and fair-weather fans than any fan base out there. Nobody would blame them for it, seeing the fact that it had been over 100 years since they won a world series. It had also been over 70 years since they had even tasted the World Series.
However, just because they became good, fair-weather and band-wagoners jump right back on and acted like they never left. They should be in the rankings but #1? Sorry FanSided, there are better fans out there.
169) Chicago Bears
You don't have to go to far to find the second most over-rated team on this list. The Chicago Bears, like the Cubs, have passionate fans. However they are littered with fair-weather and bandwagon jumpers. If we were talking William "The Fridge" Perry's time, then absolutely, but we are talking Jay Cutler time. This teams fans are dedicated, well the season ticket holders at least, but not top 200 dedicated.
215) Washington Redskins
This is a team that benefits from a large market, not a great team. I mean, they haven't been a threat in the playoffs since 1991, which was their last Super Bowl title. Sure, like every team that has made the playoffs they have made noise, but Joe Gibbs was the last Super Bowl contending coach, and the most recent in the Hall of Fame.
The Hogs are dedicated fans. Unfortunately for this list, the band-wagoners jump back on right in time for them rise up the rankings.
Although the Bengals got snubbed, they were the only team. Before we get to the Bengals, lets look at who got the shaft and who was under-rated that made the list.
24) Manchester United
The largest fan base in the world got trumped by a couple bandwagon teams and a few movies that have become popular because becoming a geek is cool again, even though I am one. Lets face it, the Cubs, Golden State Warriors, and Barcelona (even though Messi is awesome), are over rated by a fan base predicated on success instead of dedication.
Manchester United has one of the greatest fan bases and set ups any team could have. Their biggest rival is only a few miles away, in the same town. The fans are the most loyal and passionate in the sport, and don't forget about the eighth wonder of the world in Old Trafford, which is only second to Wembly Stadium for best places to watch a soccer/football game.
Sorry, they should be a top 10 team.
86) Fantasy Football
You are really going to tell me that the one thing in the NFL, which has brought different fans together, only breaks the top 100? FanSided, we got this one wrong.
Fantasy Football has turned into even the casual fans game. Keeping casual and fair-weather fans interested in football is what fantasy does best. It not only encompasses every team, but brings the competition out of every person vying for the top spot and bragging rights in their league. This should come close to eclipsing every team in the NFL, because it's following destroys every fan base in the NFL.
 173) Cleveland Browns
The Brown may not have wins, but their fans stick with them through thick and thin. The Cleveland Browns fans yell at cameras, show up in negative degree weather, and boo every time this team fails, as Gary Bettman says, "It's because they care."
I know they are the laughable losers of the AFC North, and almost a guaranteed win on most teams schedule, but they are passionate and show what the idea of fandom is all about.
The Cincinnati Bengals are not on this list, but should they be?
If the Washington Redskins made this list and teams like San Francisco Giants as well as fans of Chanel, the Bengal fans got slapped in the face. Bengals fans are just as dedicated as Cleveland Brown fans and Chicago Bear fans. Especially to stick with them through the Bungals years, like so many of us did.
The Bengals are a smaller market team than those base, which means it may look like we are fewer, but we are stronger and more dedicated. After I posted on twitter:
@FanSided All I see are teams over rated by Fair-Weather and Bandwagon jumpers and irrelevant history. #Redskins #Bears #Cubs

— Matthew Willson (@MattWIllsonMNC) December 6, 2016
I got this response:
#testimonials https://t.co/ajUEsJgmgw

— FanSided (@FanSided) December 6, 2016
The response may tell us nothing, but Bengals nation got the short end of a very long stick. The Bengals fans have been strong for many years, and although we complain about quarterbacks and coaches, we are more faithful than ever. We love our Bengals and we want to see them succeed.
If the passion from the comments we receive on Facebook, or the re-tweets and likes on twitter tell us anything, Bengals nation is strong and will continue to grow. We don't need a list to tell us Who Dey Nation is better than every other fan base out there!
This article originally appeared on