Chris Long Talks Rams Breakup, Playing Meaningful Games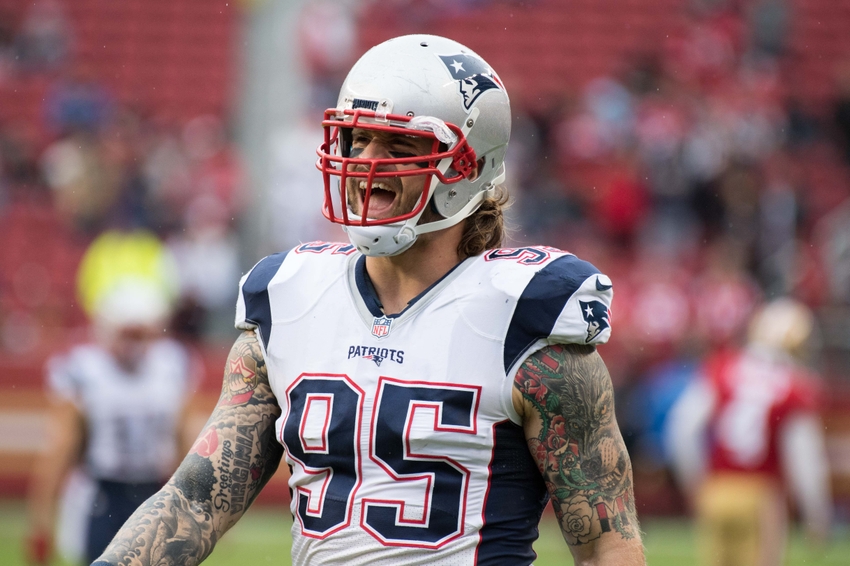 Former St. Louis Rams defensive end Kyle Long will be playing his old team for the first time since departing during this past offseason for the New England Patriots.
Defensive end Chris Long was a valued member of the St. Louis (Now Los Angeles) Rams during his eight seasons with the team, and he will face his old squad for the first time in Week 13 since leaving during the offseason.
The split between the Rams and Long was understandable. Long, 31, had trouble staying healthy the past two seasons and was clearly past his prime.
The former No. 2 overall pick of the Rams was allowed to walk by the team because of considerable depth on the defensive line, and he ended up signing a one-year deal with the Patriots.
Chris Long Talks Rams Breakup
When asked about his leaving the Rams before the team moved to Los Angeles for the 2016 season, Long doesn't hold any grudge against the team for letting him go, according to Jack Wang of the OC Register:
"I own up to not being myself those two years, injury is part of it and it's part of the game," he said. "I was getting paid too much to be gimping around and not playing like myself. It was just time and I totally understood when I got the call.

"I love them all the same. I respect those guys all the same. I've got no bitterness. For me, it's very easy to move forward and have no ill will."
What a good, honest assessment by Long of his last two years with the team. Despite his struggles in 2014 and 2015, Long went on a four-year run where he averaged over 10 sacks per season from 2010 to 2013 and was an important part of the Rams' defense.
Jeff Fisher Praises Chris Long
Rams head coach Jeff Fisher had great things to say about Long, who he coached for four seasons:
"It was a difficult decision to part ways with Chris, because he's one of my all-time favorites and a locker-room favorite and everything," Fisher said. "But of all the places where one would think he would have a chance to be successful, it would be New England. So he landed on his feet and he's playing well. … I'm happy that Chris is on a team that has won a lot of games, because he deserves that opportunity."
In those four seasons, Long never played in an important game in December. In fact, he never played in important games late in the season during his entire St. Louis tenure, with the team owning a losing record in every season he was there.
Chris Long on Playing Meaningful Games
So, as you can probably guess, things are a bit different for Long in 2016 as the Patriots look to make the playoffs as the AFC's No. 1 seed:
"It's a new thing playing games in December that, they've got a different vibe to them," Long said. "So I welcome that, for sure."
Long has totaled just two sacks and 25 combined tackles for the Pats this season. It's safe to say he's probably excited for this matchup against the Rams at Gillette Stadium.
This article originally appeared on