Chris Conley: Chiefs secret weapon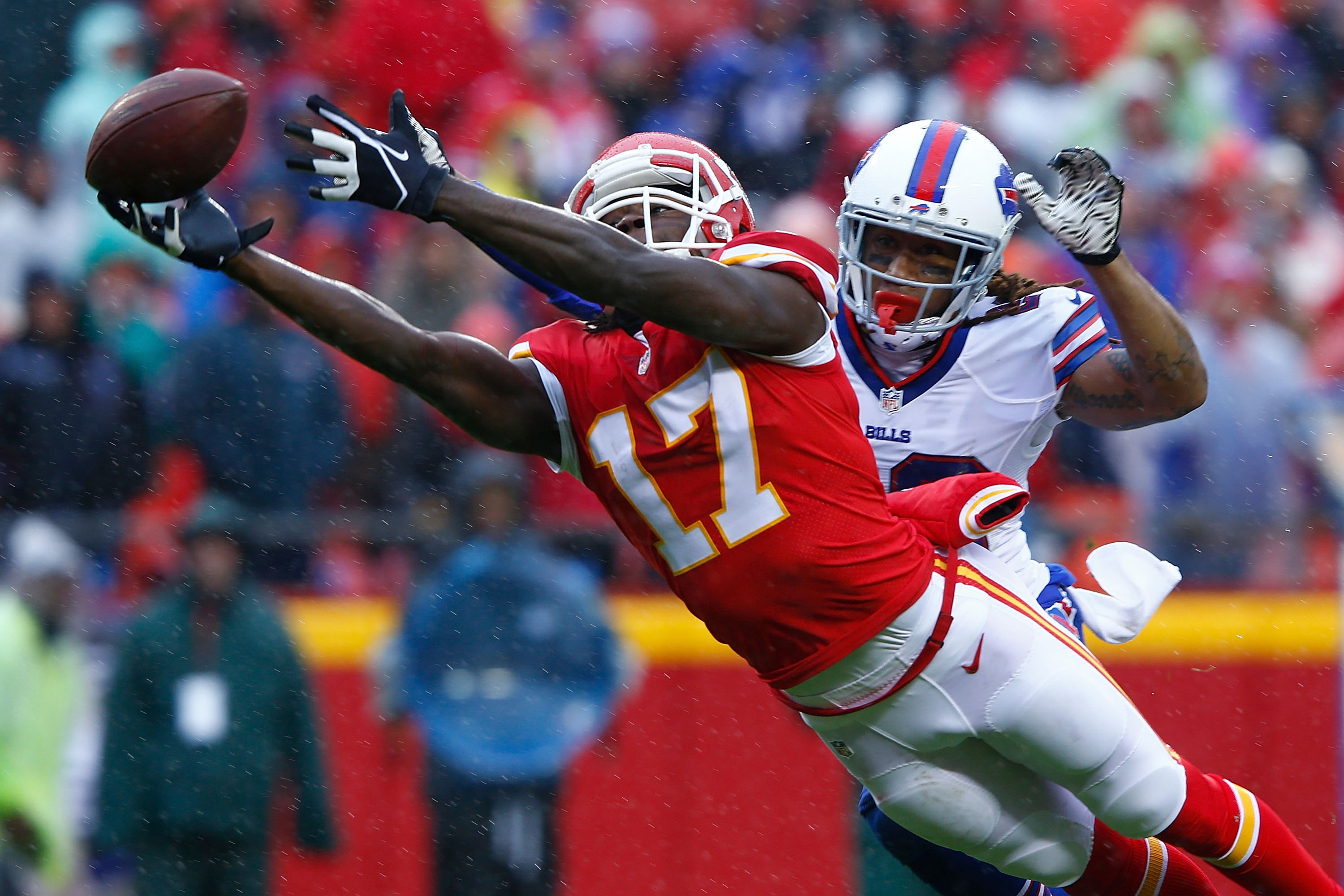 The Kansas City Chiefs have a secret weapon in Chris Conley. The only problem is, they are the only ones who don't know about this weapon.
Conley played college ball for the University of Georgia. Despite being a freakish athlete, he never put up the eye popping numbers you'd expect.  His best year was his senior year where he hauled in 36 catches for 657 yards and eight touchdowns.  Those numbers are good, but for a 6-foot-3 receiver who runs a 4.35 in the 40-yard dash you expect more.
Conley went to the combine and was the breakout star.  His athleticism was on full display and impressed teams.  When combined with his stats though he got tagged with being just a "workout warrior".   Without the game day numbers to go with his combine numbers, Conley fell to the 3rd round in the draft.  The Chiefs, having passed on receivers like Tyler Lockett, traded up four spots and threw in a sixth to get Conley.
The Chiefs expected a lot from Conley given the trade and players they passed over.  His rookie season was like his college career though; underwhelming.  He recorded only 17 catches for 199 yards and one touchdown.  On a team that was desperate for production form the receiver position, those numbers had to worry everyone at One Arrowhead Drive.
Not sure about the rest of you, but I had high hopes for him coming into 2016.  I chalked 2015 up to a rookie learning the ropes on a team that doesn't have the greatest pass game. I still see a 6-foot-3 speedster who can out jump almost anyone not named LeBron.  Chiefs already have a solid possession receiver in Maclin, a middle threat in Kelce and strong running game.  So I thought Conley being the tall deep threat would add a needed dimension to the Chiefs offense.
Of course like most things involving the Chiefs offense this year, I was way off!  Through ten games Conley only has 31 catches for 354 yards with no touchdowns.   In my opinion this is not Conley's fault.  I blame Alex Smith more than anyone.  We've all seen the replays and photos of times he was wide open but Smith chose a different option.  This has also not been Smith's most accurate season, we all remember the horrible pass against the Panthers that should have been an easy touchdown.
The other problem holding Conley back is Andy Reid's play calling.  He has shown an unhealthy addiction to the wide receiver screen and quick out plays.  These plays involve speed and allusiveness.  Conley has plenty of speed but he doesn't have the allusiveness of a Tyreek Hill.   His bread and butter is down the field where he can use his speed and big frame to get open.   I would like to see him get more deep ins and fly patterns.
I love Hill's track start speed, but a lot of times he outruns Smith's arm.  Conley would be a better deep threat with his combination of not only speed but the ability to go up and get an underthrown ball.  This allows Smith to not try to be so pin point with his passes, he can just chuck and duck.
I see Conley as the most underused part of the Chiefs offense, but I have hope.  Maclin's groin injury looks like something that will bother him the rest of the season.  Injuries are decimating the defense as well and it appears they won't be as reliable as they have been.  The Chiefs need points, Smith will need a target and Conley would deliver.  Conley led the team in targets last week against Tampa and I hope that's a sign of things to come.  If given the proper play calls and targets, Conley will take care of the rest.
Conley is a big Star Wars fan. The Chiefs need to take a lesson from Luke Skywalker as they attempt to defeat the Death Star that is the Broncos in Mile High; trust the Force Andy!
More from Arrowhead Addict
This article originally appeared on