Chris Baker's Hungry Too, Mocks Ezekiel Elliott (Video)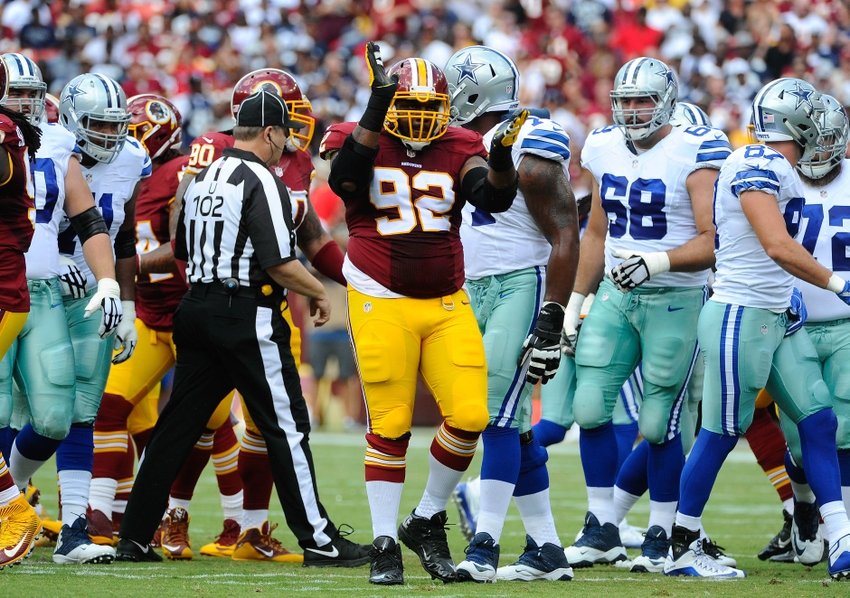 Dallas Cowboys running back Ezekiel Elliott is forever doing his 'feed me' celebration, but one Washington Redskins defensive lineman wasn't having it.
There's no doubt that Dallas Cowboys running back Ezekiel Elliott is a special player and he is on the fast track to the Hall of Fame. Currently having already gone for over 1,100 rushing yards this season, Elliott relishes contact almost as much as he relishes crossing the goal-line.
Meanwhile, Washington Redskins defensive end Chris Baker emerged as a true star up front for this team in the 2015 season and he can be a real menace for opposing offenses. The Cowboys have the best offensive line in the league—and it's not even close—but even they found it difficult to stop Baker on one play in the first quarter.
Baker absolutely ripped past Ronald Leary on the play, showing off his strength and explosiveness. He was in the backfield before Elliott could register that the Cowboys line somehow failed him. And Baker did well to wrap him up for the big loss of five yards.
It was a fantastic play from Baker, but he managed to one-up himself with the celebration afterwards.
Eyeballs indeed. We know Elliott is always hungry, especially after he scores. Baker is just as hungry for a victory and he did a great job of rubbing in the five-yard loss—and with mocking Zeke's "feed me" celebration.
That said, Elliott already had touchdown run on Dallas' previous drive after torching the Redskins defense. Despite the loss on the play by Baker, he had 38 yards on five attempts through two drives, with a 7-0 Cowboys lead to boot.
This article originally appeared on