Chip Kelly on Eagles start: Hit two kicks, and we're 3-1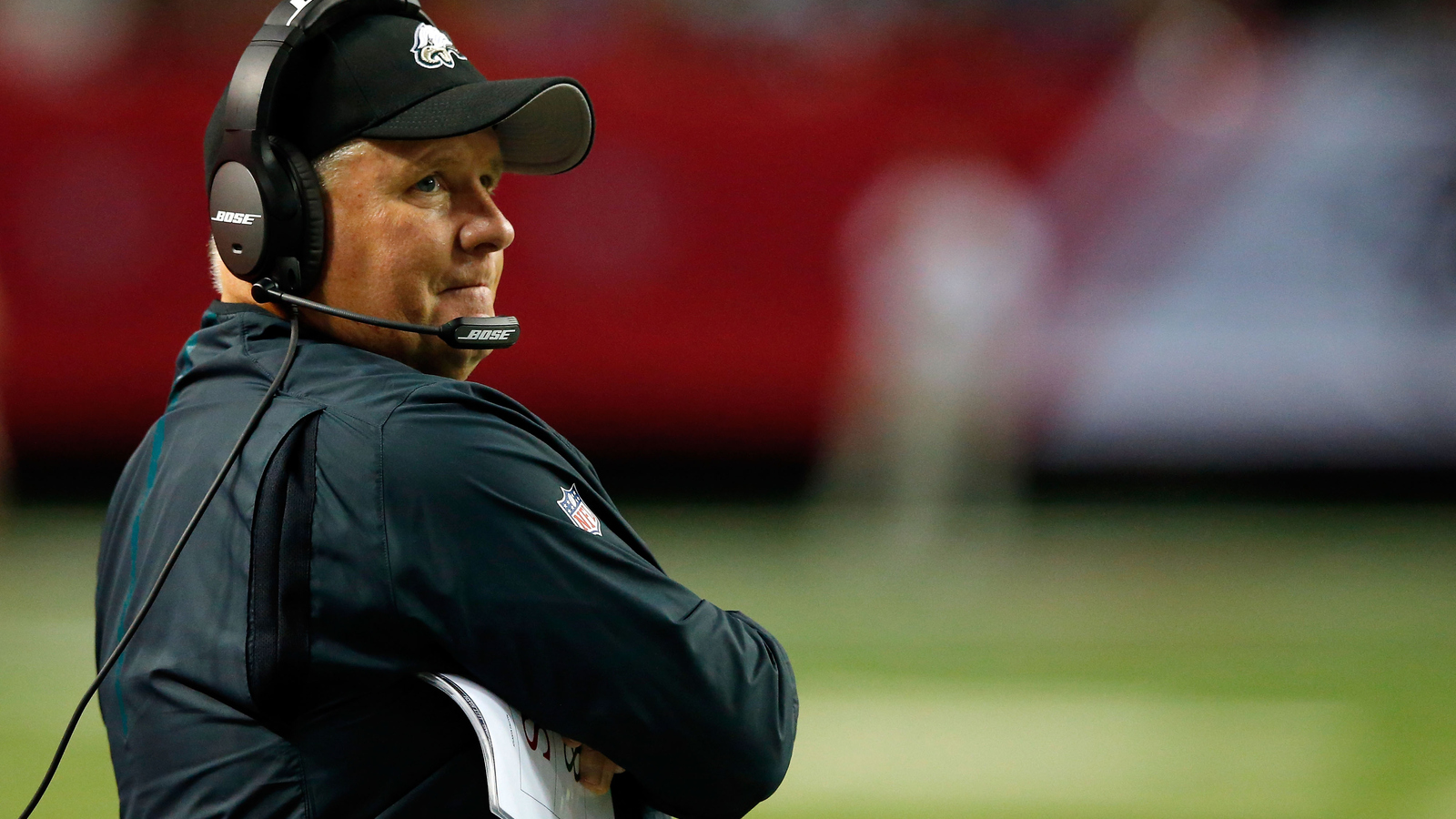 by Vincent Frank
Optimism. It's one thing that has defined the Philadelphia sports scene for decades now. Fans attempting to do whatever they can to remain hopeful that teams in that city will find a way to win moving forward.
Chip Kelly brought that optimism to the Philadelphia Eagles when he left a good situation at Oregon to help bring a title to a franchise that still hasn't hoisted the Lombardi Trophy. What looked like a great start — two consecutive 10-win seasons — has turned into a minor disaster thus far in 2015.
Kelly and the Eagles find themselves with a 1-3 record and in last place in the NFC East after losing to the Washington Redskins on Sunday. The primary issue for this Eagles team has not been its defense. Rather, Kelly's offense has been a shell of its former self. Through four games, the Eagles rank 22nd in scoring and 29th in total offense.
Despite this horrendous start, Kelly remains optimistic that the Eagles are close. He also seems to think that a few bounces in his team's direction would have Philadelphia at 3-1 on the campaign.
"We've lost three games by 15 points, so you hit two kicks, and we're sitting here 3-1 and everyone's happy," the Eagles head coach said Monday, via Philly.com. "It's razor-thin, so you don't throw the baby out with the bath water and say, 'OK, we're going to change our offense, change our defense, and change everything we're doing with our approach.' We need to settle down, take a deep breath, and when we have an opportunity to make a play, make a play."
Yes, the NFL is a game of inches. If officials had not dropped the ball on Monday night, both the Detroit Lions and Seattle Seahawks would be at 1-3 on the season. Instead, Detroit now finds itself in an unattainable situation at 0-4 while Seattle is just one game back in the NFC West.
If Jacksonville Jaguars kicker Jason Myers had hit just one of his two overtime field goals against the Indianapolis Colts on Sunday, Andrew Luck and Co. would also find themselves in a 1-3 hole. Instead, Indianapolis is in first place in the AFC South at 2-2.
We are reminded of that whole horseshoes idiom. Close is good, but close is not good enough. Kelly may want to point to two of his team's three losses coming by five points. That's fine and dandy, but they are still losses.
The biggest issue in Philadelphia is a lack of identity on offense, not two missed kicks. Through four games, the Eagles are averaging 70 rushing yards per game — a number that ranks them 30th in the NFL. This comes on the heels of Philadelphia ranking in the top 10 in rushing offense in both of Kelly's first two seasons as its head coach.
Equally as important, Philadelphia's pass protection has been a complete disaster thus far this season. Sam Bradford has been under pressure 30 percent of the time he's dropped back to pass this season. For comparison's sake, Cincinnati Bengals quarterback Andy Dalton has been pressured just 15 percent of the time. No wonder Philadelphia has struggled offensively.
Kelly may want to focus on the positives. In reality, that's probably a good thing. But unless the Eagles can find a way to improve in key aspects of the game, they might very well be looking at multiple one-score losses — all of which could lead the team to the cellar in the NFC East.
The good news here is that Philadelphia is just one game out of first place in what has to be considered a weak division. If it is able to improve in these key areas, its 1-3 start to the season will be ancient history.
Check out Vincent's other work on eDraft.com and follow him on Twitter @VincentFrankNFL.
More from Yardbarker: