Chiefs will be fine with Nick Foles at starting quarterback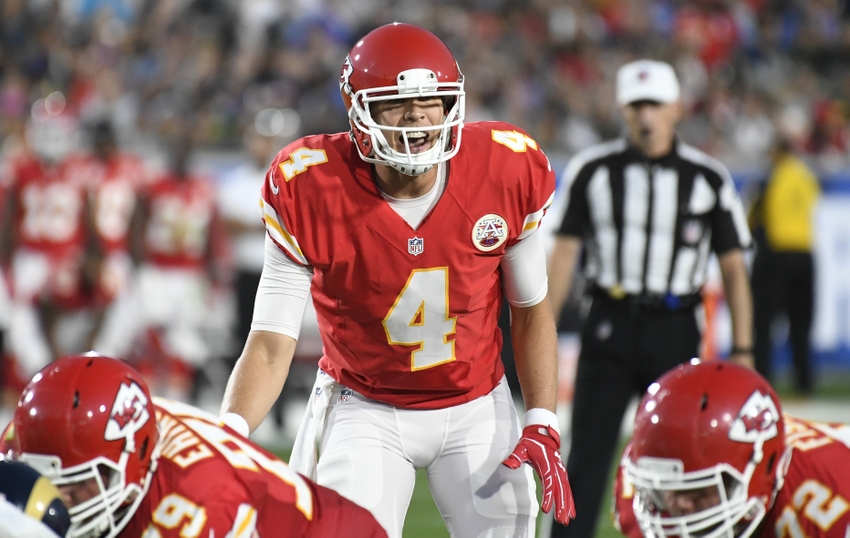 Kansas City Chiefs Head Coach Andy Reid announces Nick Foles will start at quarterback
After seeing incumbent starter Alex Smith enter concussion protocol twice in their last game against the Indianapolis Colts, the Kansas City Chiefs are starting Nick Foles this weekend.
For Foles, it's an opportunity to rebuild his career and reputation after flaming out as the starter in both Philadelphia and St. Louis. For the Chiefs, Foles represents a potential upgrade over Alex Smith.
In relief of Smith, Foles completed 72.7 of his passes, averaging 10.1 yards a pass and throwing two touchdowns. His completion percentage is five percent higher than Smith's percentage this year. In addition, Foles' passes are gaining three yards more per attempt. If he, can stretch the field, or just make the defense believe he has the ability to go deep, he will be an upgrade over Smith, who is an above-average quarterback who protects the football. But Smith's biggest limitations is his lack of arm strength and near refusal to throw downfield. When defenses do not have to fear a deep ball, they can play closer to the line, which lessens the effectiveness of the run game.
Why Foles can succeed with the Chiefs
Foles entered the NFL, as a third-round selection by Andy Reid and the Philadelphia Eagles. Foles started six games for Reid in his final season as the Eagles head coach. In six games, Foles competed 60.8 percent of his passes, averaging 6.4 yards per pass and a six-to-five touchdown to interception ratio.
In his next three seasons with the Chip Kelly Eagles and St. Louis Rams, Foles started 29 games. Foles completed 60 percent of his passes, averaging 7.36 yards per pass and a 47-to-22 touchdown-to-interception ratio.
Part of the reason Foles signed with the Chiefs is his familiarity with Reid's offense. The Chiefs head coach believed that he had the skill set required to succeed in his offense. With both being familiar with the system and skill set of each other, the learning curve will be non-existent. Foles can step in and have the entire playbook open to him. Reid does not need to tailor his offense and reduce parts of it because his quarterback does not fully understand the concepts and plays.
With a good offensive line and receiving options, Foles will be given the chance to succeed; Alex Smith has not exactly set the bar very high. If Foles can protect the football and add any threat of a deep passing game to the Chiefs offense he can be an upgrade over Smith.
Foles off-season gamble could pay off
Foles requested his release from the Rams. Foles gave up guaranteed money from the Rams, where he had no chance of playing behind Case Keenum and first overall pick Jared Goff. Foles took a risk in his career by leaving money on the table to get a better chance of playing elsewhere. Professional athletes rarely take chances, but for Foles it has the chance to pay off now that he has the chance to start.
The Arizona product was ultimately signed by the Chiefs, but there was always a chance he would not have been signed, or would have missed part of the season waiting for an injury before a team called. Foles was lucky, as the Chiefs came calling and signed him to a one-year contract. The contract also has a team option for a second year. Depending on his performance, Foles will receive between $6.75 and $16 million if the Chiefs pick up his option.
One-year contracts always provide extra motivation for athletes. One good year and you can cash in. One bad year, and your professional career maybe over.  After a few good games last year, for example, Brock Osweiler received a $72 million contract from the Houston Texans.
If Foles performs well in relief for the Chiefs, he will be an NFL starting quarterback in 2017. Foles could have his option picked up by the Chiefs and become their starter. Or the Chiefs could pick up his option and trade him. In that scenario, Foles will get a new contract to start elsewhere. However, given how poorly the early returns on the Osweiler contract have been, it's unlikely another quarterback will get $18 million a year. But a team maybe willing to gamble on Foles and give him a three-year deal with an annual salary between $12 and $16 million.
However, if Foles plays and struggles, he may just be out of our NFL lives. Rarely do quarterbacks get an opportunity to start and fail for more than three franchises.
This article originally appeared on