Chiefs Things I Think – keys to the season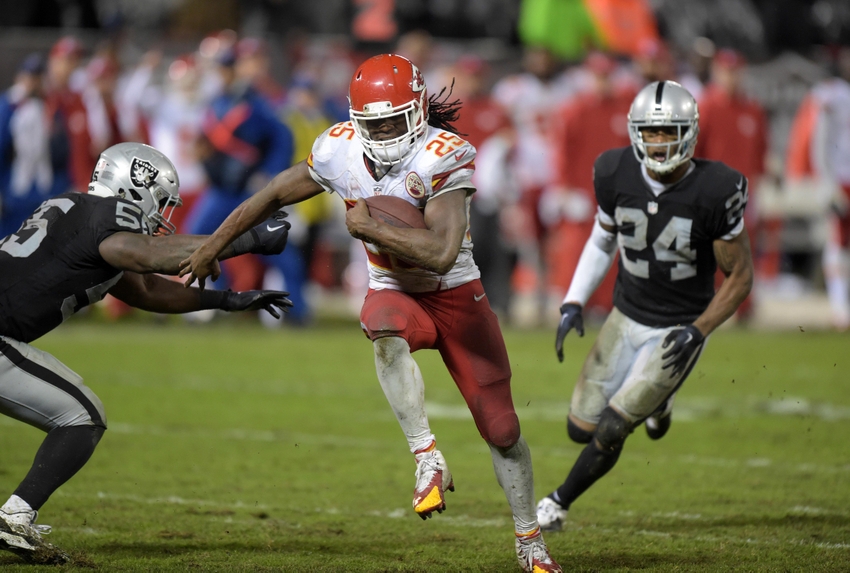 Week 6 offers Kansas City the chance to get back on track to start the 2nd quarter of the season.
The Chiefs 2-2 record is a bit disappointing. I get that. its particularly been taught to think positively since their shellacking in Pittsburgh.
In a replay of last season, the adjustments that should be made during the bye week offer a chance to find this teams direction and identity. They had plenty to do. The truest test will be the most basic. Has the coaching staff learned enough from self-scouting and analyzing successes and failures to get out of their own way?
Kansas City has played three good teams in the first four weeks. Now that the bye has come and gone, they will play five of six divisional games. The division is competitive but clearly up for grabs. the Denver Broncos have relied on their defense but are beginning to look vulnerable. This game against the Raiders could clip Oakland's progression and keep the AFC West a three-horse race.
Chris and I hit the podcast with keys and matchups to get a run started against the Oakland Raiders this week. Here's the show:
EMBED
News has been positive this week, with good news on two elite players making their way back to the field. I have more on them below. There was a lot wrong with this team over the first four games. A lot of those things easily correctable.
Here are the top-10 things I think about the Chiefs after four games.
10 –
Chris Conley is under-utilized, particularly it he red zone. I have been talking about Conley all year. What else does he have to do Andy? He has grown light years form his rookie season, led the team in receptions in game and made tough catches over and over. When the team gets in the red zone, especially inside the ten-yard line, he has to get looks. He has the physical mismatch to successfully run the slant, fade and back-of-the-end-zone crosser to score. Just throw it tot he crossbar and let lonely go get it!
9 –
Kansas City has to win the collision battle starting now. Collisions are the name of the game. Hit the other team's quarterback and don't let yours get hit. Sacks or QB hits both qualify. Unfortunately, the first quarter was an utter failure in the department for the Chiefs and their coaching staff. over the first four games, Alex smith was sacked or hit 39 times, nearly twice as much as the opposing quarterbacks at just 20.
8 –
Attacking the middle of the field is imperative for this team. Albert Wilson had some success last time out. Tyreek Hill and Chris Conley have both made plays out of the slot. Reid has get back to calling the downfield variety of routes for these three players. Dig route if one, but slows momentum. He needs to get the intermediate crossers going again. He needs to attack with a post route ever drive. At this point, I would pay good money to see Hill run an ankle-breaking Sluggo route against the speed deprived Raiders.
7 –
This team needs its swag back on both sides of the ball. Attitude is everything for a defense. Being asked to give up pass after pass in a soft zone coverage is deflating. The Offensive line has shown they can run block better than pass block. Let them do it. Let them grind down the defenses they face. It helps the clock, the play action passing and the defense. Let the big dogs lead the way.
6 –
Travis Kelce is fun and a little goofy, but it's not funny how wasted Kelce's talent was used over the first two weeks. Reid has gotten wrapped up, once again, in intricate play design and lost site of the elite advantage he has at tight end. Kelce is 6th in the NFL in receptions, yet on 41st in yards per reception. Reid has a short (yardage) leash on his best weekly mismatch. Reid has to attack with passes to Kelce in the 15-20 yard range until defenses show they can stop him. Its just that simple. Few will be able to.
5 –
Running backs as receivers. Both Jamaal Charles and Spencer Ware have to used to create mismatches. Ware proved he can be a game gaming receiver early this season and Jamaal Charles is one of the top receiving running backs in the NFL. After seeing what Tevin Coleman and Matt Ryan did to Denver's defense, there is a lot of hay to be made in the RB passing game.
Get Locked On Chiefs early!  Subscribe on AudioBoom or on iTunes
4 –
Bob Sutton has to adapt faster to offensive gamelans. He may be overwhelmed or lost in options. One thing that is clearly not the answer is going to a 3-man rush. To be effective, KC has to bring 4 or 5 pass rushers on every pass. Sutton has to stop being cute with the personnel packages and play to his strengths. Put Eric Berry in the box next to Derrick Johnson and run a Cover-2 Man concept in the secondary. Then he can drop or blitz any of 5 different defenders.
3 –
Coaches get fired for ignoring the running game. See Marc Trestman in Baltimore. Andy Reid has got to remember to tough it out running the ball. He cannot continue to abandon the run so easily. Here are Reid's play call percentages over the first quarter of 2016. The running game needs reps to get going. Now, he has added incentive to run the ball (see #2).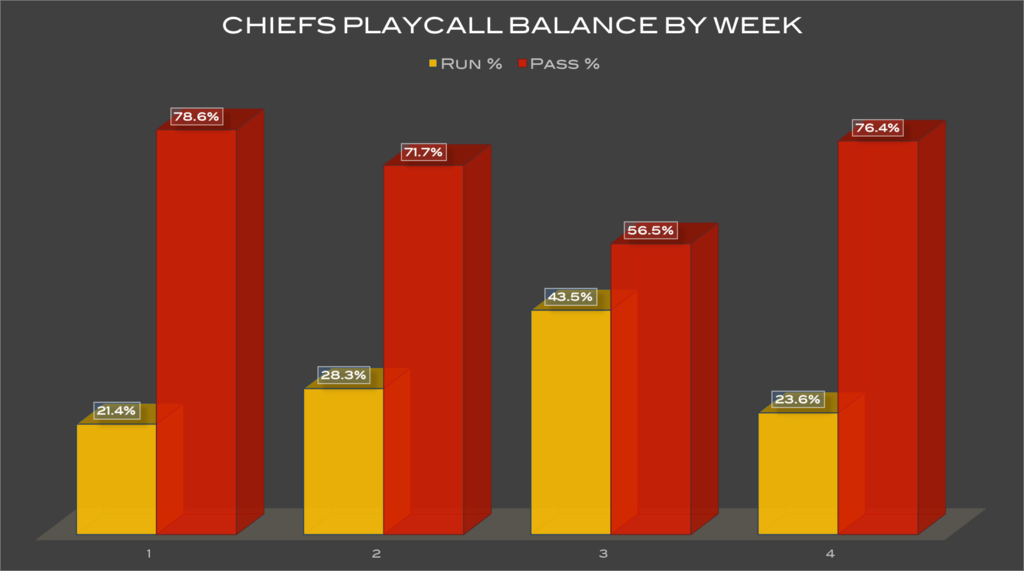 2 –
The Chiefs offense is about to get more dynamic. Jamaal Charles has been brought a long slowly and it is about to start to pay off. Wednesday Charles was asked if he is back to full speed. He replied that he is 110% and the "Training Wheels" are coming off.
1 –
What's better than getting your best offensive player back in week 6? Getting the nod that your best defensive player will soon return too! Justin Houston got cleared to start doing "football activity". It's not immediate, but it's tremendous news for a team in need of a pass rush in the worst way. Just the prospect of Houston's return can give the defense a boost that they can ride until he's able to get on the field. Having him in meetings and in drills will drive his teammates to be better.
He won't be on the field immediately, however. There are a couple of hurdles. He can be activated next week for the first time. Then, the team has 3 weeks to get a look at him and either decide to move him to the active roster or put him on IR.  The staff are inclined to take their time as they did with Charles. Time will tell when he's able to get on the field.
EMBED
Trouble hearing podcast? Go Here to stream it from the source.
Stat of the Week
83. That is how many points the Chiefs have scored this season. That is 15th in the AFC and that is terrible. Here's a note to cry over… the Jaguars have scored more total points in the same number of games. Surprisingly, the Texans are floundering having scored AFC-lowest 82 points in 5 contests.
AFC West Power Rankings
Oakland is surging while Chiefs were out on their bye week. Denver looked pedestrian and have shown the cracks that could allow them to be knocked off of the AFC West pedestal. If the teams played today on a neutral field, this is how it plays out at this point in the season.
That's it for now. Week 6 could mark a swing in fortune for this team. What do you think Addicts?
EMBED
This article originally appeared on