Chiefs offense must get their act together now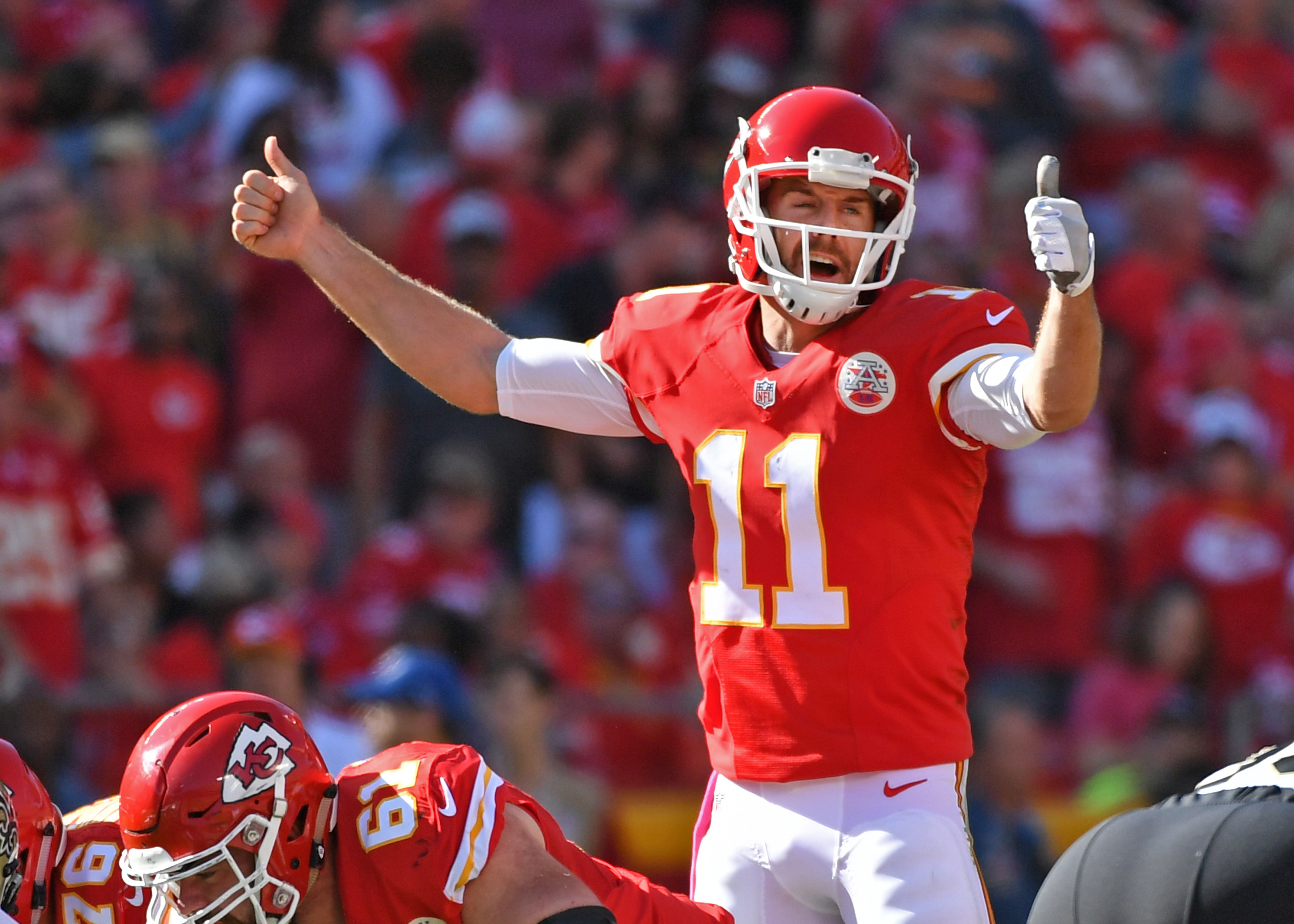 Hey Chiefs Kingdom, do you want to win a Super Bowl? If you answered yes, then you better hope Alex Smith and the rest of the offense gets their act together. But let's be real, it's mostly Smith that hinders this group.
What's up with the Kansas City Chiefs offense?
Kansas City should have lost to the Carolina Panthers on Sunday. They were down 17-0, and Alex Smith and company could not get anything going.
Thankfully, the defense saved the day. We've heard that one before, right?
Smith completed 25 of 38 passes against an average Panthers secondary. He looked uncomfortable most of the day, due to a Carolina front seven that hounded the offensive line that sacked Smith three times.
Smith had happy feet in the backfield, failing to recognize and hit wide open receivers. He had wide receiver Chris Conley open for a touchdown but missed. See below.
Smith notably missed Travis Kelce twice in the fourth quarter. He didn't see Kelce wide open in the back corner of the end zone and overthrew the tight end on third down that eventually led to a game-tying field goal, instead of a touchdown.
Smith's an average NFL quarterback that can excel as a game manager in the West Coast Offense. He rarely turns the ball over (only three interceptions this season), yet he fails to make a lot of the throws required of a Super Bowl quarterback.
Let's just say that if the Chiefs didn't have the defense that they do, then we wouldn't be talking about a potential AFC West title in 2016.
Smith would've had support had Jeremy Maclin been healthy Sunday, but through nine games, Maclin only has 376 receiving yards and 56 targets. Compare that to 2015 when Maclin had 612 receiving yards and was targeted 73 times during the same time frame.
The emergence of Tyreek Hill at wide receiver has been a welcome sight to Chiefs fans as a threat to run all over the field whenever he gets his hands on the ball, and Spencer Ware has solidified the backfield in the absence of Jamaal Charles.
Let's look ahead. The Chiefs have two games (both primetime) against the Broncos and one against the Chargers and Raiders within the division. Outside the division, Kansas City faces the Buccanneers, Falcons and Titans.
Here are Smith's career passing stats against all six opponents:
vs. Buccanneers (one game): 11/19, 170 yards, 3 TD, 0 INT, 127.2 passer rating
vs. Falcons (two games): 38/70, 337 yards, 1 TD, 5 INT, 42.4 passer rating
vs. Broncos (seven games): 138/240, 1,520 yards, 8 TD, 5 INT, 78.8 passer rating
vs. Raiders (nine games): 149/237, 1,849 yards, 18 TD, 3 INT, 107 passer rating
vs. Titans (three games): 68/119, 733 yards, 3 TD, 7 INT, 59.3 passer rating
vs. Chargers (seven games): 153/222, 1,701 yards, 9 TD, 5 INT, 95.6 passer rating
There's some good and bad in those numbers for No. 11. He's had tremendous success against the Chargers and Raiders. That's a positive sign for the Chiefs offense moving forward.
However, the same can't be said when Smith faces the Falcons, Broncos and Titans. The game at Atlanta in two weeks will be a big one for Kansas City. Don't sleep on that game against Tennessee on Dec. 18 at Arrowhead. The Titans are playing good football right now, coming off a 47-25 victory over Green Bay, and sitting one game behind the Texans for first place in the AFC South.
Here's the deal. I'm pretty critical of Smith at quarterback. He's got some talent, but not enough to win a playoff game on his own.
Thank God for Cairo Santos.
Thanks for reading, Chiefs Kingdom. For all the latest Chiefs talk follow me on Twitter and like my Facebook page. 
More from Arrowhead Addict
This article originally appeared on