Chiefs offense could learn from its performance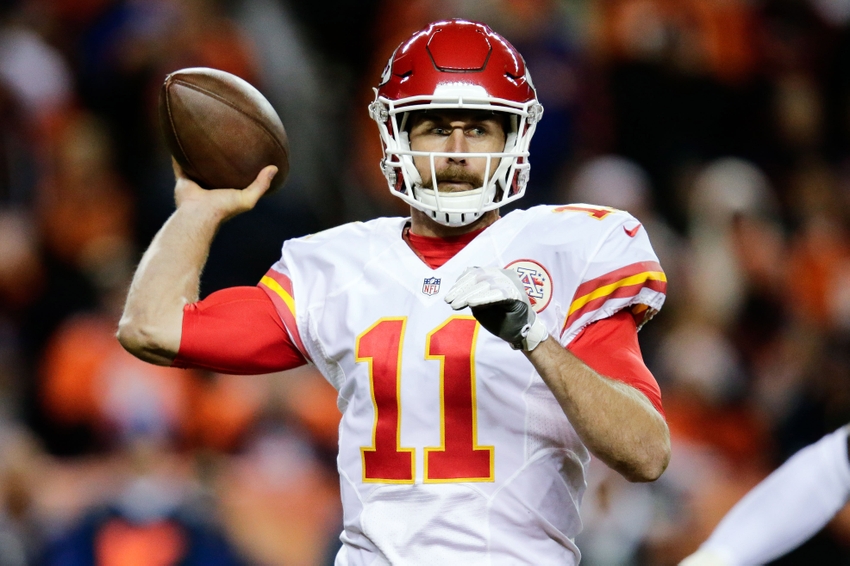 Somehow, the Chiefs beat the Denver Broncos Sunday night. Alex Smith surprised just about everyone in Chiefs Kingdom with that final fourth quarter drive.
For about 57 minutes in Sunday night's improbable Chiefs comeback win at Denver, Alex Smith was once again horrid under center at the quarterback position. And by horrid, I mean it was absolutely unfathomable that Kansas City won that football game.
The Broncos had 464 yards of total offense Sunday night. Trevor Siemian tossed the pigskin for 368 yards and added 23 yards on the ground.
To contrast that, the Chiefs offense (as a whole) mustered 273 yards on the offensive side of the ball. Denver outgained Kansas City by 191 yards and had six offensive plays of 20 yards or more, while the Chiefs could only get one such play.
I get it. I'll get plenty of responses of: "But the Chiefs won! That's all that matters"; "Defense wins championships, and our boys on D got it done!"; and "Alex did enough to win. That's all we ask of him."
No one expects Smith to be Tom Brady or Drew Brees out here. That's too unrealistic. However, I've made the point and I'll continue to make it: the Chiefs will never win a Super Bowl with the Smith that we've become accustomed to watching.
The folks at Pro Football Focus (@PFF) are thinking along the same lines as I am. Here's what Sam Monson wrote after the game about Smith:
Only Minnesota's Sam Bradford has a lower average depth of target this season than Smith's 7.0 yards downfield … Smith has had the league's lowest average depth of target in each of the past three seasons, and hasn't ranked higher than 31st in the league dating back to 2008. He does not, cannot, and will not atack down field in the way everybody wants to see their QB do.
Smith refuses to throw the ball downfield. Some of the blame could be put on the play calling from Andy Reid, but at the end of the day, Smith is the one out there throwing the ball and making decisions.
I'm hard on Smith. If you've read my work so far this season, you'd know that. I don't want to make excuses for him, but Travis Kelce did have a few key drops. Jeremy Maclin has not been a factor in 2016, either. (You can make the point that Smith has made Maclin a non-factor, though.)
There was one positive to be taken from Smith's performance Sunday night. That final drive in the last three minutes of the fourth quarter was eye-opening, to say the least. Be honest, how many of you thought Smith was going to pull that off?
On that eventual game-tying drive, Smith completed eight of 14 passes for 67 yards. He overcame a sack on the first play of the drive to lead the Chiefs downfield. On fourth down, in what was arguably the Chiefs biggest play up until that point in 2016, Smith stayed composed and delivered a beautiful ball to Hill to gain the first down and keep the drive alive.
Smith got it done when he needed to Sunday night. There isn't arguing that but what about the other 57 minutes of football where he and the rest of the offense (minus Hill) were abysmal to watch?
Speaking of Hill, he needs to be an integral part of the offense moving forward. His explosiveness is something that every NFL defense will struggle to counter.
No. 11 averaged five yards (FIVE!) gained per pass attempt. Fun fact: that was his lowest of 2016. His previous season-low was the ugly 19-12 loss at Houston in Week 2.
At the end of the day, the Chiefs and Reid can use the final drive as inspiration moving forward in the final weeks of the season. Smith has yet to get a groove; it has to happen sooner than later, right?
Smith has the talent to throw the football down the field, but he is just so conservative with the football. Reid said Monday morning that Smith did a "great job" and was "very comfortable" with the no-huddle offense. Why not increase the tempo of the offense a bit earlier in the game to get him going?
Many in Chiefs Kingdom are trying to make the connection between the 2000 Super Bowl-winning Baltimore Ravens and quarterback Trent Dilfer with the 2016 Chiefs. I have two words for you: stop it.
The 2000 Ravens defense allowed a little less than 12 points per game through the team's first 11 games. The Chiefs have given up about 19 points per game so far this season. By the end of the year, Baltimore was averaging 10 points allowed on defense and allowed 10 points or less 11 times, including four defensive shutouts.
If you really want to count on the Chiefs winning a Super Bowl because "if Dilfer could do it, then Smith can," good luck. That Ravens defense was unstoppable in 2000, and although this Chiefs defense is extremely talented, they don't compare.
This Chiefs team is fun to watch, but they can be such a head-scratcher at times. The remainder of the schedule is a doozy. Next up: the Atlanta Falcons. Let's see what Smith and the boys have rolled up their sleeves this week.
As always, thanks for reading. Follow me on Twitter and like my Facebook page to keep the Chiefs conversation going.
This article originally appeared on