Chiefs must allow playmakers to create in space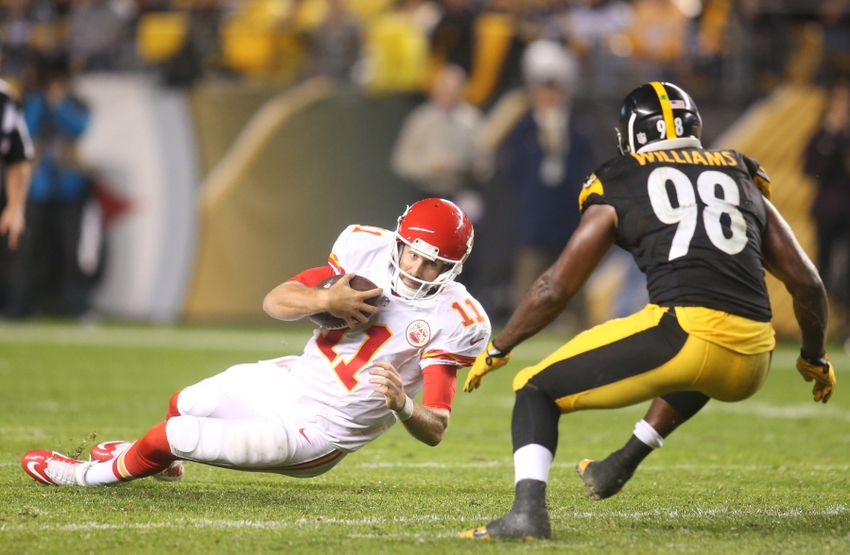 From a pure talent perspective, the Kansas City Chiefs have one of the more gifted offenses in the NFL.
The problem is, as it has been in the past, the conservative play-calling and the risk-averse nature of Alex Smith seem to be holding this offense back. I look at the Chiefs offense as a loaded gun, full of firepower with dynamic players such as Jeremy Maclin, Chris Conley, Travis Kelce and the speedy rookie, Tyreek Hill. These guys earn their paychecks on catching the football and making plays, so get the football in their hands and let them do the rest.
Andy Reid has been one of the best and most successful coaches in the NFL for a long time now. During his tenure with the Eagles, he reached five NFC Championship Games and a Super Bowl. If that wasn't impressive enough, he took an abysmal 2-14 Chiefs team to the playoffs with an 11-5 record in his first year at the helm.
Reid is one of the better offensive minds in the league and can show his brilliance in the form of scheming. His bread and butter is using the aggressive nature of a defense against it with screens, misdirection plays, etc. Though brilliant, he can be inconsistent at times, often scripting a series of similar plays that leaves the offense in a fourth and long situation and us fans scratching our heads in confusion.
While Reid has been hot and cold with his play-calling, Smith has done a poor job of executing as of late. Yes, the offensive line has been rather lackluster to start the season and he isn't always given a clean pocket to operate in, but there have been instances in which he has had ample time, but appears to get happy feet. Smith is at his best when the offense is in rhythm. He needs a few completions to get his mojo going. When he falls into a slump he seems to get jittery and doesn't seem to go through his progressions.
If his first man is tightly covered, Smith will often not take the risk of throwing it, perhaps in fear that it will be intercepted. At this point, he will at times bail on the play, roll out of the pocket and land into the awaiting arms of an opposing defender. Maclin statistically had the best hands in football last year, Chris Conley has transformed into a more physical player, beating the press with ease this year and stands at 6-foot-3 inches, Travis Kelce stands at 6-foot-5 inches and has the speed to task corners and safeties with a hard cover.
These guys are built to haul in contested passes, put a little trust in them and allow them to make plays when they're not there. The Chiefs will be traveling to Oakland, California this weekend to take on their arch nemesis, the Oakland Raiders. The Raiders look to be re-born this year and are on track to achieve their first winning season since 2002. While the Raiders have done some impressing things on offense this season, leading the surge behind their third year quarterback out of Fresno State, Derek Carr, they have been quite simply put, bad on defense.
Oakland has gave up an average of 452.6 yards per game, the worst in the NFL. Although the Raiders defense has been giving up yards in bulk, you must keep in mind that they have faced some high flying offenses in the Atlanta Falcons and New Orleans Saints.
They're still professional football players and will be playing motivated against a divisional foe. While the Raiders defense has been tormented through the air, they have came away with quite a few turnovers this year. The good news for the Chiefs is that if there is one thing Alex Smith is known for, it's taking care of the football, hence his 147-85 career touchdown to interception ratio.
This will be a big test for the Chiefs' offense as it will likely show us their true identity. They should be able to move the ball with ease against this struggling defense, if they're not able to, we could be in for a long season. Andy Reid has an impressive win margin after the bye week coming away with fifteen wins and only two losses. Both Andy and Alex are know that they must do better at what they're paid to do or this offense could sink.
After starting 1-5 last season and going on to win 10 straight and garnish the franchise with it's first playoff win since the Montana days, I firmly believe that these guys have a strong mental makeup and are fully capable of adequately preparing  for this Sunday's matchup and lighting up that scoreboard in the black hole. I'm excited to see how the boys in red will respond to an embarrassing loss in Pittsburgh given an extra week to prepare for a struggling division rival's defense.
Go Chiefs!
More from Arrowhead Addict
This article originally appeared on