Chiefs look to carve Denver like a turkey on SNF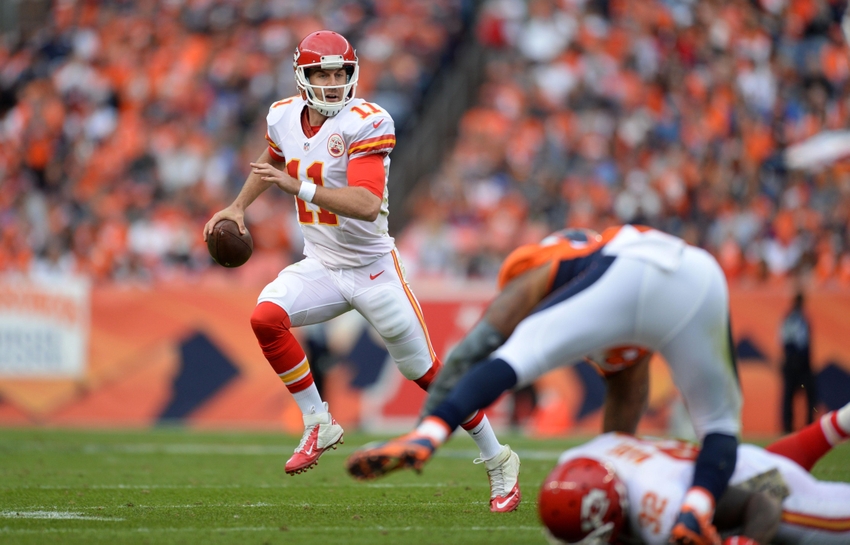 Happy Thanksgiving to you and yours! Let's talk some football.
The Chiefs offense has got to get turned around this week or the team will fall precariously low in the playoff seedings. Both Andy Reid and Alex Smith have taken to putting the blame on themselves. That's valiant, but they need to look at each other and figure out the issues. Each has aspects to correct by Sunday night.
The mechanics of the situation are frustrating, but there are some things to build on. Seth Keysor worked through it with us on the Locked on Chiefs podcast. Here's the show:
Smith has to be 100%
It's plain to my eyes that Alex Smith is not functioning at full capacity. He hasn't been right since he was hurt in Indianapolis. Whatever the nondescript non-concussion injury was, it has had lasting negative effects on Smith's performance. That has to end, plain and simple. This game is too important.
Alex smith has not been seeing the whole field, either by choice or by design. From the film, it seems systemic. Single reads lead to lost opportunities. It is strangling this offense. Smith is at his best when he can spread the ball around and take open shots. Smith needs to call or, at the very least, change plays at the line of scrimmage. He has to see the weaknesses and exploit them. He has to lead or this team will fall out of contention.
Reid has to wake up
"Too cute, Andy". That sums up Reid's play call over the last 3 games. Gimmick plays and poorly timed risk-taking has marred the offense in consecutive weeks. It's a story we've heard before, but Reid has to get out of his own head.
Ried has to re-visit his gameplans against the Oakland Raiders and New Orleans Saints. In those games, Reid attacked with a heavy run attack (55% in those 2 weeks) shots downfield. The Denver defense is 245th against the run, giving up 4.4 yards per rush. That is their prime weakness and the area in which the Chiefs can dominate this game. the Broncos are elite against the pass, giving up a league-low 6.1 yards per attempt to opposing quarterbacks.
Reid has to take the fight to Denver. It's not enough for him to just take what the defense gives him. He has to attack and let the offense exert its will. The offense needs to be physical, not finesse. The passing game has to attack vertically, not horizontally. Andy Reid has to stay aggressive. Only then can this team go into Denver, in primetime, and start to take back the division.
Matchups to Watch:
Travis Kelce vs. TJ Ward, Zach Fulton vs. Derek Wolfe
Classic Chiefs gameplay on Defense
You can call it throwback if you want. It doesn't hurt my feelings at all. In fact, I enjoy that. It puts voices that resonate in my ears. Landry, Ditka, Buddy Ryan, and Marty Schottenheimer.
Step one. Play to stop the run. First and second down should see more of a base personnel look. That means Derrick Johnson and Ramik Wilson. It could even mean eight guys in the box.
Look, the Broncos really want to run. Gary Kubiak feels it in his bones. He wants to run like Andy Reid wants to pass. The problem for Denver is that they are not very good at it. On the season, they are 26th in the league, running for 3.7 yards per carry. They have been even worse in the last 3 weeks, running for 193 yards on 74 carries or 2.6 ypc. That is a weakness the Chiefs can feast on.
Step two. Destroy the pocket and disrupt the passing game. Denver has some incredible pass-catchers. Even with Marcus Peters, they are a challenging group for defenses. The offensive line, on the other hand, is not. The Denver o-line has given up 26 sacks this season, leaving them tied for 25th in the league. They gave up six sacks to the New Orleans Saints in their last game before their bye week. Justin Houston now has a game under his belt and could hit his stride in this primetime game.
Denver has thrown for the same yards per attempt as the Chiefs at 6.9 ypa, but for less total yardage. While the deep threat is there, the Broncos throw short-to-intermediate often. That plays into the strength of this secondary. With Marcus Peters practicing on Wednesday, it looks like the intermediate area could be vulnerable. Trevor Semien has thrown a huge number of near-interceptions. Peters will take advantage of that fact.
Matchups to Watch:
Chris Jones vs. Max Garcia. Justin Houston vs. Donald Stephenson
Enjoy the turkey, Addicts! Happy Thanksgiving!!
More from Arrowhead Addict
This article originally appeared on