Chiefs Film Room: The offense showed its true colors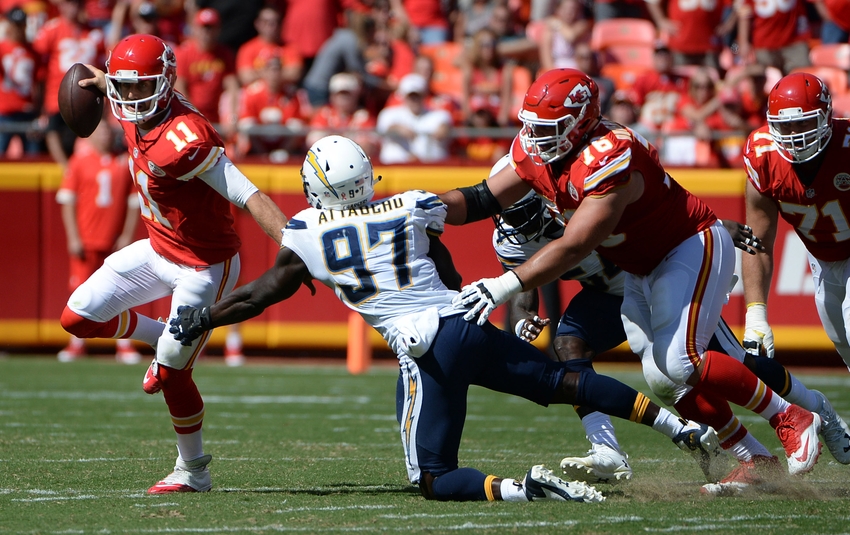 You know when a TV show returns from a break between season and gives you a refresher on what happened last season? Well it feels like that was more or less what the Chiefs did last week (quite considerate of them, right?). After a season premier like that, one has to wonder how the heck they'll top it. 
More from Arrowhead Addict
In a game where you enter halftime with Spencer Ware as your only sign of life on either side of the ball and manage to storm all the way back, the takeaways are plentiful. Let's quickly run down just a few of them:
The secondary is due for a fair share of growing pains without Sean Smith.
Josh Mauga is slightly more important to the run defense than we gave him credit for.
Ware's 2-year / $3.6 million extension is the early clubhouse leader for bargain of the offseason.
The list goes on-and-on, but given that it's only week one, things should be taken with the ol' pinch-o-salt.
However, there is one takeaway from this game which doesn't require the said salt – the old adage that the Chiefs aren't a team built to come from behind can finally be put to rest. I mean, that's been the narrative surrounding this time since Andy and Alex came to town – "they're good as long as they don't go down by more than a touchdown." I guess it's back to the narrative drawing board for analysts.
While the comeback as a whole was incredible, the game-winning drive was downright epic. That's what this offense looks like at its full-potential. And boy was it a thing of beauty – everything from the play-calling to execution was on point. So why don't we take a look back and breakdown that game clinching march down field.
Play #1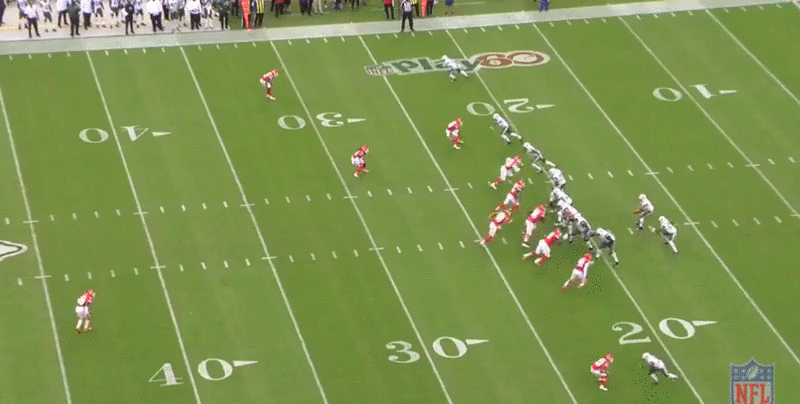 I'm a big fan of Reid opting to go pass here on the first play of overtime rather than do the predictable run up the gut. While there's a three TE bunch to Smith's left, Alex's eyes are firmly fixed to the right where only Conley and Ware are.
Here's the pivotal moment of this play. The LG gives up relatively quick pressure which forces Smith to roll out to the right. When Ware turns his head at the top of his route, he sees this and instead of continuing away from Smith, he breaks of the route and works his way downfield into a soft spot.
Remember, this is a running back that only has half a season of real action under his belt. That's an incredibly savvy play for any running back to make, and let's not forget the fantastic receiving skills to haul the pass in with both feet in-bounds. This is how you win games – having your big-time players make big-time plays at crucial times.
Play #2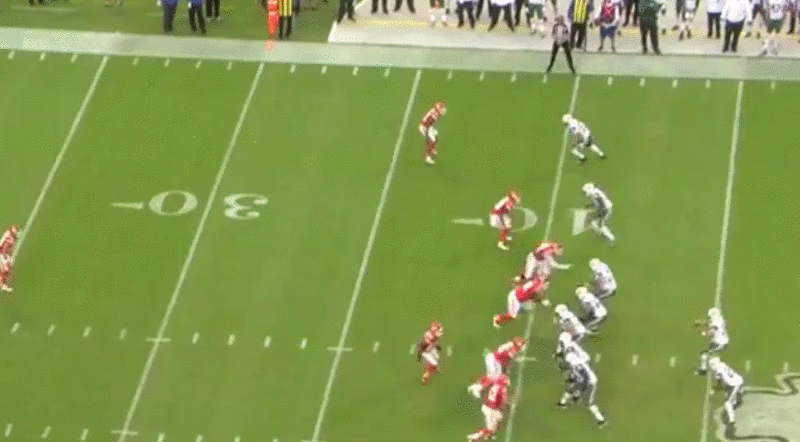 Outside of Cam Newton and Russell Wilson, I can't think of a QB who executes the read-option better than Smith. When you have one of the most effective runners at the QB position that also happens to be pretty smart, a high success rate is really no surprise.
With the ball in his hands, Smith never shows his cards and does a fantastic job of forcing the LB to commit. Once the ball is flipped to Ware, he sees nothing but green thanks to fantastic blocks by the RT Schwartz, and TE Travis Ross. When great play-calling meets perfect execution, chunks of yards and first downs begin to look effortless.
Play #5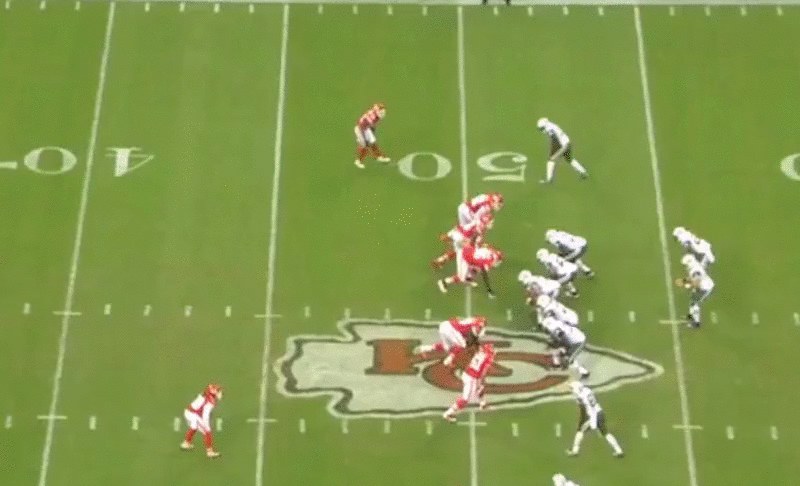 I was pretty sure this play was going to be run when watching live. I mean 3rd-and-3 when you're in FG range and it's OT? This had conservative written all over it. But man was I glad to be wrong.
The Chargers line up in Cover 1 and bring the pressure on the outside. But by going Cover 1 with Kelce split out wide at the bottom of your screen, it forces a safety to cover him with absolutely no help – a mismatch 90 percent of the time.
Smith spots this pre-snap, hangs in there while the pocket collapses around him, and places the ball exactly where it needed to be. Kelce does his job, which is to beat a defender that absolutely has no business covering him, and hauls in the pass for a first down (subsequently breaking the spirits of both Charger fans and players alike).
Play #7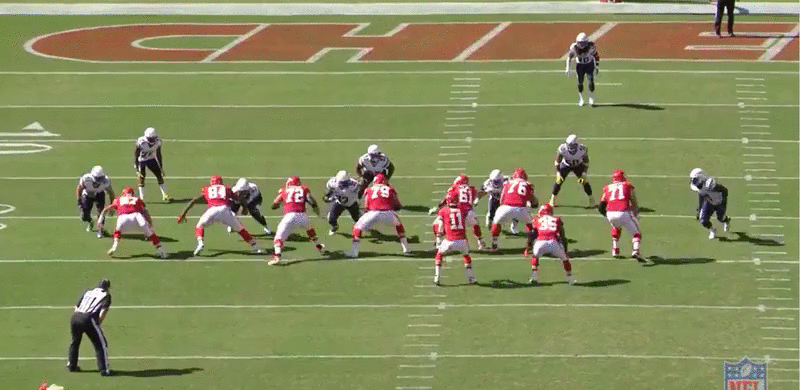 The Chargers once again go single-high safety but decide to drop the two MLBs into zone coverage over the middle and only rush the LOLB. The unfortunate ROLB drew the Sisyphean task of covering Kelce one-on-one on the outside.
Once again, the pressure gets through the Chiefs line all too quickly, with the LG the culprit this time. With pressure coming right up the middle, Smith never drops his eyes and delivers a ball that only his receiver can catch, or will fall incomplete. These are the kind of throws Smith started making last year – giving his guy's a shot to make a play when they didn't have much separation. And when the guy you're giving a chance to make a play is Kelce, one tends to feel pretty good about their chances.
I said it earlier and I'll say it again, when your key players are making clutch plays like this in key moments of the game, you're a team to be reckoned with.
Play #10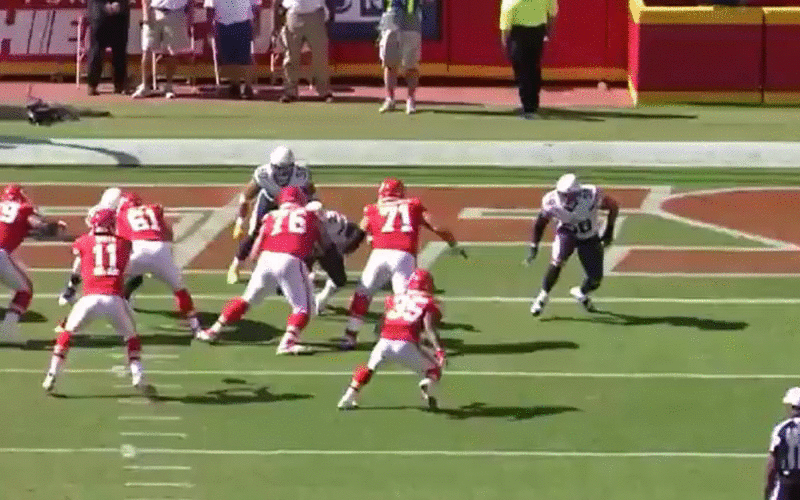 There was so much to like about this play, but let's start with the fact that Smith looks to have audibled to it pre-snap. Last season, we heard about Reid allowing Smith to start making these types of call at the line and this is just the latest example of the benefits that decision is reaping.
Not only was this play setup by the read-option run earlier on this drive (Play #2), but also by the Chiefs last touchdown in the playoff game versus New England. We all know coaches spend hours poring over film trying to find an opponent's tendencies, so you can bet they took note of West scoring against the Patriots on a read-option near the goal line.
So with that in mind, and a Smith pitch to Ware on a read-option a few minutes ago, it's only natural for the LB to think this option is going unfold the same way. As you can see in the GIF, he overplays his hand by the smallest of margins which is all Smith needs to ice the game.
Now, is it concerning the Chiefs managed to find themselves down 21 – 3 in the first place? Ummm, yeah. Are the Chargers perhaps a better team than we thought they were? There's a solid case to be made. Did the Chiefs just warn the entire league that this offense is going to cause major problems for opponents? Absolutely.
Chiefs GIF of the Week
Never change, Charcandrick. Never change.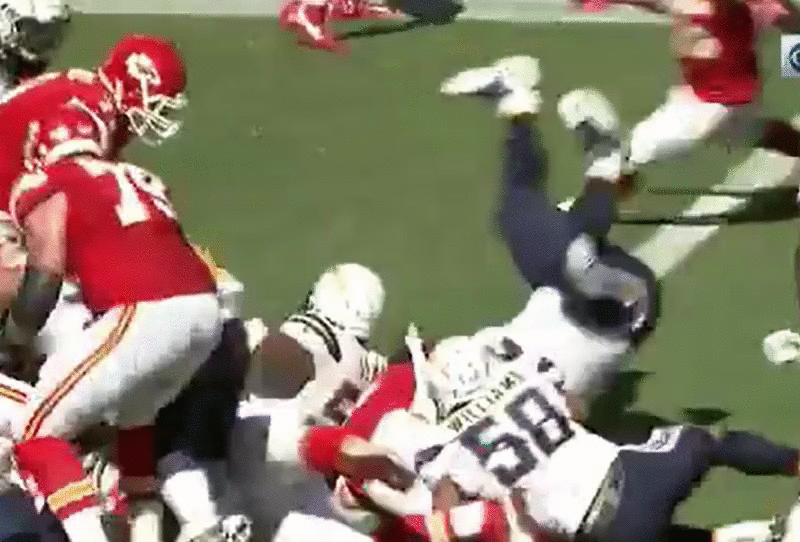 This article originally appeared on