Chiefs at Texans: Highlights, score, and recap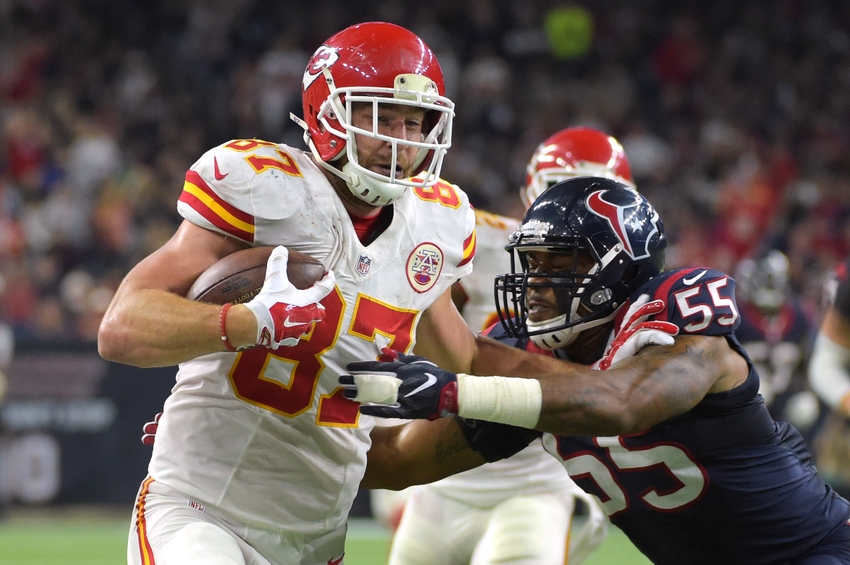 It is playoff rematch time in Houston as the Texans look to get revenge for last season's shutout loss in the AFC Wild Card round to the Kansas City Chiefs.
As rivalries go, there really isn't much of one between the AFC West's Kansas City Chiefs and the AFC South's Houston Texans.
But if these two teams keep meeting like this, who know how much fun this conference matchup will eventually become.
For the third time in the last 13 months, Andy Reid's club and Bill O'Brien's squad will clash in Houston. In both instances last season, the Chiefs came away with road wins – 27-20 (Week 1) and 30-0 (AFC Wild Card Playoffs).
Of course, this is a new-look Texans' attack with quarterback Brock Osweiler, running back Lamar Miller and wide receivers Will Fuller and Braxton Miller. The line now includes Jeff Allen, a former member of the Chiefs offensive' front.
Reid's team has its own share of offensive standouts and in essence didn't make a lot of changes from a team that finished 11-5 a year ago and comes into this contest riding an 11-game regular-season winning streak. Last week, with the help of quarterback Alex Smith and running back Spencer Ware, the team orchestrated the biggest comeback (21 points down) in the franchise's 57-year history. Down 24-3 in the third quarter, Kansas City came all the way back for a 33-27 overtime win.
Houston also rallied to win last Sunday, blanking the Chicago Bears in the second half on the way to a 23-14 triumph. Their defense posted five sacks of quarterback Jay Cutler (none from J.J. Watt) and hope to harass Alex Smith in similar fashion.
This has nail-biter written all over it as both clubs look to make an early-season statement.
Highlights Posted Live as They Happen
Three Stars
1. Travis Kelce
In last season's twin-slaying of the Houston Texans, the talented tight end totaled a combined 14 receptions for 234 yards and two touchdowns. Kelce amassed 100-plus receiving yards in each contest, with both scores coming in the Week 1 victory. Romeo Crennel's defense must come up with some answers to slow down Alex Smith's top option.
2. Lamar Miller
Last week, the former Miami Dolphins backfield threat totaled a career-best 28 rushing attempts and rolled up 106 yards against the Chicago Bears. On Sunday, Miller takes aim at a Kansas City defense that allowed a whopping 155 yards on the ground last week against the San Diego Chargers. It should be a busy afternoon for the Texans' newest workhorse.
3. DeAndre Hopkins
Against the Bears, Houston quarterback Brock Osweiler got off to a slow start but eventually found his rhythm which included throwing a pair of touchdown passes – the first to Hopkins. In last season's Week 1 meeting with the Chiefs, the Pro Bowl wideout scored twice. This is a Kansas City secondary that no longer employs cornerback Sean Smith and look for Hopkins to take advantage.
Odds
Despite losing two games to the Chiefs at Houston a year ago, the Houston Texans are a 2-point favorite in this contest. The OVER/UNDER is a very manageable 43.
Next Week
The Kansas City Chiefs return home to face the New York Jets. Meanwhile, the Houston Texans have a short week and play their first road game of the season, a clash with the New England Patriots on Thursday night in Foxborough.
More from FanSided
This article originally appeared on