Chiefs are all out of excuses going into Denver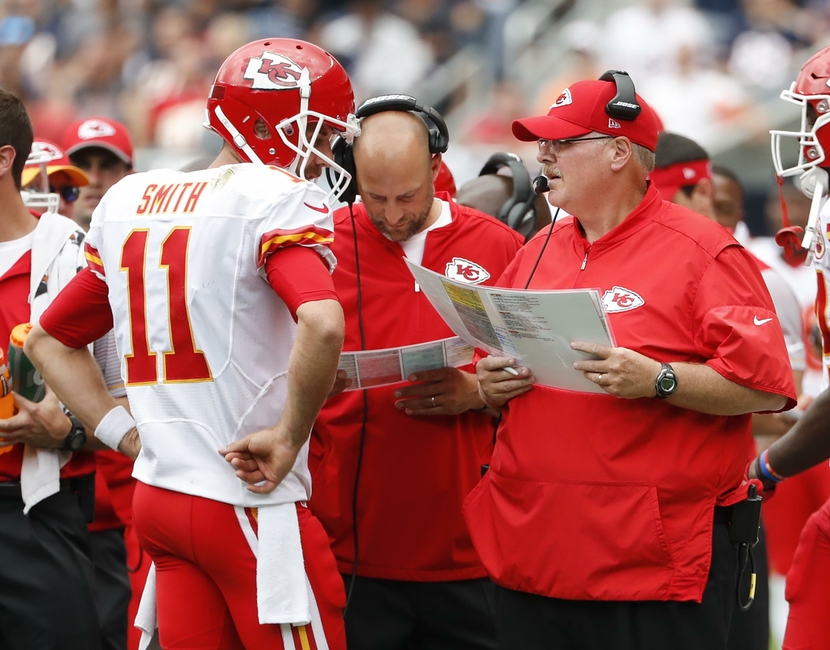 Alex Smith, Andy Reid and the Kansas City Chiefs are fresh out of excuses going into their primetime matchup with the Denver Broncos.
Time is up. The timer is going off on the Chiefs. After losing 19-17 on Sunday to the Tampa Bay Buccaneers at Arrowhead Stadium, Kansas City is 7-3. For most teams, that would be terrific. For this group, it's only good without context.
Kansas City is struggling in areas it shouldn't be. Alex Smith has been surrounded by the best cast of his career. He has an electric burner in Tyreek Hill and a top-five tight end in Travis Kelce. There is Jeremy Maclin, a legitimate top-tier receiver and Spencer Ware, one of the best running backs in the game. Smith is also behind a very good offensive line with two excellent, and well-paid, tackles.
Andy Reid is in his fourth year as Big Red. He has continuity in the coaching staff and roster. His message should be loud and clear. The Chiefs should be running like a Swiss watch, especially on the offensive side, Reid's specialty. Instead, they are a broken mess, leaking more oil by the minute. The record might say 7-3, but there are major questions facing this team.
And now, the Chiefs go into Denver to face the Broncos on Sunday Night Football. Look at the Denver injury report, and nobody is on it. Kansas City has a walking MASH unit. The Broncos are coming off their bye week. The Chiefs had theirs in Week 4.
Those are some of the many available excuses. If you, or the team, use them, shame on you.
Few teams can match the talent housed at One Arrowhead Drive. The Chiefs have All-Pros on both sides of the ball to go with a head coach who has a winning percentage better than Chuck Noll, Hank Stram and Bill Parcells. The fans are rabid, ownership spends money.
Most teams deal with injuries, even big ones. You know what most teams don't deal with? Calling timeouts to spot the opposition three points before the half. Or calling a jet sweep to a 260-pound tight end with an ankle injury at the 3-yard line.
Point being, Reid needs to get his act together. Smith needs to start playing like a quality starting quarterback, something he had been each of the past two seasons. We don't need Bill Belichick and Tom Brady. We need competent Andy Reid and capable Alex Smith.
The Chiefs have everything in front of them. Win in Denver, and the Broncos will be buried behind them. Beat the Raiders in a few weeks, and own the most important tiebreaker in the West. Win the West, likely earn the No. 2 seed.
Now, the biggest test of Reid's regular-season tenure lies ahead. No excuses.
More from Arrowhead Addict
This article originally appeared on