Chiefs activate Justin Houston: Will he play in Week 10?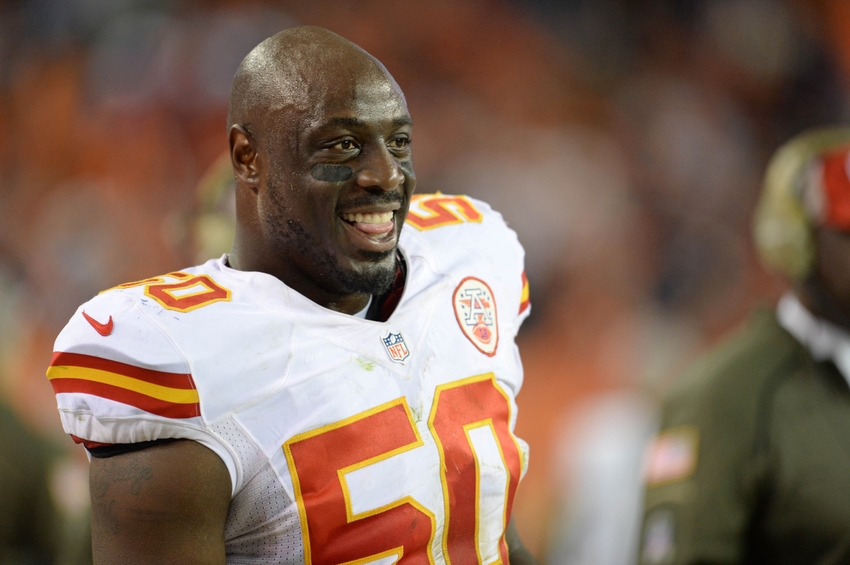 The Kansas City Chiefs activated Justin Houston off the PUP list on Wednesday but can he play on Sunday?
The Kansas City Chiefs have been decimated by injuries to key players this year but they received some great news on Wednesday with Justin Houston coming off the PUP list. Houston is recovering from ACL surgery and returned to practice last month on a very limited basis.
Houston will be eligible to play for the team in Week 10 against the reigning NFC champion Carolina Panthers on Sunday but it remains to be seen if he will or not. Houston practiced on a limited basis on Wednesday and I would expect the team works him back slowly to avoid a potential setback.
The Chiefs were crushed to lose running back Jamaal Charles to injured reserve after he tried to come back from his injury. Andy Reid and the Chiefs can afford to bring Houston along slowly with the development of former first round pick Dee Ford who has shown the ability to get to the quarterback.
When healthy, Houston can have the same kind of impact that edge rushers like Von Miller and Kahlil Mack have for the Denver Broncos and Oakland Raiders, respectively. Therefore, when Houston is on the field and unleashed on third downs, you can expect the Chiefs defense to look as good as it has all year.
That's a scary proposition for the rest of the AFC West as the Chiefs pursue a division title and a playoff spot.
Monitoring Houston at Thursday's practice will be telling for his Sunday availability. I doubt Reid will throw him out there without being a full participant in practice and even when he does return, he could be on a pitch count and limited to third downs until he gets his football conditioning back.
Houston had a career-high and NFL-best 22 sacks in 2014 and had 7.5 sacks in 11 games last year.
This article originally appeared on