Chicago Bears: Who Is Matt Barkley and Is He For Real?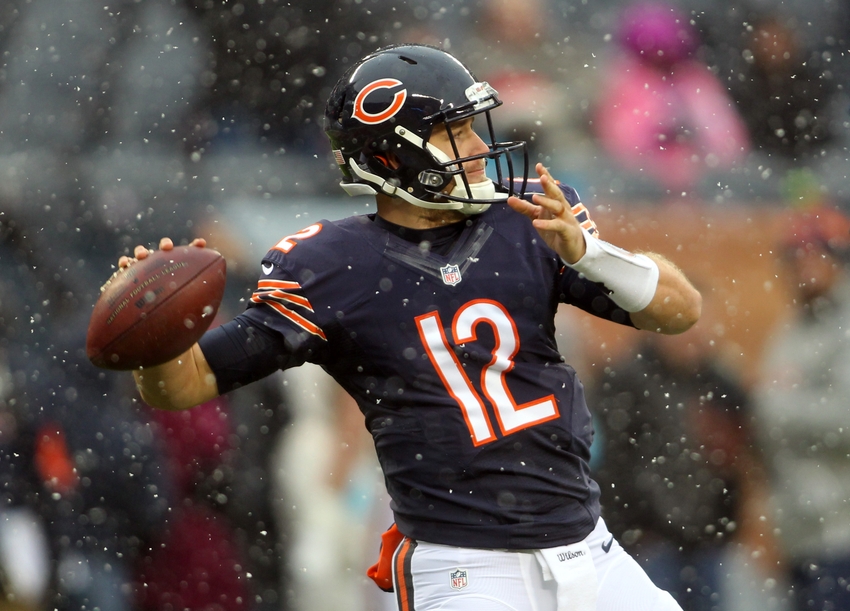 By all rights this 2016 season should be plummeting towards an inevitable crash to earth for the Chicago Bears. Instead they've somehow stayed competitive.
Over the past two weeks they were a dropped pass away from beating the Tennessee Titans and just got done hammering the San Francisco 49ers 26-6 on a snow-swept Soldier Field. A wholly unexpected architect of these two strong performances is quarterback Matt Barkley. This is a guy who was signed off the street to the teams' practice squad in September. Not a single person worth their salt thought he would ever sniff the active roster, let alone play in a game.
Then the injuries began to hit. Jay Cutler went down with a sprained thumb and then a torn labrum in his shoulder. Brian Hoyer broken his left arm. Just like that Barkley was catapulted from scout team quarterback to starter. Bears fans everywhere got ready to cringe. If their season was ugly before, it was about to get a lot worse.
That's when a funny thing happened. Barkley started to play well. Surprisingly well. Since becoming the starter he has thrown for 508 yards, three touchdowns and two interceptions. Pro Football Focus explained how well he's done, and how much better the numbers should look if not for playing with second-rate receivers.
"The Chicago Bears may have just found something in quarterback Matt Barkley.

Forced into starting action due to the injuries of Jay Cutler and Brian Hoyer, Barkley has started each of the last two games for Chicago; he played well in each, earning PFF grades of 79.4 and 83.7, respectively.

That also helps explain why his raw numbers—though not terrible—don't match the high grades. In Week 12, the Bears dropped more passes in a single game than any other team over the last 10 years of PFF grading. The drops alone were the difference in Barkley's actual completion percentage of 51.9 for the game, and his potential completion percentage of 74.1 percent, had his receivers simply held on to passes he delivered accurately."
So who exactly is he? Barkley is a native of California. He's a devout Christian and son of an insurance business owner. He was rated the top overall prospect of the 2009 high school football class and was recruited by head coach Pete Carroll to play in college at USC. During his time there he earned a degree in communications and made multiple humanitarian trips to Africa on Christmas vacations.
Steve Clarkson, a renowned quarterback expert who helped train Ben Roethlisberger among others, compared Barkley to a cross between Joe Montana and Tom Brady.
It looked like things were lining up for him with Caroll as his head coach in college. Mel Kiper Jr. even said during his first season that he'd be the #1 pick in the draft three years later. Barkley seemed to prove that by becoming the first freshman to ever start a season for USC. Unfortunately things went south rather quickly.
It started in 2010 with Carroll departing for the NFL. News soon followed that the program had committed NCAA violations centering on improper player benefits. They were hit with a two-year bowl ban and lost several scholarships. This distraction was ill-timed for Barkley who had just lost his coach. Nonetheless he battled through it, and a number of injuries, to give USC all four of his eligible years.
All told he finished with 12,327 passing yards, 116 touchdowns and 48 interceptions while compiling a 34-13 record. He came out in the 2013 NFL draft hoping to fulfill that promise of being a 1st round pick. Sadly he didn't have the momentum or the positive pre-draft scores needed to pull it off. Barkley fell to the 4th round where he was picked up by the Philadelphia Eagles 98th overall.
After two years spent as a backup there, he was traded to the Arizona Cardinals in 2015. Given Bruce Arians, a notable quarterback guru signed off on that move is interesting. Barkley stayed there as a reserve but was cut right after the 2016 preseason ended. A day later GM Ryan Pace put him onto the practice squad.
So here the Chicago Bears sit. Four games remain in the 2016 schedule. Cutler is out of the picture. Nobody is set to remove Barkley from the starting job for the next month. This represents the best opportunity he's had by far in his career to show people what he can do. Is he just a guy taking advantage of a brief window of weak opponents or is there more?
Barkley was tabbed by some of the best talent evaluators in the business as something worth exploring. He was compared to the two greatest in NFL history. He's clean cut, knows how to communicate and understands the true depth of leadership. The tape shows somebody who is unfazed by pressure from inside the pocket and delivers strikes with lots of accuracy.
To top it off he's wisely wearing the #12, a jersey that has been very kind to the quarterback position for many years. Ask Brady, Aaron Rodgers, Roger Staubach, Jim Kelly and Terry Bradshaw among others. That's some good karma sprinkled over what is an intriguing situation. It's way too soon to be many any predictions about the long-term future.
Still, here is what is known for sure. The quarterback market for 2017 is weak, for both free agency and the draft. If Barkley continues to show signs of progress, then it's time to at least consider him as a legitimate "bridge" quarterback option. In other words a starter the Bears can roll with until they're in position to get somebody better.
At 26-years old he's smack in the middle of his prime and won't command near the dollars that Cutler or others will. Definitely something to monitor.
This article originally appeared on