Chicago Bears: Welcome to the Party, Jordan Howard!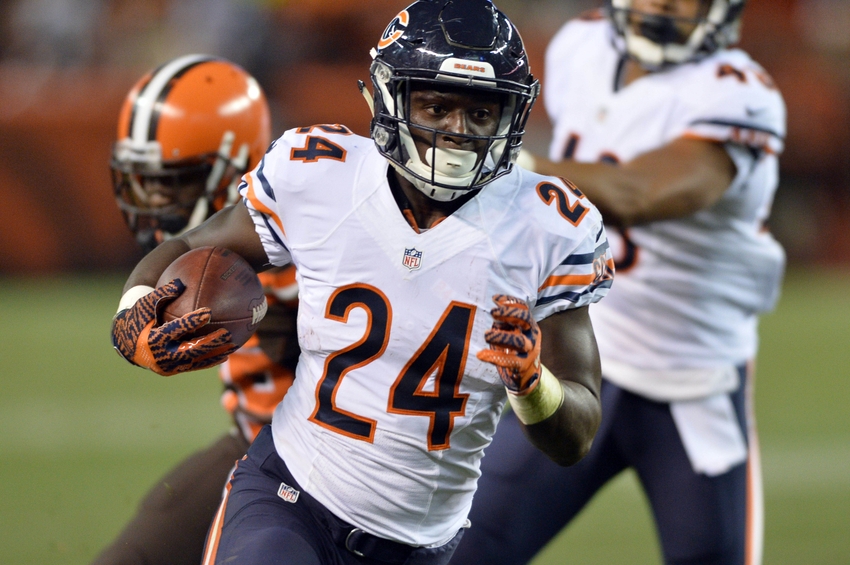 Rookie running back Jordan Howard has been one of the few bright spots for the Chicago Bears this season, and his best could still be yet to come.
Coming into the season, the Chicago Bears thought that second-year player Jeremy Langford would be their future at running back. He was listed as the starter in the preseason and, in Week 1 against the Houston Texans, Langford was on the field for the majority of the Bears offensive plays (55). However, a Week 3 injury against the Dallas Cowboys opened-up the door for another young back—fifth-round pick Jordan Howard—to have a starring role.
Howard's first career start came in Week 4 against the Detroit Lions. In the Bears' first win of the season, Howard ran for 111 yards (averaging 4.8 yards per carry), caught three passes for 21 yards, and was on the field for more than 85 percent of snaps.
Howard's success continued in Week 5 against the Indianapolis Colts, as he ran for 118 yards (7.4 yards per carry), had 45 receiving yards, and scored his first career touchdown. His stats were buoyed a bit by a 57-yard run, but Howard continued to show toughness in-between the tackles and the ability to find the hole and hit it.
Coming out of college, Howard was seen as a potential workhorse back. At Indiana, Howard rarely came off the field and ran for at least 145 yards in every game he played. He displayed "pro-ready" vision and had the ability to "get skinny" and squeeze through a hole towards the second level. He had good pad level, and showcased the leg and arm strength to break tackles. One anonymous AFC running back coach said of Howard:
He's the best pure running back in this draft. I've coached some good ones and he's what you look for. He's not as well-rounded as Ezekiel Elliott is, but I think this kid is the best runner in this year's draft.
The biggest knock on Howard was his speed, as his 40-yard dash time was just 4.59 seconds—slow for a running back. His lack of explosive speed was evident on his 69-yard run on Halloween night against the Minnesota Vikings (he got caught from behind). But the important thing on that run was his vision, quick burst through the hole, and subtle shiftiness. Speed is sometimes overrated for running backs, and Howard checks most of the other boxes needed for a running back to succeed in the NFL, including pass protection.
According to Pro Football Focus, Howard has a pass blocking grade of just over 70, which is average. He has room for improvement in this area, but most rookie running backs struggle mightily in pass protection until their second or third season in the league. Howard's solid showing in this area early in his career bodes well for the future.
Howard reportedly has a stranglehold on the team's starting running back spot, so it appears we'll get to see a lot of him over the second half of the season. The upcoming schedule is a favorable one for Howard, so he should have some more success. He has already been named NFC Offensive Player of the Week (in Week 8) and, if his strong play continues, more accolades could be coming his way.
From the outside, this appears to be a lost season for the Bears, but it doesn't necessarily need to be. If Howard uses the rest of the year to develop into the player the Bears think he could become, this season could have lasting implications for the Bears and Howard.
More from NFL Spin Zone
This article originally appeared on