Chicago Bears' Week 7 Report Card
Just when you thought it couldn't get any worse for the Chicago Bears, it does. On offense, the Bears lost two key players, only gained 189 total yards, converted two of eight third downs, and held the ball barely over 20 minutes. Defensively, they let arguably the best quarterback in the NFL get back in a groove, allowed 406 total yards, and let their opponent convert on 56 percent of their third downs. As a result, Chicago found themselves on the losing side of a 26-10 game against the much-hated Green Bay Packers.
Need I say more? Take a look at the grades.
Quarterbacks
Before leaving the game with a broken left arm, Brian Hoyer didn't seem to be on track to continue his string of 300-yard games. Hoyer completed only four of 11 passes for 49 yards. Matt Barkley stepped in in the second quarter and led the team 54 yards down the field for a field goal, but didn't do much better after that, connecting on six of his 15 pass attempts for 81 yards. Barkley also threw two interceptions. The fact that neither one of the Bears' quarterbacks couldn't produce with Green Bay's top three cornerbacks sidelined makes this outcome even worse.
Grade: F
Running Backs
For the second week in a row, rookie running back Jordan Howard was shut down. Howard had only seven carries for 22 yards, and was the Bears' secondary option in the backfield next to fellow running back Ka'Deem Carey. Carey didn't get too many opportunities to run the ball, due to Chicago trailing for the majority of the game, but did finish with 48 yards on 10 carries. Not much was expected going up against the second-ranked run defense in the league, but seeing Carey's 4.8 yards per carry average should've been reason enough to give the running game more of a try.
Grade: D-
Wide Receivers/Tight Ends
As mentioned earlier, the Packers' was without their top three cornerbacks, and yet Chicago's wide receivers couldn't take advantage. Alshon Jeffery had his worst game of the year with three receptions for 33 yards. Cameron Meredith followed his previous two consecutive 100-yard receiving games with only one catch for 12 yards. Tight end Zach Miller had two grabs for a team-high 40 receiving yards, and was the reason for one of Barkley's interceptions when he dropped a pass.
Grade: F
Offensive Line
Pro Bowl right guard Kyle Long ended up leaving the game in the second quarter with an arm injury, but overall, Chicago's offensive line was still a disaster. Only one sack was allowed, but the O-line couldn't get things going for the ground game, and couldn't stop the pressure that eventually resulted in Hoyer getting his arm broken.
Grade: F
Defensive Line
The Bears' defensive line did what they could when trying to penetrate the line of scrimmage. Chicago's D-line combined for a total of seven tackles, but that wasn't enough to prevent the Packers from gaining over 100 yards on the ground as a team. Against the pass, very little pressure was put upon Green Bay's quarterback.
Grade: D-
Linebackers
As usual, Jerrell Freeman was the leader of the Bears' corps of linebackers, and the entire defense. Freeman had a game-high 13 tackles, including a huge stop on a fourth-and-goal, preventing the Packers from getting into the end zone late in the first quarter. Rookie Leonard Floyd had the best game of his young career, finishing with two sacks, a forced fumble, and a fumble recovery for a touchdown.
Other than those two bright spots, Chicago had a difficult time stopping a Packers running game that was without their two top running backs. Green Bay inserted two wide receivers, Ty Montgomery and Randall Cobb, in the backfield, and both combined for 81 yards on 14 carries (5.8 yards per carry).
Grade: D-
Defensive Backs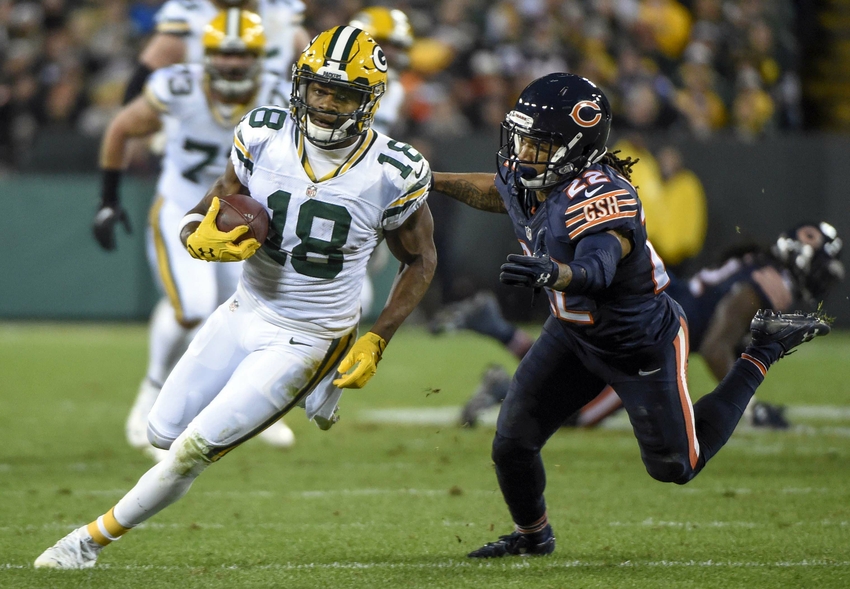 Things looked good in the first half when safety Harold Jones-Quartey and cornerback Tracy Porter both made a good stop on the goal line on a third-and-goal in the first quarter, but that chemistry between both teammates was nowhere to be found in the fourth quarter, when they both had a mix-up in an assignment and allowed Davante Adams to score early in the fourth quarter. Cornerback Cre'von LeBlanc made two good plays in the end zone on Cobb, but was beaten for a TD in the fourth quarter. Overall, Chicago's secondary seemed to revive Aaron Rodgers' game. For the first time this season, Rodgers threw for over 300 yards. Rookie cornerback DeVante Bausby had a night to forget, with three penalties.
Grade: F
Special Teams
Kicker Connor Barth connected on his only field goal attempt, which was from 39 yards away, and punter Pat O'Donnell placed three of his five punts inside the 20-yard line. Chicago played against only two kickoffs, and didn't let Green Bay reach the 20-yard line on both occasions.
Grade: C
Coaching
It's just coming to the point where it seems that John Fox just doesn't know what to do. On top of more key injuries, his team is still getting mixed up on both sides of the ball, mainly along the offensive line and in the defensive secondary, and Fox still doesn't know how to right these wrongs. And seeing that he was down to his third-string quarterback, why didn't the Bears lean more on the running game?
Grade: F
More from Bear Goggles On
This article originally appeared on