Chicago Bears vs. Tampa Bay Buccaneers: Who Has the Advantage?
The Week 10 matchup between the Chicago Bears and the Tampa Bay Buccaneers may not be the first game most football fans would want to watch this week, but that doesn't change the fact that this contest has the potential to be a major turning point for one of these teams. The Bears (2-6) are well-rested after their bye week, and are looking for their first back-to-back wins of 2016. The Bucs (3-5) will not only be trying to end a two-game skid, but will also be in search for their first home win since Week 13 of last season.
Both Chicago and Tampa Bay have stumbled out of the starting blocks, resulting in a disappointing first half of the year. By the end of this game, one team could be headed for a complete turnaround for the second half of the season, while the other ball club could continue their downward spiral. Which team will it be?
Bears' Pass Offense vs. Bucs' Pass Defense
With Jay Cutler back under center, the Bears have a better chance at putting points on the board. Tampa Bay's pass defense is 27th in the league, and they have surrendered the fourth-most touchdown passes so far this season (18). In addition, opposing quarterbacks have a combined 103.5 QB rating against the Buccaneers (third-highest in NFL).
In last year's meeting between these two teams, Cutler had a modest outing with 156 passing yards, but that was without wide receiver Alshon Jeffery. Look for the Cutler-Jeffery connection to be productive early and often.
Advantage: Bears
Bears' Run Offense vs. Bucs' Run Defense
No running back has had a 100-yard game against the Bucs' defense this year, yet they are still ranked 25th against the run. Rookie running back Jordan Howard is the Bears' leading rusher, and is coming off of a career-high 153-yard game in Week 8. With the addition of Ka'Deem Carey and Jeremy Langford, Chicago's running game should have a field day against Tampa Bay's porous front seven.
Advantage: Bears
Bucs' Pass Offense vs. Bears' Pass Defense
Bucs quarterback Jameis Winston is tied for fourth in the NFL with nine interceptions, but the second-year veteran has only thrown one pick in the last four games. Chicago's 12th ranked pass defense may present a problem for Winston, but Bucs wide receiver Mike Evans may be a bigger problem for the Bears' secondary. Evans' 745 receiving yards is the fifth-most in the NFL, and his eight touchdown receptions lead the league. If Chicago's pass rush doesn't continue to flourish, then Evans could easily add to his league-leading numbers.
Advantage: Bucs
Bucs' Run Offense vs. Bears' Run Defense
Tampa Bay's leading rusher, Jacquizz Rodgers, will be out with a foot injury. Fellow running back Doug Martin, who hasn't seen action since Week 2, is listed as questionable with a hamstring injury. Even if Martin is slated to play, there is no telling how effective he would be, considering this week being the first time he's practiced in nearly two months. Chicago's run defense shouldn't have a problem against Tampa's ineffective running game.
Advantage: Bears
Special Teams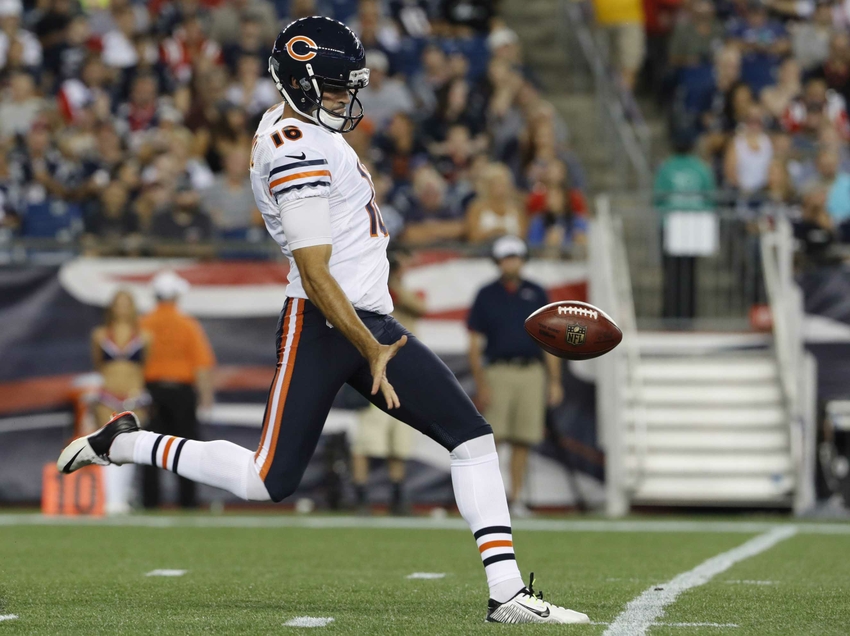 Bucs rookie kicker Roberto Aguayo hasn't lived up to being Tampa Bay's second-round pick, having connected on only 58.3 percent of his field goals. To make matters worse for the Bucs' special teams unit, their 14.5 yards per kick return average is the worst in the NFL. For the first time, Chicago just might have the upper hand in special teams by a significant margin against an opponent this season.
Advantage: Bears
Coaching
First-year head coach Dirk Koetter is trying to make the best out of a tough situation in Tampa Bay. With his Pro Bowl running back on the shelf, Koetter has still found a way for his offense to be ranked in the top half of the league. Unfortunately, the same can't be said for his defense. Bears head coach John Fox and his coaching staff seems to have finally gotten the right formula on both sides of the ball in their last game. However, will they continue that trend against the Bucs?
Advantage: Draw
Who Has the Overall Advantage?
Although most of the aforementioned matchups tend to be in favor of the Bears, this game should definitely be a close one. Chicago's offense has reached the 20-point mark only twice this season, but Tampa Bay is surrendering an average of 29.0 points per game. Cutler and his offense should be able to outduel Winston and the Bucs.
Overall Advantage: Bears
More from Bear Goggles On
This article originally appeared on