Chicago Bears: Three-Round 2017 NFL Mock Draft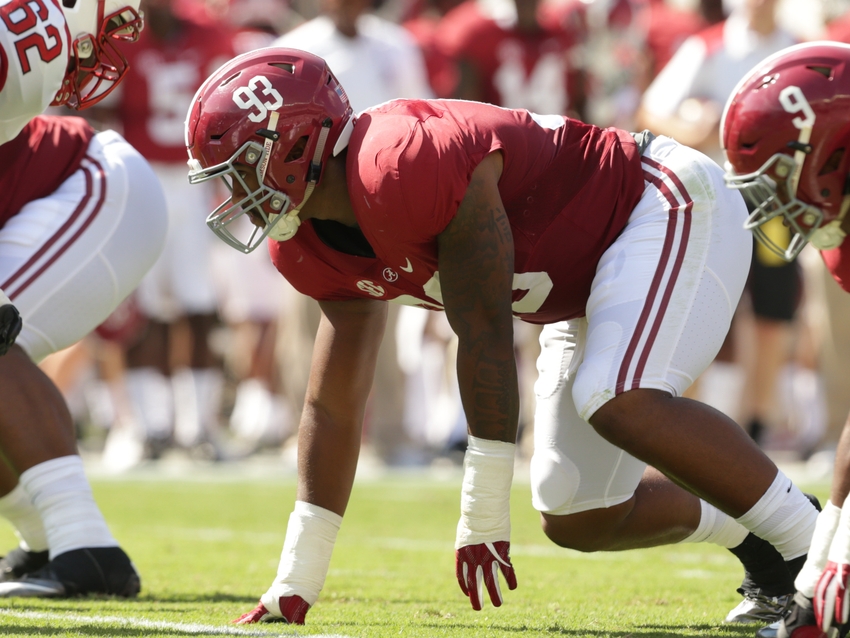 The Chicago Bears have a chance to really give their young roster a boost in 2017. Provided they get it right. Does this late NFL mock draft reflect it?
A few things to keep in mind. Everybody knows what the primary needs are, but needs can't always be met through the draft. Better players might be available at given times. The crop of college prospects might be weak at those positions. Or free agency could've filled certain holes. At the end of the days it's key to remember the draft is about acquiring the best possible talent that can help turn the Bears into a contender.
1
Jonathan Allen
DE,

Alabama
Most people will be screaming for a cornerback or a safety at this point. Look there is no doubt the Bears could use more help in their secondary, but players at those positions almost never go top 5 in a draft. They would have to be very special. While the 2017 class has tons of talent in those areas, there are no superstars. Ryan Pace said his first obligation is to get the best players available, even if it might not be at a position of need.
Jonathan Allen is without question one of the top talents in the draft. The Alabama defensive end is a physical force. He brings the size and power to stop the run but hides a good degree of burst and quickness that makes him a consistent pass rusher. Blockers don't enjoy going against him for 60 minutes because he's going to get them at least 2-3 times a game. Imagine putting him on a front with Leonard Floyd, Pernell McPhee, Willie Young, Akiem Hicks and Eddie Goldman. Exactly.
2
Brad Kaaya
QB,

Miami (Fl.)
There is no getting around it. The Bears can't ignore the quarterback position in the draft any longer. Jay Cutler is no longer their future. He had his opportunities and for various reasons couldn't take advantage. GM Ryan Pace has patiently boded his time, waiting for the right moment to get somebody he can build this franchise around. He wanted guys like Mariota and Wentz but they were too far out of reach. Good class or not, his wait-and-see approach must end.
Persistent word of late indicates the Bears are doing heavy research on Miami quarterback Brad Kaaya. Not a surprise. He's considered one of the most pro-ready prospects at the position. A tall passer who can stand in the pocket and deliver strikes when protected. There are concerns about his ability to handle pressure but it's believed he's one of the smartest players in the draft. That's hugely important for a quarterback. Given the solid offensive line and running game the Bears have, it could be an ideal situation for him.
3
Roderick Johnson
OT,

Florida State
If the Titans and Cowboys are showing us anything, it's that developing quarterbacks is made so much easier with a stout offensive line. The Bears appear set with their interior. Josh Sitton and Kyle Long are Pro Bowlers while Cody Whitehair looks like he'll be a really good center. It's the tackle spots that need attention. Charles Leno isn't a star but he's steady and dependable enough. Right tackle Bobby Massie on the other hand is a liability.
Roderick Johnson has gotten pro quality coaching at Florida State under Jimbo Fisher, so he's already ahead of the game. At 6'7″, 311 lbs he's a giant for even that position but has the athleticism to match it. Scouts haven't been happy with him lately due to his inconsistent performances. Some weeks he's good. Others he isn't. What they neglect to remember is Johnson is just 20-years old. He's still a kid and has plenty of starting experience that includes the final five games of his freshman year.
This article originally appeared on