Chicago Bears: The 3 Options on the John Fox Question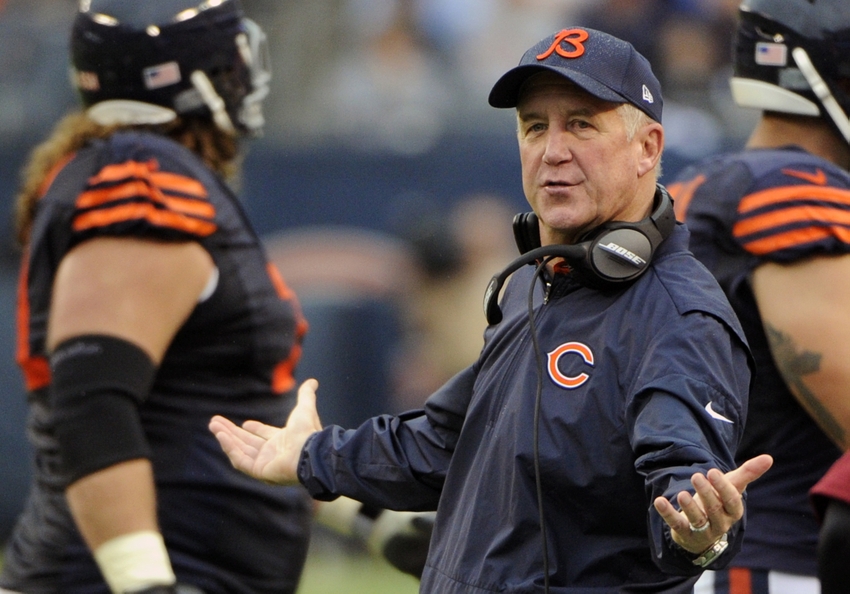 The ground beneath the feet of Chicago Bears head coach John Fox is starting to crumble. That much is clear based on recent events.
For starters he's not fulfilling the promise he made to the organization by turning it into a winner. Fox came in with a reputation for quick turnarounds in his career, having done both in Carolina and Denver. If anything his efforts in Chicago have made matters even worse. Sure, injuries have played a big part. However, there are also a lot of serious issues regarding his handling of the quarterback situation.
Rumors are he intentionally held Jay Cutler out of practice in order to give backup Brian Hoyer a chance to win the starting job. Instead Hoyer broke his arm in Green Bay. Now Fox, whom experts claim isn't a Cutler fan, has no choice but to go back to the 33-year old. Tense isn't a strong enough word to describe that situation.
Keep in mind the Bears fired Marc Trestman largely because of a combination of losing games and a messy mishandling of Cutler. Fox has fallen into the same trap, and he may pay for it with his job according to Ian Rapoport.
"With the franchise heading in the wrong direction, the team's brass has begun a full examination of the football operation from top to bottom, according to several sources briefed of their process.

They've tapped what is being described as an outside consultant to help.

At 1-6, everything is up for review. It's clear Fox's footing beyond 2016 is shaky."
There is a lot of fluidity to this situation, but if one were to evaluate things it's pretty clear one of three things are going to happen regardless of the how or why.
Option #1:  Keep him one more year
As things stand there hasn't been any final decision. The reports claim the Bears are evaluating the organization from top to bottom. There is a chance that the final determination is a coaching change may not be in the best interests of the team at present. Advice may center on giving the veteran coach one more year to get it right. Yes, his quick turnaround hasn't worked out but maybe another solid off-season to improve team depth and finding a quarterback he wants could get things on track in 2017.
Option #2:  Let him finish season and find a replacement in 2017
Historically the Bears prefer to wait until the end of the season before making any changes to the coaching staff. That would be their second option. Fox is allowed to finish what he started and is given a simple statement. Either win the majority of the games over the final two months to finish strong or expect walking papers come January. It's that simple. Odds are it doesn't happen and in the meantime GM Ryan Pace can begin doing his homework on potential replacements.
Option #3:  Fire him during the bye and promote Vic Fangio
Odds are very strong that the Bears will go into the bye week at 1-7 unless they can somehow pull off an unlikely upset of the Minnesota Vikings. That would make for the worst start in 19 years during the lowly 1997 season. Back then Chicago decided to stick with Dave Wannstedt as head coach the next year and were met with more of the same ineptitude. Why even bother going through the motions of that? Instead Chicago can start their evaluating process with a full half season by firing Fox and promoting defensive coordinator Vic Fangio.
Many have wondered why the veteran coach hasn't gotten his shot at the head job already. Players seem to love him and play well under his guidance. He's also popular with the fans. The qualifications aren't even close. Give him an eight-week audition. If the team plays better down the stretch, then they have their guy for next year.
The bottom line is the Chicago Bears brass are not happy with what's happening on the field. They, like the fans, feel this team is not playing up to its potential. Injuries are a valid but also weak excuse. That doesn't make up for the lack of discipline and constant mental mistakes. Those fall at the feet of the head coach.
To say nothing of his puzzling injury management and antagonistic relationship with the media. The man is running out of high ground to stand on and his time may be coming.
This article originally appeared on