Chicago Bears: Stats Say Defense Is Much Improved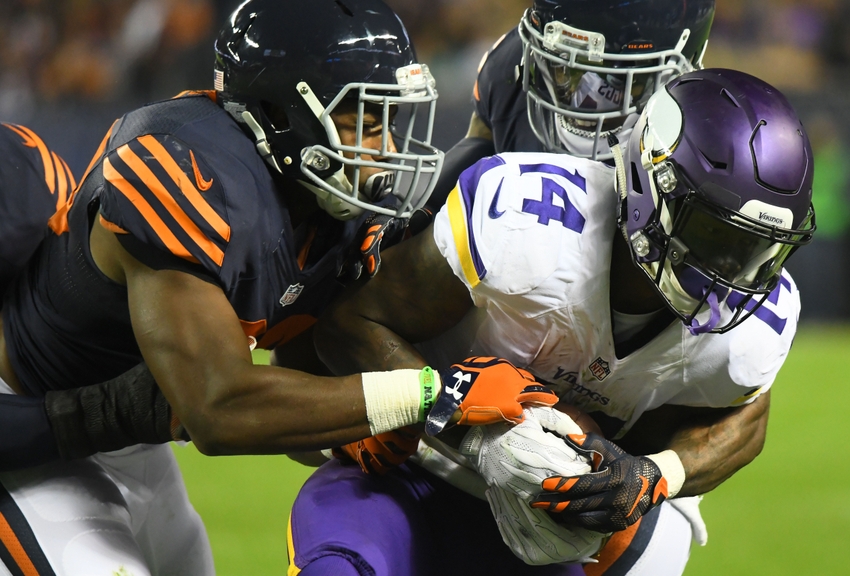 The Chicago Bears have long been a franchise identified by defense. Over the past few years they've suffered an identity crisis of sort.
In 2013 and 2014 they suffered two of the worst defensive seasons in franchise history. Things got so bad at one point that they allowed 50 points in back-to-back games. It was a moment that seemed to suck the life out of fans who'd grown so used to seeing competant defensive play on Sundays. They started to wonder if they'd ever see the good old days of Urlacher or Singletary again. The hope was that GM Ryan Pace and head coach John Fox could make that dream come true.
It would take a ton of work. The roster was the oldest in the NFL when they took over last year. Some hard decisions would have to be made in order to bring in the players they'd need. The hope was veteran defensive coordinator Vic Fangio could cover up some of the inevitable problems. Not an easy task but something he's done before.
All things considered the Bears showed better-than-expected improvement in 2015. Not anywhere near elite of course, but a step in the right direction. Now the question on peoples' minds is whether the 2016 version took another step. Early results have been somewhat inconsistent, but the stats offer a pretty big revelation.
2015 through 8 games
2,758 yards allowed
221 points allowed
9 takeaways
14 sacks
2016 through 8 games
2,711 yards allowed
179 points allowed
7 takeaways
20 sacks
Keep in mind this Bears defense lost almost half its starting roster to injury early in the season. Guys like Leonard Floyd, Eddie Goldman, Pernell McPhee, Kyle Fuller, and Danny Trevathan have missed significant time. Yet the numbers aren't lying. Except for takeaways, the 2016 Bears defense has shown marked improvement across the board.
Perhaps the most encouraging are the points allowed and sack totals. Both were considered among the biggest issues in 2015. To see them improve despite not having so many key players on the field offers hope for the second half of this season. Most of the key personnel are back practicing and expected to play.
This seems to be a unit that is gaining swagger with every game they play. McPhee being back on the field is huge, but the emergence of Floyd as a pass rusher is just as big. Perhaps the most welcome sign is how well the two inside linebackers Trevathan and Jerrell Freeman are playing. Every bit as advertised. That is a big key to their improved run defense, something that hampered this team a year ago.
Though the Chicago Bears are 2-6, the have one piece of knowledge at their disposal. They are 7-1 dating back to last season when they allow 21 points or fewer with Jay Cutler at quarterback. The mountain ahead is very steep, but if this defense emerges like they believe they can, it could be a fun second half of the year.
More from NFL Mocks
This article originally appeared on