Chicago Bears: Senior Bowl QBs to Watch
Mike Flannery/FanSided via Bear Goggles On

Fansided
The Chicago Bears have a unique opportunity this week as coaches at the 2017 Senior Bowl. They will get an up-close and personal look at most of the top senior prospects in this year's NFL Draft. Hopefully, they can use the time well to find a few impact players, like the Cowboys coaching staff did last year in fourth round pick Dak Prescott.
I'll be breaking down the top Senior Bowl players at positions the Bears could be targeting in this year's draft. Quarterback is by far the Bears biggest need, so I'm starting there, by ranking the top QB prospects in Mobile this week.
Senior Bowl: QBs to Watch
1.) Davis Webb, California (6'5 | 223 | 4.87) – Took over for last year's #1 overall pick Jared Goff as Cal's quarterback. His numbers weren't quite as good as Goff's but were solid with a 62% completion rate, 4.295 yards, 37 touchdowns, and just 12 interceptions.
While Webb fell a little short of Goff's stats last year, it was just his first season at Cal after transferring from Texas Texas. He's also bigger, faster, and may have a better arm than Goff. Webb also gets high marks for his smarts and work ethic from Cal coaches and was named a captain in his only season at Berkeley.
Webb has ideal size and a big-time arm. He can make all the NFL throws with easy power and occasionally flashes elite touch and anticipation. Webb can progress through reads, uses his eyes well to fool defensive backs, and he's not a statue in the pocket either with the ability to move around and keep plays alive.
The primary knock on Webb is whether he will be able to transition from Cal's extreme spread scheme to an NFL offense. It's a legitimate concern as we saw this year with Goff, who didn't see the field until late in the season for a bad Rams team. Webb's decision making is suspect at times as well, but it's hard to complain too much about a 37 TD / 13 INT ratio.
I have Webb projected as a third rounder, but surprisingly most sites have him as a day-three pick. I'm not sure why, as his skill-set isn't much different than Goffs. Webb has all the physical tools to be a quality NFL starter. It may take him a couple of years to get there as he adjusts to an NFL scheme, but Webb has the natural talent to be the best QB in this draft.
2.) Nathan Peterman, Pittsburgh (6'2 | 225 | 4.93) – Depending on which game tape you watch, Peterman either looks like one of the best QBs in the draft or a guy who would be lucky to start in Canada. He didn't even crack my top ten QB ranking a few months ago, but after reading plenty of hype on Peterman I watched a little more tape and realized what I missed the first time.
There aren't any physical traits to wow scouts at first glance. Peterman is slightly undersized, his arm is maybe NFL average (think Matt Barkley), and he doesn't have the speed to gain yards in the open field at the next level. He may lack ideal physical traits, but Peterman finds a way to move the ball consistently.
After transferring from Tennessee before the 2015 season, Peterman threw for 5,142 yards, 47 touchdowns, and just 15 interceptions in two seasons as a starter for Pitt. He also led the Panthers to 40.3 points per game this season, a school record.
Peterman plays in a pro-style offense, which is a rarity among this year's draftable quarterbacks. The adjustment period will be shorter and he could possibly be ready to contribute as a rookie, which could be a big edge in the draft for QB needy teams (like the Bears). He also gets high marks from just about everybody for his leadership and character, two traits that are more important at QB than any other position.
While he may lack the prototypical physical traits that teams look for in quarterbacks, there is a lot to like about Peterman. His decision making is among the best in this year's QB class and he shows natural pocket awareness.
Peterman isn't fast but moves very well in the pocket with the ability to extend plays with subtle footwork. Bear fans have seen Aaron Rodgers sense pressure, avoid a sack with a few steps in the pocket, and keep the play alive long enough to move the chains, so many times it seems routine.
But very few QBs, especially young ones, have a knack for sensing pressure and adjusting accordingly. Peterman obviously isn't on the same level awareness-wise as Rodgers, but he has a legitimate knack for putting himself in the right position to make plays.
He's also shown impressive toughness, stepping up in the pocket and taking hits to complete a pass. Intangibles is a vague term, but it's the best I can come up with to summarize what Peterman brings to the table.
Intangibles, combined with sound decision-making and enough athletic ability to play in the league make Peterman an interesting draft prospect. He has a chance at the Senior Bowl to separate himself from the other mid-tier quarterbacks and perhaps make a strong enough impression on the Bears coaches to be drafted on day two.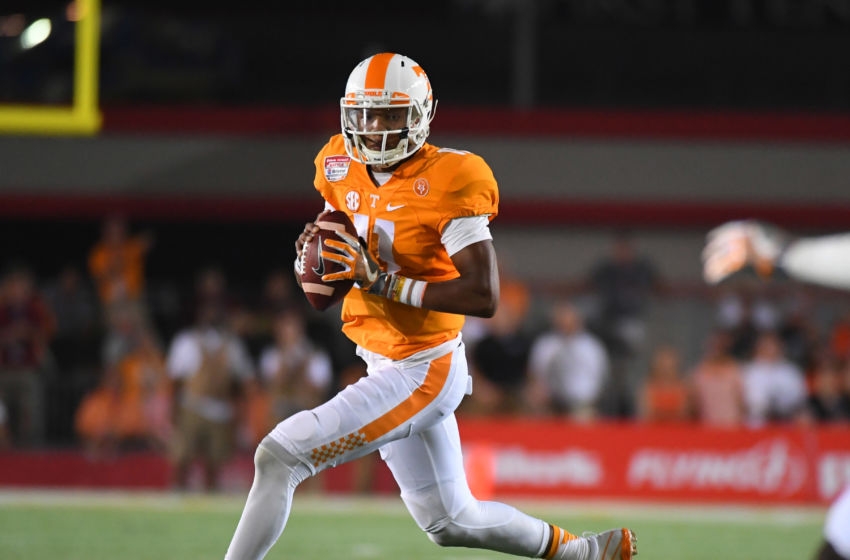 3.) Joshua Dobbs, Tennessee (6'3 | 220 | 4.67) – In my opinion, Dobbs is one of the most underrated quarterbacks in this year's draft class. He's only two seasons removed from being considered a future first round pick and even before the 2016 season Dobbs was thought of a potential breakout player by many analysts.
A slow start to the season with subpar performances against Appalachian St and Virginia Tech (just 91 passing yards) hurt his prospect status and then a disaster against Alabama in a midseason loss (92 passing yards, -31 rushing yards) dropped him off NFL radars completely.
Dobbs rebounded with a ridiculous finish to the season, completing 74% of his passes for 1,260 yards, 12 passing TDs, one INT, 511 rushing yards, and seven more touchdowns over his last five games. Despite his slow start to the year, Dobbs completed 63% of his passes for 2,946 yards, 27 TDs, 12 INTs, and an impressive 150.6 passer rating in his senior campaign.
He ended up setting career highs in almost every category in his third full year as a starter and was named 2nd team All-SEC. His strong finish to the season hasn't seemed to resonate with draft analysts though who still have him pegged as a late day three pick.
Dobbs has a unique athletic profile with the height teams look for in a QB, the speed and open-field elusiveness of a running back, and a live arm capable of making all the NFL throws with significant heat on them. Physically, Dobbs has all the traits to be a hybrid NFL QB, but lacks the bulk of Cam Newton.
Despite his thin frame, Dobbs hasn't suffered any injuries in college despite often laying out for extra yards, so shouldn't be dinged for durability concerns without any evidence that he can't stay healthy. The SEC is the closest thing to the NFL and he survived three-plus seasons a starter without injury.
In addition to Dobb's ideal physical attributes, he's also a two-time team captain and an aeronautical engineer who excels in the classroom. Dobbs' impressive brain and leadership capabilities should help him pick up an NFL scheme quicker than most rookies and command an NFL huddle.
His mix of size, speed, arm strength, and poise are reminiscent of Cowboys rookie Dak Prescott and it just so happens that Dobbs and Prescott are the only two SEC quarterbacks ever to throw for 15 touchdowns and run for 10 in consecutive seasons.
I've spent the majority of this breakdown praising Dobbs, but there are a few areas of concern. I mentioned his thin build, which could be an issue, but his main red flag is a lack of consistency. He had a few bad games against subpar opponents and his accuracy, while impressive at times, isn't consistent enough. There is also a slight hitch in his delivery and his ball security outside the pocket needs to improve, but those are both minor concerns that could be cleaned up quickly with coaching.
Overall, I'm higher on Dobbs NFL potential than most. He reminds me a little of my favorite sleeper in last year's Senior Bowl, Jacoby Brissett, who was drafted higher than projected by the Patriots (3rd round). Dobbs has a chance to make a similar leap in the draft with a strong Senior Bowl and combine.
4.) Sefo Liufao, Colorado (6'3 | 240 | 4.65) – Despite playing in a read-option offense the last two seasons, Liufao actually has some pro-set experience. As a sophomore, the Buffs had a different head coach and Liufao played well as a traditional pocket quarterback with 3,200 yards, 28 touchdowns, and 15 interceptions. That's a lot of picks, but he was just a sophomore at the time and showed a lot of potential.
His junior year a coaching change brought a new offensive scheme that took advantage of Liufao's impressive running ability. Over the last two seasons, he's rushed for 754 yards and 13 touchdowns. His passing numbers took a hit in a run-first scheme with 4,767 yards, 20 touchdowns, and 12 picks the last two seasons.
Liufao has a strong arm with the ability to make all the NFL throws and has shown excellent touch and anticipation at times. Colorado's near upset bid of Michigan was a prime example of Liufao's potential arm talent. Against the best defense he's faced in his college career, Liufao showed poise in the pocket and the ability to attack downfield with power, touch, and accuracy.
It may take a season or two to transition from a zone-read scheme back to an NFL offense, but Liufao has some intriguing tools as a pro-set quarterback. His running ability is an added bonus, with 4.6-ish speed and elusiveness in the open field.
Besides his arm talent, Liufao's toughness is the other thing that stands out on tape. He's played through multiple injuries and played surprisingly well despite being hurt. His leadership, toughness, and adaptability really stand out compared to the other quarterbacks in this year's draft.
On the downside, Liufao's lack of experience is a passing scheme shows up too often. He tends to stare down his primary target and hasn't shown the ability to progress through reads effectively. Like most young QBs, his decision-making is questionable at times as well.
The Bears will get a close look at Liufao as the coaching staff of the North squad during Senior Bowl week and he's an intriguing late round option. Liufao is a legitimate dual-threat prospect, who probably needs a few years of seasoning before he's ready to start in the NFL, but has the potential to be a long-term starter and a above-average quarterback in the league.
https://www.youtube.com/watch?v=fLON9qydgY0
More from Bear Goggles On
This article originally appeared on