Chicago Bears Rookies: The Future Is Bright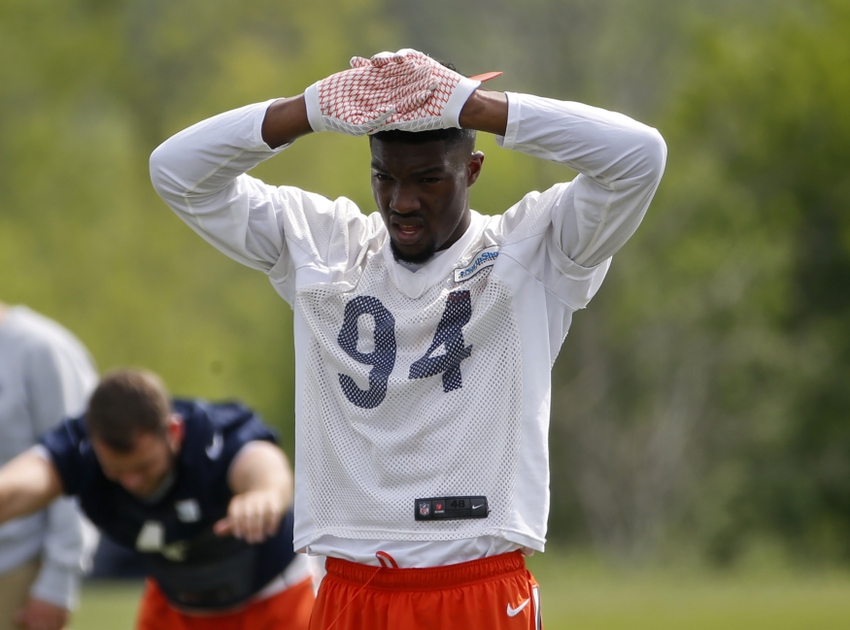 Going into Week 6, the Chicago Bears are 1-4 and doomed to miss the playoffs yet again. But somewhere between key players not being able to stay healthy, and Brian Hoyer not seeing Alshon Jeffery in the most crucial of situations, there's hope. The future is bright with these Bears rookies.
Before I start breaking down this year's rookie class and give an outlook on what we can expect from them in the next couple of years, let me just say that it's still far too early to predict what the future holds. Needless to say, that didn't hold me back from trying it anyway.
Some of my predictions will make me look foolish a few years from now, but I'm positive most of them won't (also, if I'm right about most of this, I will not hesitate digging out this article and gently throwing it in your face with a determined "I called it." Being able to quote your own tweets on Twitter is a beautiful thing.). So without further ado, a look at the 2016 Bears rookies and what to expect:
OLB Leonard Floyd
The Bears' 1st-round pick is the ultimate boom-or-bust. His speed and athleticism are beyond dispute, and he was arguably the best edge rusher in CFB last year. He's rangy and looks surprisingly comfortable in coverage. In preseason I occasionally saw him flash his potential with a couple of spin/swim moves and disruptiveness off the edge.
But the big problem with Leonard Floyd remains his lack of bulk. If I didn't know about his explosiveness as an edge rusher, I wouldn't want him out there with the big boys just yet. He looks weak, not to say brittle. And maybe he is, considering the fact that he's dealt with various smaller injuries since arriving in Chicago, and is now dealing with a calf injury that's forcing him to rest.
I'm not calling Leonard Floyd a bust just yet. The sample size is simply too small. But I do believe trading up for him was kind of rushed.
If he can bulk up, Floyd can be a dominant edge rusher similar to Aldon Smith for years to come. If 240 lbs is his limit, he merely has a career as a situational pass rusher and depth piece ahead of him.
Stats:
@ HOU: 6 tackles, 0.5 sacks
vs PHI: 2 tackles
@ DAL: 5 tackles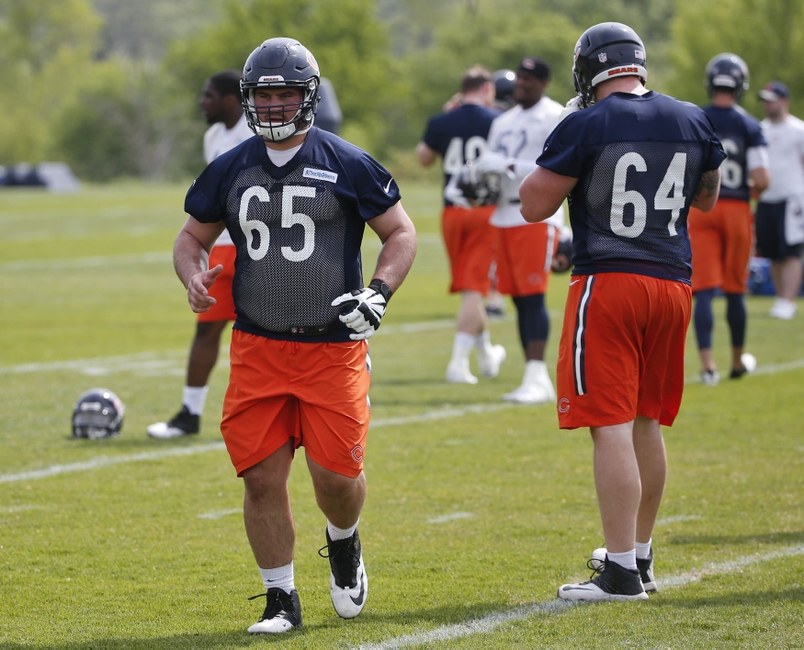 C Cody Whitehair
The former Kansas State Wildcat has been praised for his versatility for quite a while now. In college he played RG, LG, and LT. Now he's occupying the starting C position in Chicago. Admittedly, I was skeptical when John Fox and company made the somewhat surprising decision to move the rookie OL to center (especially after they signed veteran Josh Sitton), but the 2nd-round pick is coming along just fine. And even though I didn't see the urgency to push a rookie into a position he had never played before, I do admit that I'm positively surprised by what Whitehair has shown so far. After Week 5, Pro Football Focus has the rookie ranked 6th among all centers, and on runs through A-gaps, Bears running backs are averaging 6.8 yards per carry. 
His strong hands, footwork, and football IQ are certainly making this transition a lot easier than I thought it would be. 
When you get thrown to the wolves like that and a few shaky snaps were all it took for you to learn and shine, you are indeed the future at center.
DE Jonathan Bullard
The Bears found a 1st-round talent in the 3rd round with defensive end Jonathan Bullard. He's highly versatile and intimidatingly explosive and disruptive off the snap. The Bears 3-4 base scheme kind of limits Bullard to the DE position. In a 4-3 he'd virtually be able to play every single position on the DL. Nonetheless, I believe the 3-4 DE spot is where the former Florida Gator's rare blend of power and speed can excel the most.
Against the Colts last Sunday, Jonathan Bullard recorded his first-career sack and appears to be heating up after being limited by injuries in the previous two games. There's no real weakness in Bullard's game, making him a sure thing as far as sure things go. Starting DE for many years to come is the obvious prediction here.
Stats:
vs PHI: 1 tackle
@ DAL: 2 tackles
@ IND: 3 tackles, 1 sack
ILB Nick Kwiatkoski 
The inside linebacker with the nearly unpronounceable name is a Bear to keep an eye on. He's strong, tough, and aggressive. He finishes every tackle with authority. A former safety, Nick Kwiatkoski brings good instincts and feel in coverage to the table as well. 
The 4th-round selection missed most of training camp and preseason due to a hamstring injury. He was also inactive against the Texans and Eagles in Week 1 and 2. But what he's shown when active against the Browns in preseason, and in the last 3 weeks, his tackling was nothing short of spectacular. Sure, he's only had limited snaps so far and not everything has been perfect, and even though he impresses as a fundamentally sound tackler, he's had his raw moments. But boy oh boy, most of his snaps he's looked like an extremely valuable asset to the Bears ILB core. Plus, having veterans Jerrell Freeman and Danny Trevathan as mentors, he could turn out to be a lot more than just a depth piece in the future.
Stats:
@ DAL: 1 tackle
vs DET: 2 tackles
CB Deiondre' Hall 
At 6-2 and with 34 3/8″ arms, the Northern Iowa product has the prerequisites to be a successful cover corner in the NFL. Yet he's not seeing the snaps you'd expect a future starting CB to be getting. The reason for that is simple — he's the Bears' rawest defensive back, and it's not even close. He's strong and has an exceptional nose for the football, but at the same time he appears wild in coverage and struggles to control his lanky frame. Thankfully, his weaknesses can be converted into weapons in the future. Hall has undeniable big-play ability (especially in the red zone) and it's only a matter of time until he turns into a more polished ball hawk. Of all Bears cornerbacks, Deiondre' Hall has the best chance to be the No.1 CB for years to come.
Stats:
@ HOU: 3 tackles, 1 PD
vs PHI: 1 tackle, 1 PD
vs DET: 1 INT, 1 PD
RB Jordan Howard 
It's true. You can find future Pro Bowlers in the 5th round. The Bills found Kyle Williams, the Seahawks found Kam Chancellor and Richard Sherman, and the Bears may have found a future Pro Bowler themselves in Jordan Howard. It's hard to believe that a relentless running back with prodigious vision was still on the board when the Bears used their 150th pick to draft the Indiana Hoosier. 
In Jeremy Langford's absence tackle breaker Jordan Howard did not hesitate to flash his potential right off the bat. After Week 5, Jordan Howard became the first rookie in Bears history to rush for at least 100 yards in each of his first two starts. 
If Howard can keep up the consistency (5.8 AVG on the season), there's a good chance he'll be able to replace the beloved Workhorse — Matt Forte — in the future.
Stats: 
vs PHI: 3 ATT for 22 YDS (7.3 AVG), 2 REC for 9 YDS
@ DAL: 9 ATT for 45 YDS (5.0 AVG), 4 REC for 47 YDS
vs DET: 23 ATT for 111 YDS (4.8 AVG), 3 REC for 21 YDS
@ IND: 16 ATT for 118 YDS (7.4 AVG), 3 REC for 45 YDS
Not on the list due to lack of snaps: S Deon Bush, S Deandre Houston-Carson, WR Daniel Braverman, and TE Ben Braunecker. 
The future is so bright for these Chicago Bears rookies, they've gotta wear shades.
More from Bear Goggles On
This article originally appeared on