Chicago Bears QB Jay Cutler leaves MNF with apparent hand injury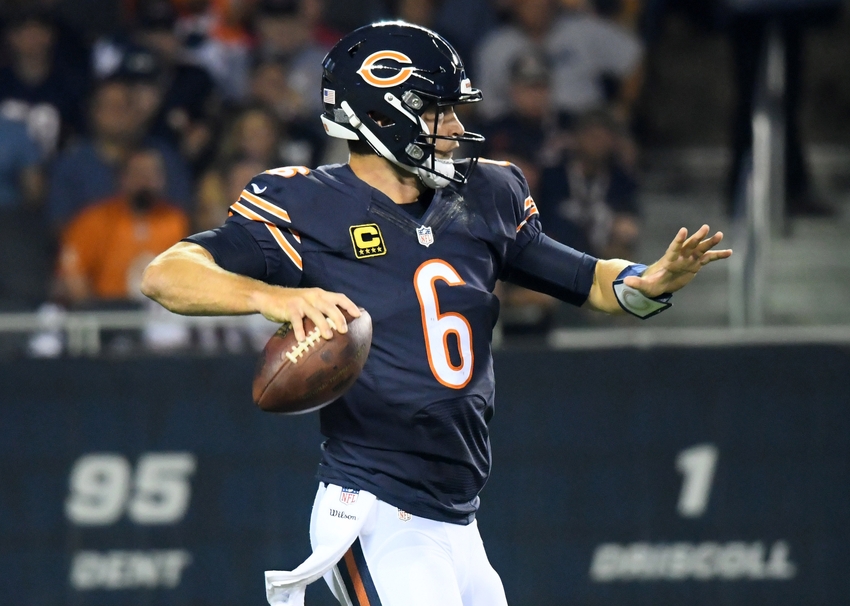 Quarterback Jay Cutler left the Chicago Bears' Week 2 Monday Night Football game with an apparent hand injury.
What was already turning into a disastrous Monday Night Football game in Week 2 got worse for the Chicago Bears when quarterback Jay Cutler left the contest at the end of the third quarter with an apparent hand injury.
With Chicago trailing the Philadelphia Eagles 16-7, Cutler's hand injury appeared to come on a fumble when he fell to the field and used his hand to soften his fall. He had his hand looked at and stayed in the game before throwing an interception that was returned to inside the five-yard line.
Check out these other NFL posts from FanSided:
Top 10 craziest NFL fan bases
Top 15 NFL Draft busts of all-time
Top 15 Heisman winners who flopped in the NFL
Cutler was yanked from the game at that point and went to the locker room. The Bears brought in backup quarterback Brian Hoyer after the Eagles converted Cutler's turnover into another touchdown. With the mixed extra point, Philadelphia took a 22-7 lead.
According to the Chicago Bears, Cutler will not return to the game.
The extent of Cutler's hand injury is not known, but this is a definitive blow to the Bears' offense. Hoyer was 3-for-3 for 22 yards on his first drive, but a fumble from Jeremy Langford gave the ball back to the Eagles, who took a commanding 29-7 lead early in the fourth quarter off the turnover.
Cutler was 12-for-17 for 157 yards and one interception by the time he was removed from the game. Stay tuned for more updates on Cutler's hand injury and what it will mean for the Chicago Bears moving forward.
More from FanSided
This article originally appeared on