Chicago Bears: Projecting The 2017 Off-Season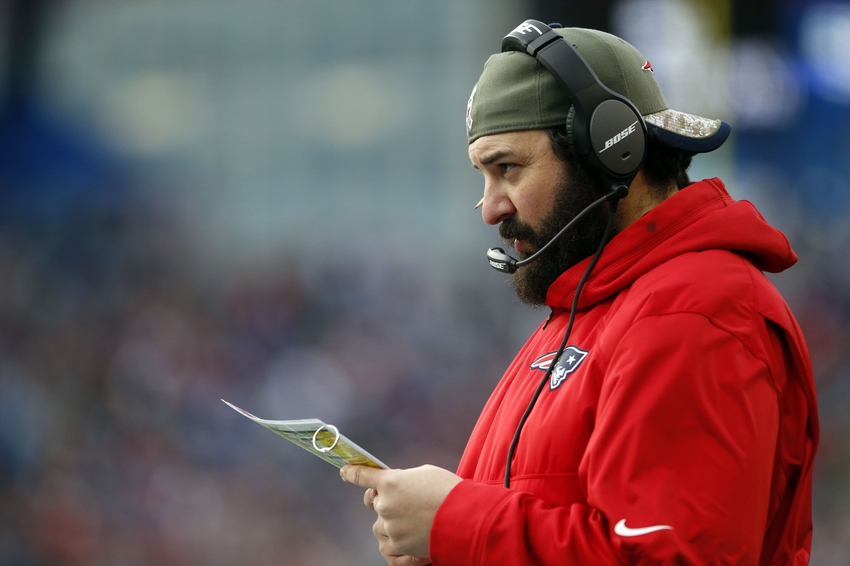 The 2017 Chicago Bears are going to look very different from the 2016 version. That's inevitable given the way their season has gone and will likely go.
Perhaps the man with more to lose than anybody is head coach John Fox. He came in with promises of a quick turnaround and instead stands 8-17 so far in his two seasons on the headset. He'll be 62-years old next year. No doubt he realizes the odds of getting another head coaching job after this are all but impossible. Unless he can string together some wins, it's likely Fox will be gone and GM Ryan Pace will be searching for his replacement.
Who will that be? Based on the current crop of likely candidates, expect it to be this guy.
New Head Coach:  Matt Patricia
This was a tough call. It came down to figuring out how Pace would approach the situation. Everybody will automatically assume it has to be an offensive guy because the Bears will likely draft a quarterback. However, it's important to remember this. Fox is a defensive guy and the man rumors insist Pace liked before hiring him was Todd Bowles, another defensive guy. Don't forget Pace played defensive end in college. At heart he thinks from that side of the ball.
What makes Matt Patricia so appealing is his background. The Patriots have never ranked lower than 10th in the NFL in points allowed since he took over their defensive play calling. He's a former engineer, which means he understands the idea of how to make pieces fit together to form a working machine. It's how he's operated in New England with its constantly shifting roster. Tom Landry had a similar history. Also one must not forget he spent his first two years as an offensive assistant in New England. So he's not unfamiliar with coaching that side of the ball.
Throw in some excellent facial hair, a must for successful Chicago coaches and this makes perfect sense.
Jay Cutler:  Released
Rumors are rumors but the fact is Jay Cutler continues to play his same, old way. For every good game he has, an equally bad one seems to follow it. Teammates have once again started to call him out for bad work habits and are fed up. The denials continue but it's obvious more than ever than both he and the franchise need a fresh start away from each other. It's time.
Alshon Jeffery:  Re-signed
The PED suspension is very unfortunate, but the fact remains the Bears have no receivers on the roster they can trust. Alshon Jeffery is their lone big play threat on the outside. If anything this personal setback might allow them to bring him back cheaper than anticipated. Any young quarterback coming in will like having him as a go-to option.
Prominent Free Agent moves:
Trumaine Johnson (CB)
Vance McDonald (TE)
Mike Glennon (QB)
Even with all their cap space, don't expect the Bears to be gigantic spenders in 2017. Ryan Pace will put his dollars in pinpoint locations. Trumaine Johnson will be the big fish, a corner who's had lots of success for the Rams and would provide sorely-needed stability that the team just doesn't have on the back end. Vance McDonald is an underutilized tight end from San Francisco who might do better given an opportunity. If nothing else he provides needed depth. Mike Glennon is a former 3rd round pick who has intriguing physical skills and starting experience in Tampa Bay. He might make good competition for whomever the team drafts.
1
Mitch Trubisky
QB,

North Carolina
Currently the Bears hold the 4th overall pick in draft projections. For some it will seem like North Carolina standout Mitch Trubisky is being drafted too high. Then again that's always the case for quarterbacks. Among the names on the board, Trubisky has the fewest question marks. He's got size, mobility, throws accurate passes, has arm strength and plays well when the game is on the line. His biggest concerns are experience. He's only started one season. It's a risk, but one Chicago knows they must take.
2
Ryan Ramczyk
OT,

Wisconsin
If the Bears are going to commit to a young quarterback, they must also commit to protecting him properly. Something they failed at too often with Cutler. Charles Leno and Bobby Massie are hardly long-term solutions at offensive tackle. Ryan Ramczyk is generating tons of buzz lately. He was a transfer from Division II and is taking Wisconsin by storm. A fascinating mix of size and athleticism who excels in pass protection. This is the kind of guy the Bears will want guarding Trubisky's blind side.
3
Tre'Davious White
CB,

LSU
With their young offensive pieces falling into place, the Bears are free to resume building their defense. Once again they go back to the secondary where they bring in more depth and talent at cornerback. Just a few months ago Tre'Davious White was considered a borderline 1st round talent. Not much has changed save for the struggles of the LSU program. That and a loaded draft class at corner could push him down to the 3rd round. That would be an outright steal for Chicago. White is tough, physical, athletic and dependable in coverage.
This article originally appeared on