Chicago Bears: Predicting The Final 8 Games of 2016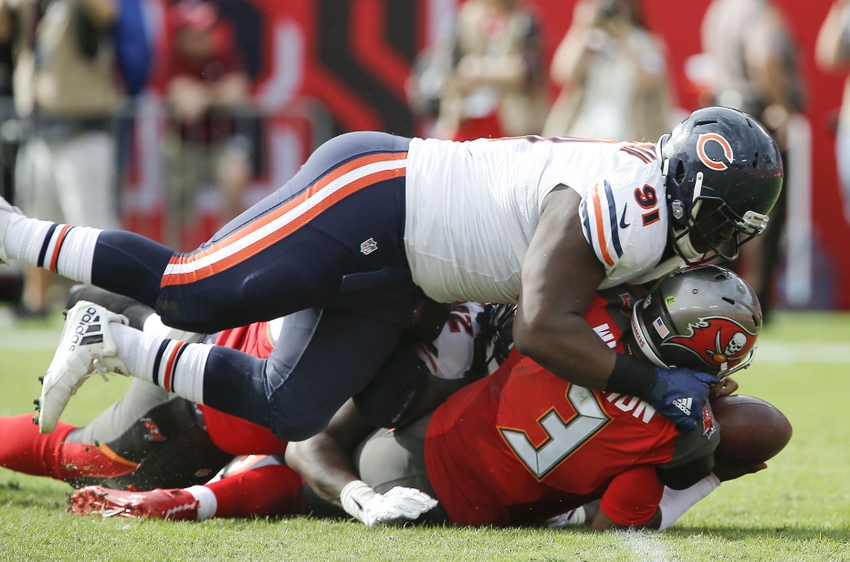 The Chicago Bears have eight games left in the 2016 season. They've made clear their belief they can win out the rest of the way and make the playoffs.
Anything is possible of course. Despite being 2-6 they're coming off their best performance of the year and have used the bye week to get several key players back. Of course everybody knows that winning eight games in a row in the NFL is almost unheard of. Nevertheless it looks like every contest left on their schedule is winnable.
So here is an updated rundown of each game, predicting what to expect and who the winner will be. Will the Bears somehow pull it off?
@ Tampa Bay Buccaneers
A rematch from the 2015 season. The Bears won that game in Tampa 26-21. In terms of record neither team has shown much improvement. However, Chicago is playing a lot better of late while the Buccaneers are struggling. They are badly banged up at wide receiver and Jameis Winston is hurt too. To top it off their defense is among the worst in the NFL. With the Bears getting most of their best players back healthy, the results of this game should be fairly similar to last time.
Result:  Win
@ New York Giants
This is going to be a really difficult matchup for the Bears. The strength of the New York Giants lay in their passing attack led by Eli Manning and his trio of receivers Odell Beckham, Victor Cruz and Sterling Shepard. Chicago has been thin in the secondary all season. They've made up for it with significant improvement up front but bad things could be in store if they can't get to Manning. He's only been sacked 11 times this season and is already over 2,200 passing yards.
Result:  Loss
vs. Tennessee Titans
It's really difficult to pinpoint the Titans. At times they look really good and at others they just seem to fall apart. Marcus Mariota is an emerging young quarterback. He has a power running game to lean on led by Demarco Murray and Derrick Henry and a sturdy offensive line. The problems for them lay on defense. They're giving up 25 points and 260 passing yards per game. Perhaps the weather will lend a hand here but it feels like this must be a game where Jay Cutler and the offense lead the way.
Result:  Win
vs. San Francisco 49ers
Everybody remembers how disappointing the loss was last year to Blaine Gabbert and the 49ers. Safe to say this team is way worse. The Bears will be eager for payback. San Francisco is in a bad way defensively. Since losing NaVarro Bowman they're giving up an absurd 193 rushing yards per game. That should mean a huge day for Jordan Howard who is well on his way to 1,000 as a rookie. If the defense can keep Colin Kaepernick from scrambling too much this is a game they should win by a considerable margin.
Result:  Win
@ Detroit Lions
There is no doubt the Lions are the hottest team in the NFC North right now. They have the best quarterback in terms of production and keep finding ways to win tight games. Weird things always seem to happen when the Bears travel up there. That being said, this is not a team Chicago will fear. They already beat Detroit once this season at Soldier Field. They will go in knowing they should've beaten them at Ford Field last year if not for a serious of terrible calls by the referees. It will be a wild game for sure.
Result:  Loss
vs. Green Bay Packers
Something crazy is going on with the Packers of late. They don't look like themselves. Not like a team that has made the playoffs every year since 2009. Aaron Rodgers admitted the effort and energy haven't been there and it threatens to cost them unless they fix it. The Bears haven't beaten their rivals at Soldier Field since 2010. One can bet John Fox will remind them of that, and of the fact they played well enough to win in their last meeting. Will a healthier offense make the difference this time?
Result:  Win
vs. Washington Redskins
This time there isn't any weak division or late-game magic for the Washington Redskins. They're being exposed for the mediocre team they are. They will win some games against good teams and then lose games against bad ones. Everybody knows the Bears should've beaten them last year but a series of bad mistakes cost them. This is another shot at redemption. Chicago hasn't beaten the Redskins since 2003. Hopefully a full 60-minute effort will finally get them over the hump.
Result:  Win
@ Minnesota Vikings
At some point the slew of injuries they suffered was bound to catch up to them. Now the Vikings are paying for it. Their 5-0 start seems like a distant memory after three-straight losses. The Bears handled them pretty well at Soldier Field on Monday Night. It's hard to see how much Minnesota will be able to fix between now and the end of the season. Adrian Peterson might return, which would be a help. That likely won't solve their ongoing offensive line issues. The defense and the crowd noise will be big factors, but there's a good chance the Bears will be the hotter team.
Result:  Win
Final Record:  8-8
The sad truth of it is the Chicago Bears really screwed themselves in the early part of the season. They've left zero room for error and that's never a good thing in the NFL. Odds are they'll lose a couple tough games that will kill their playoff hopes. Even so, to start 1-6 on a season and finish 8-8 is a tremendous accomplishment and will give them loads of momentum going into 2017.
This article originally appeared on