Chicago Bears Offense Just Needs to Click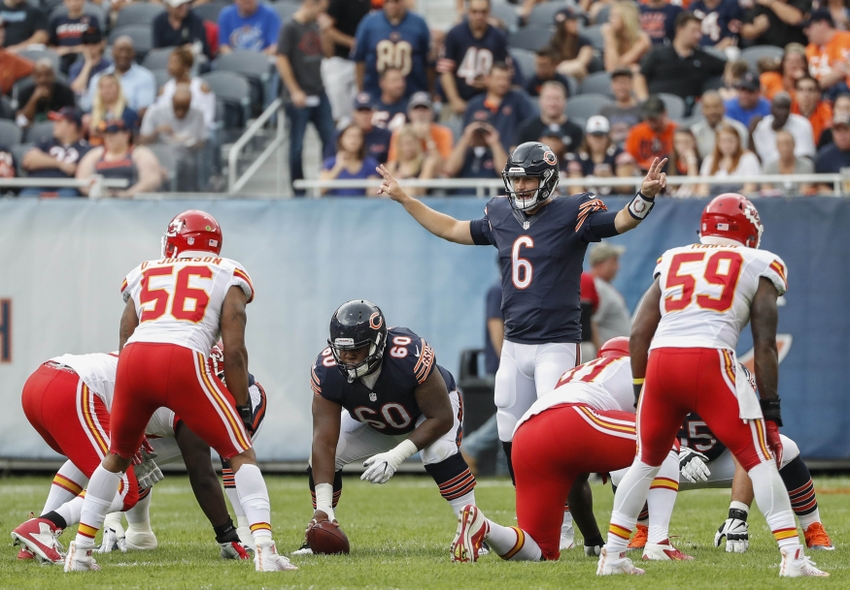 Every offense has its challenges, especially with rookies. But with the Chicago Bears, it's just a matter of time before they click.
Yes, preseason Week 3 was supposed to be a "dress rehearsal" before the first 15 cuts were made. Any way you look at it, the Chicago Bears offense did not perform  at the level the coaches, players and fans would have liked it. But as they say, it is preseason and with one more game before the real fun begins, the Bears can right the ship if key areas are fixed.
Quarterback Jay Cutler admitted that it starts with him. Commanding the offense with elite leadership and confidence will win games. Cutler has that ability if he has the right protection and makes the right choices.
Last season it appeared that he had a nice cohesive front. But with the injury of Hroniss Grasu at center, it has caused a shift of confidence from Cutler on his protection. Ted Larsen who is the swing tackle has been moved several times as well as rookie Cody Whitehair to see who can perform at a comfortable level.
To be honest, no one looked comfortable on the offensive line against the Kansas City Chiefs. Without the teams motivating guard in Kyle Long, the team seemed unsure, unsettled and manhandled, to say the least. The line needs to be more physical. The release of Matt Slauson seems like a bad dream right now and is probably one of the top regrets of Ryan Pace among many.
In a press conference after the loss to the Chiefs on ChicagoBears.com, here is what Cutler had to say:
"We need to prepare more, obviously. So I'm sure we'll have that in practice next week again. Um, we've got to be better. You know those Hail Mary situations, you know a lot of those you go back on film and the quarterback's gotta move around and make some people miss, because it's just hard to a hold up for 6-7 seconds, so I've got to do a better job for those guys."
This brings up the hit on backup quarterback Connor Shaw, which was allowed due to the sloppy blocking from Khaled Holmes who was completely overtaken by Rakeem Nunez-Roches. In his defense, he also did not get the help from veteran Amini Silatolu who was way late on the block and both ending up on their backside. To be honest there was more production from Garry Williams than Silatolu. But there is talent there. It is just a matter of all of them working together and clicking.
When Is It Time to Worry About Pernell McPhee?
As a coach for both lines, it would be beneficial to focus on offensive line stability and stance. Coaches need to make sure that they are sinking their hips low for power and their hands are on the pads. They also need to focus on their feet. If their feet are not planted to stop the pass rush, Cutler will be on his back a lot.
As for the defense, they need to swim more around the blocks and spin more to get away from blockers. Aggression is key here and it can be done on both sides. With that being said, penalties need to be under control as well on offense.  An entire practice should be conducted with refs, ready to toss out flags every time there is an offensive infraction. As soon as the players master each of the opponents' cadence, they can prevent offside penalties and avoid big plays from being overturned.
The Chicago Bears can win games if the study their opponent, do their jobs as they have been trained to do and avoid penalties at all cost. Like any working mechanism, the gears and cogs are all in place and when they click, they work perfectly. When the Bears meet the Houston Texans in Week 1, their only focus is to move the chains, complete assignments and score with reckless abandonment.
More from NFL Spin Zone
This article originally appeared on