Chicago Bears Need to Fire John Fox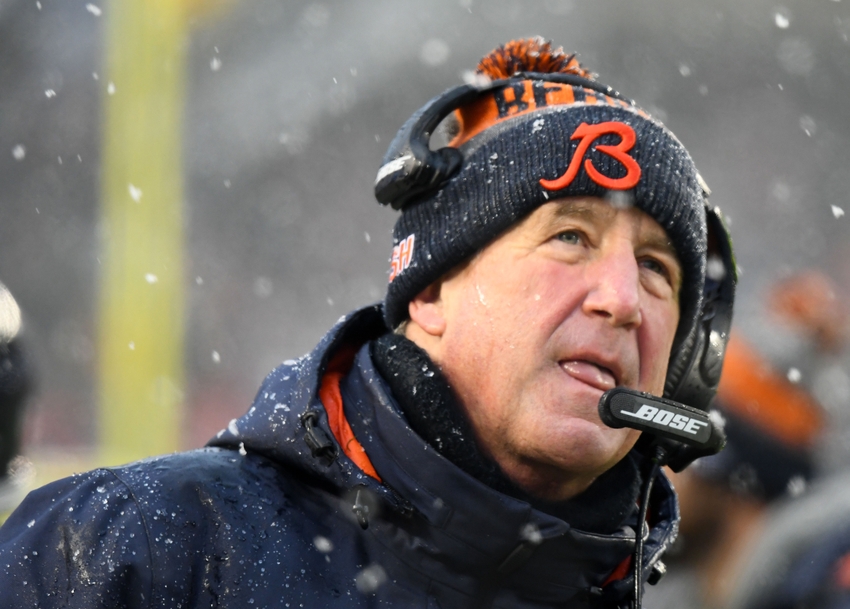 The Bears are in the midst of a nightmare season. However, after a win on Sunday, John Fox cited that the team was making progress. Progress or not, here are three reasons why Fox needs to be shown the door after week 17.
John Fox cited the Bears were making progress after their 26-6 rout of the 49ers on Sunday. However, the Bears are far behind the mark they set last season. The Bears would have to win out to better their record from last season, and they can only afford one loss if they want to tie it.
In regards to pure statistics, the Bears' offense has taken a significant step back. They score almost 4 points fewer per game than last year (20.9ppg to 17ppg). The offense has also struggled with taking care of the ball. The Bears suffered 21 total turnovers last season. With 4 games to go before the season is over, the Bears are already at 17.
More from Bear Goggles On
Speaking of the turnover battle, the Bears have also taken a step back in regards to takeaways. The Bears ranked 28th in the NFL last year with 17 takeaways. Chicago would need to average almost 3 turnovers a game the rest of the way out just to match last year's already disappointing total.
Most shocking though is how the Bears are on a worse win trajectory than what Marc Trestman had them on. John Fox would have to win out just to equal Trestman's record in his first two years (13-19).
Above are just a few displays of how the John Fox era has fallen significantly short. What follows are the three most important reasons why Chicago needs to show Fox the door on Black Monday.
1) Game planning
The Chicago Bears didn't boast a great record last season, but they were competitive in nearly every contest. Through Chicago's ten losses, only three were by more than eight points. Those losses came at the hands of the NFC North champion Vikings, as well as playoff qualifying Seahawks and Cardinals. The Bears suffered narrow defeats against teams that were much better than them talent-wise such as a three-point loss to the Vikings and two-point heartbreaker against the eventual Super Bowl champions, the Denver Broncos.
Unfortunately, this year has been a completely different story. The Bears have already suffered five losses by more than eight points, and four of those teams might not even make the playoffs (Texans, Eagles, Buccaneers and Packers). While some people claim injuries are to blame, the Bears have actually held the lead at halftime in six of their games. Additionally, the Bears only trailed by three points or less at the half in three games (Eagles, Colts, Packers). That makes nine games in which the Bears were well within reach of victory at halftime. If you want to count the 7-point halftime deficit to the Buccaneers at halftime, that makes ten games.
Having leads and one score deficits at halftime turn into blowout losses isn't because of injuries, it's because of bad coaching. John Fox didn't get outcoached in a single game last season, but it has become a regular occurrence in 2016.
2) Accountability
The first year of John Fox appeared to be a new era in Chicago's locker room. Large egos like Brandon Marshall and Martellus Bennett were sent packing when they created media headlines by criticizing their fellow teammates. While it seems like the locker room drama has died down for the most part, another issue has come to light, PEDs. From 2001 to 2014, the Bears had 4 players suspended for drug use. Since John Fox took over, the Bears have had five PED related suspensions. While Fox can't control what individual players put into their bodies, it does say something about the culture promoted around the Bears.
Speaking of things that seem shady, Fox promotes a deceptive culture in the way he addresses the media. It's hard for a coach to make an injury designation into a pun, but Fox has done so with the term "day-to-day." Want to know some players that were labeled day-to-day throughout the Fox era?
Kevin White suffered a shin injury in his rookie year and was labeled day-to-day, less than a week later, he hit IR.
Pernell McPhee was recovering from major offseason knee surgery, but he received the "day-to-day" label and was a lock to play week 1. McPhee never saw the practice field during training camp, and he started the year on the PUP list and wasn't full speed until halfway through the year.
Jay Cutler was labeled "day-to-day" with a thumb injury earlier this year. The Bears wouldn't even rule him out in the following weeks despite not logging any practice time. Better yet, Cutler still wore a cast on his throwing hand and still wasn't ruled out until the last possible minute every week.
If "day-to-day" didn't signify trouble, everyone held their collective breath when Kyle Fuller was tabbed week to week. The designation was given after Fuller underwent a "minor" knee scope. Even now, no one really knows what happened to Fuller's knee.
While I understand that being 100% open with every injury isn't practical, trying so hard to hide injuries looks comical. The competitive advantage is minimal, especially when players like Cutler and McPhee are clearly weeks away from playing.
3) Vic Fangio
Okay, this one is entirely John Fox's fault. However, keeping Vic Fangio in the Windy City has to be a top priority for the Bears. A 3-9 start to the season has covered up the amazing job that Vic Fangio has done on defense. Chicago currently ranks 7th in total defense and in sacks. Chicago's offense collapsed with the loss of Cutler and Jeffery, but the defense continues to make plays no matter who's in. The Bears are almost pulling people off the streets to fill in at cornerback and linebacker, but it still hasn't brought down the defense.
Great coaching in the NFL doesn't go unnoticed. Fangio's ability as a defensive coordinator could even earn him a head coaching gig next year. If the Bears want to retain Fangio, they will likely have to promote him. Doing so would send Fox packing, but is that exactly a bad thing?
Fox's biggest draw as a head coach is his ability to lead a defense. However, Fangio has risen as Chicago's champion on defense. The Bears must ask themselves whether keeping Fox as head coach is worth letting Fangio skip town. What does Fox bring to the table that Fangio doesn't other than experience? Fox's vaunted experience hasn't led to more wins, and the Bears are looking more and more desperate for a new direction. If the decision truly comes down to keeping Fox or promoting Fangio, the decision has to be promoting Fangio.
This article originally appeared on