Chicago Bears: Leonard Floyd's Development Validating Ryan Pace's Judgement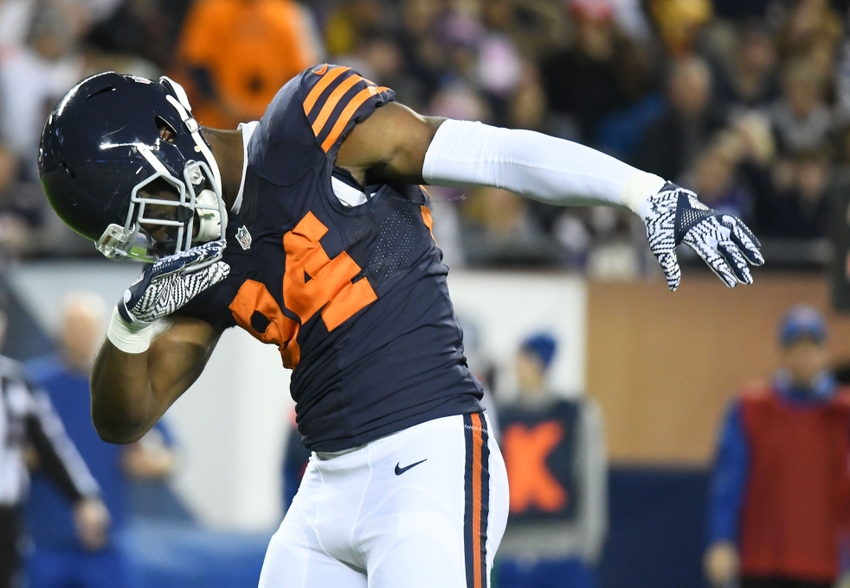 Despite a demoralizing loss against the Tampa Bay Buccaneers, Leonard Floyd is emerging as a bright spot for the Chicago Bears.
After returning from injuries, Floyd has made a noticeable impact in his last three games.  In those games, he's registered 4.5 sacks, 10 tackles, 1 forced fumble, and 1 fumble recovery for a touchdown.
Floyd has drawn some high praise, even being called a "franchise defensive star" by some analysts.  Floyd has even drawn comparisons as being a more athletic version of Aldon Smith.
Regarding Floyd's strengths, despite his thin frame, he's able to play with physicality and set the edge against the run.
In pass-rush situations on the edge, he has a very quick first step that can cause defending tackles to backpedal.  He also has lateral quickness to juke tackles.
In stunts, he crosses so quickly that guards have trouble reacting in time to keep up with him.
When not registering sacks, he's been able to impact quarterback play, causing quarterback hurries and hits just after the throw.
Most importantly, Floyd yet to reach his full potential.  He's continuing to develop his pass rush moves and will add more strength, as he continues his strength and conditioning training.
Floyd Validating Pace's Draft and Player Development Strategy
While Floyd's future at this point is looking bright, credit needs to go to GM Ryan Pace.  Pace took a calculated risk when he drafted Floyd.
Pace identified Floyd as a high-value target.  Both his scouting team and coaches were unanimous in their interest in Floyd.  Acting on that interest, Pace traded up into the top 10 to draft Floyd with the 9th overall pick.
In doing so, Pace received some heavy criticism, both regarding his draft strategy and judgement.  His prior first-round pick, and first one as a GM, was WR Kevin White.  White not only missed his entire rookie season with a shin injury, but many saw White as raw and a developmental receiver, because of his limited route-tree experience from his college game.
Numerous analysts marked Floyd as a boom-or-bust prospect, and as a developmental prospect that would take at least a year to be ready to compete at the NFL level.  Many questioned whether Floyd had the strength to compete at that level and were concerned if he'd be the same player after adding the needed bulk.
Despite the risk, Pace made a call and pulled the trigger to draft Floyd—he didn't settle for a "safe pick."
Floyd's impact on the field is validating Pace's scouting assessment of Floyd, as well as his decision making in drafting him.
More from Bear Goggles On
This article originally appeared on