Chicago Bears: Jay Cutler's Tenure Ends Fittingly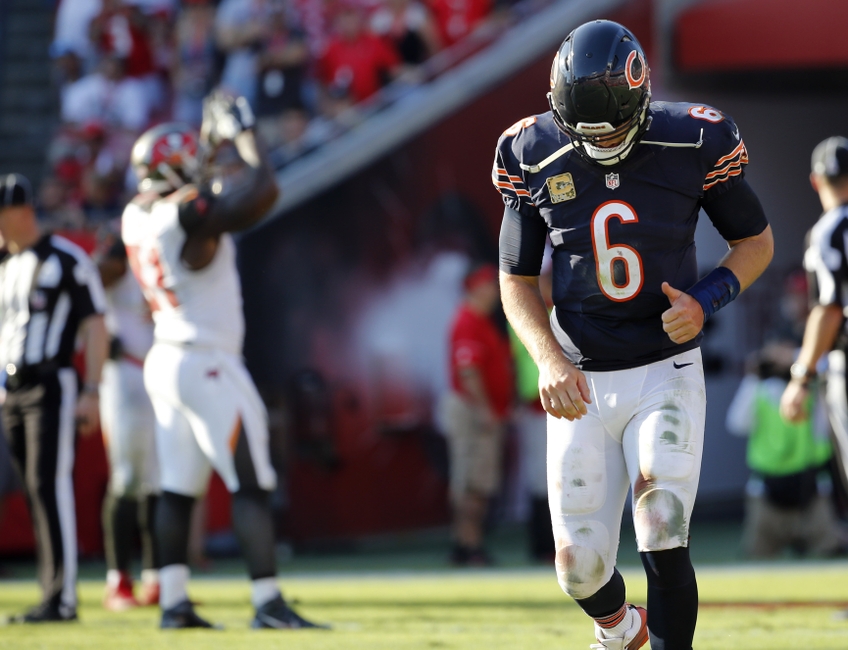 With Jay Cutler injured and season possibly over, his Chicago Bears tenure could be over—and it ended quite poetically.
With the news that quarterback Jay Cutler has a potentially season-ending shoulder injury, the Chicago Bears' season has taken an even worse turn. Losers of two in a row (and six straight on the road), the Bears now will turn to either Matt Barkley (career 55.4 percent completion percentage and 34.2 passer rating) or practice squad player Josh Woodrum (zero career snaps) to start at quarterback. At 2-8, there's some serious doubt if the team will even win another game this season.
Cutler was sacked four times (all in the fourth quarter) by the New York Giants in Week 11 and exactly when he suffered his shoulder injury is still not clear. He finished the game and showed no signs of any injury. After the 22-16 loss to the Giants, he met with the media as usual and head coach John Fox did not include him on the injury report (which was pretty long).
With the Bears likely moving on from Cutler this offseason, it appears that Cutler has taken his last snap with the team. What's fitting is that his last throw was, of course, an interception. Trailing by six points with less than two minutes left, Cutler heaved a pass (into triple coverage) and was picked-off by Giants safety Landon Collins, ending any hope of a comeback.
Interceptions have plagued Cutler's career, throwing 109 of them in just 102 games with Chicago. If indeed Cutler's 2016 season is over, he'll finish with four touchdowns and five interceptions in five starts, a far cry from what a so called "franchise quarterback" should put up. While he's still the most talented quarterback on the roster (Barkley hardly instills any fear into opponents), the only consistent things in Cutler's career are turnovers, injuries and, well, inconsistency. One week he'll look great (i.e. Week 8 against Minnesota), while the next he'll be an absolute joke (i.e. Week 10 against Tampa Bay).
Cutler has also battled his fair-share of injuries in his Bear career. After not missing a start with the Denver Broncos to begin his career, Cutler has only played a full season once with the Bears (his first year with the team). No one will question his toughness (and for those who think he should have stayed in the game during the 2010 NFC Championship game, I'd like to see you play with a sprained MCL), but his injuries have come at inopportune times.
The Bears need a quarterback for the future and Cutler clearly isn't it. Matt Barkley isn't the answer either, but at least he's not Cutler. You might as well see what he can do and determine if he fits into the team's future plans (as a backup, clearly not as a starter).
If Cutler's season is over, his Bears career is likely over too. It ends fittingly, though. The oft-injured, turnover-prone quarterback is hurt yet again and threw a pick on his last play. Could you really imagine it ending any other way?
This article originally appeared on