Chicago Bears @ Green Bay Packers: Essential matchups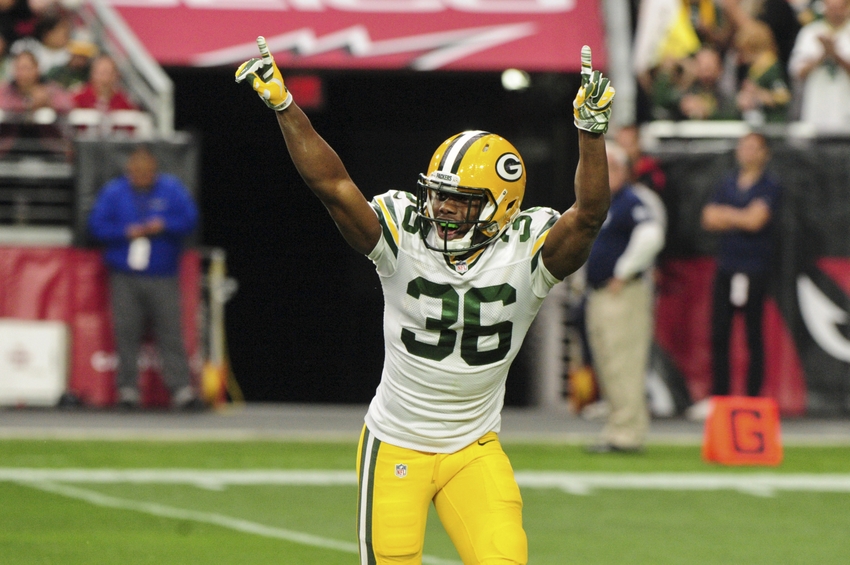 The hits just keep on coming for an injury-riddled Green Bay Packers team that has seen key contributors fall by the wayside over the past week, including the backfield duo of Eddie Lacy and James Starks that has prompted the front office to turn to the practice squad and trade market in order to find quick-fix solutions.
Making matters worse is a ravaged secondary that will force the coaching staff to roll with miscast defensive backs Ladarius Gunter and Micah Hyde in the starting lineup in their upcoming Week 7 Thursday-night contest.
Yes, a game will be played. Amid all the deflating injury updates and circulating theories about what's happened to Aaron Rodgers, Green Bay is preparing to add another chapter to its storied rivalry with the Chicago Bears as the two division foes square off tomorrow night.
Unlike the neighboring Chicago Cubs, the Bears won't be competing for any championships this year as they've fallen into the habit of blowing fourth-quarter leads in their losses to AFC opponents, including the Colts, Jaguars and Texans.
Even the most ardent of team supporters would begrudgingly admit that this year's Navy and Orange are still in the process of a rebuilding effort spearheaded by GM Ryan Pace and second-year head coach John Fox.
Despite recent shades of solid play on the part of quarterback Brian Hoyer and the emergence of youngsters Jordan Howard and Cameron Meredith, this roster lacks a true franchise quarterback, a consistent pass rush and a competent defensive backfield that's very young and still trying to find its bearings—pardon the pun.
But those expecting a 1-5 Chicago team to roll over and play dead against an angry home squad should reevaluate their thinking given how competitive Fox's boys were in both games versus the Packers in 2015 with both teams splitting the annual series.
At this point, however, most Packer backers will take a victory any way they can get it. Any concerns about style points should be swiftly tossed out the window.
So how does a beleaguered 3-2 group right the ship coming off a disheartening loss to the Cowboys?
Let's count the ways by putting the primary matchups under the microscope.
Following a three-game stretch in which Chicago's top vertical threat and primary go-to receiver was targeted only 18 times, Alshon Jeffery reemerged as the top big-play artist in the Bears' passing game by recording seven catches for 90 yards on a season-high 13 targets.
The 6-foot-3 wideout's length and ability to high point the ball will be quite a challenge for Ladarius Gunter, who has the size and leaping skills to at least use his big body to contest the fifth-year veteran.
Even on his best days, Jeffery has average speed and isn't used much on underneath routes that require pass catchers to quick break in and out of their routes. Instead, the South Carolina native is a long-strider that beats defenders by effectively using his hands off the line of scrimmage and changing his speeds.
Although he's yet to hit pay dirt thus far, Jeffery remains Chicago's best scoring weapon given his ability to run fade routes to the back of the end zone. During his last full 16-game season in 2014, the former second-round draft pick scored six of his 10 touchdowns from 10 yards or less.
Gunter was beaten short and deep versus the Cowboys in an abysmal performance that saw the 24-year-old take over as the Packers' top cover man on the left side of the field following Damarious Randall's game-ending groin injury.
Whether he was tripping over himself in his backpedal or getting burned off the line of scrimmage, Gunter looked like a fish out of water in Week 6. Dak Prescott took advantage of those shortcomings and posted  a 156.3 passer rating when throwing in his direction.
Cheesehead supporters can only hope the 6-foot-2, 201-pound member of the secondary regains some confidence after poring over game film of his most recent performance.
The truth is Gunter came out of college with 4.69 speed and will risk getting torched the longer he remains on the field. Corners with his speed typically get shifted to safety.
Ironically, the former Miami Hurricane was coming off a strong showing prior to the Dallas game and perhaps couldn't handle the pressure of playing the Sam Shields role as others have also suggested.
Regardless, Gunter will have his hands full with Jefferey and must use his length and physicality to disrupt his man's timing off the line of scrimmage along with showing better instincts with his back to the ball.
Allowing Jeffery to gain his customary 60-70 yards won't be the end of the world, but getting beat for one or more touchdowns is something that can't happen especially if that puts the Packers in the uncomfortable position of playing from behind.
Expect Dom Capers to immediately apply double coverage on Jefferey if things immediately go south.
Advantage: Bears
Cameron Meredith versus Packers Safeties and Cornerbacks
No receiver in the NFL has been more productive than Cameron Meredith over the last two games. The unheralded second-year man has caught 20 of his 27 targets for 243 yards and a touchdown during that stretch.
The 6-foot-3 Meredith has exceeded most people's expectations since taking over for the injured Kevin White as the type of weapon that has displayed a keen awareness for getting open as well as outstanding elusiveness after the catch.
His run-after-catch skills were put to good use versus the Jaguars where he was made multiple defenders miss on a 36-yard completion.
Unlike many other young pass catchers trying to establish themselves at the next level, the one-time college quarterback catches everything in his hands and not allowing balls to get within the frame of his body.
Expect the Packers to use a variety of defenders and coverages to keep Meredith in check since Micah Hyde lacks the size and athletic ability to limit the ascending receiver in man coverage.
The University of Iowa product has become a valuable component that specializes in covering tight ends and making plays close to the line of scrimmage.
Green Bay's corners, safeties and linebackers must be quick to the ball whenever the ball is headed in Meredith's direction and they cannot afford to miss tackles.
The Packers' depleted pass defense currently ranks 21st in yards allowed while giving up the seventh-most touchdown passes (10).
Advantage: Bears
Jordan Howard versus the Packers Front Seven
The Bears' 2016 fifth-round pick hasn't wasted much time in claiming the top spot in Chicago's backfield thanks to the way he uses his powerful 230-pound frame to gain yards after contact.
After posting back-to-back 100-yard-plus efforts in Weeks 5 and 6, Howard came back to earth by gaining only 34 yards on 15 carries in Chicago's 17-16 loss to the Jags.
Much of that was the product of Jacksonville stacking the box with eight defenders and also the result of several missed blocks.
Center Cody Whitehair and right tackle Bobbie Massie, in particular, were either overpowered or beat with inside moves that deprived the rookie ball carrier of favorable cutback lanes.
After five weeks of routinely dominating the opposition's running attack, the Packers' front seven struggled mightily against the Cowboys, especially up front in the trenches where center Travis Frederick and right guard Zack Martin continually outmuscled Green Bay's down linemen.
Give the likes of Mike Daniels, Letroy Guion, Mike Pennel and Kenny Clark the slight edge over Chicago's interior where the inexperienced Whitehair a work in progress.
Advantage: Packer
Though Brian Hoyer has produced four 300-yard games with no interceptions in place of the injured Jay Cutler, Jacksonville limited the journeyman signal caller to 6.16 yards per attempt and prevented him from finishing off drives.
As a result, the Bears settled for field goals on drives that reached the six, the nine and 18 yard line.
That is the formula for Green Bay's success this week as they will need Clay Matthews and Nick Perry to get to Hoyer and, at the very least, force him to rush his delivery particularly when he gets inside the red zone.
The 31-year-old quarterback has shown patterns of getting flustered and throwing behind his receivers when he's under heavy duress.
Both starting outside linebackers must win their matchups against Chicago's bookends Charles Leno Jr. and Bobbie Massie, who have been vulnerable to the speed rush this season.
Massie, however, has grown more comfortable in manning his right tackle spot and given up fewer pressures in recent weeks. Leno, on the other hand, remains the team's most vulnerable piece among Hoyer's bodyguards.
The California-born blindside protector is known for his long arms, soft body and a general lack of awareness particularly versus stunts that he has shown an inability to pick up with any consistency.
Furthermore, Leno lacks the type of forceful punch to stop pass rushers in their tracks or even knock them off balance on pass plays.
Look for Matthews to bounce back from a sub-par showing and combine with Perry to penetrate the left side with inside and outside moves as both players will continually be flipping positions throughout the ball game.
Leno was responsible for four hurries and a sack last Sunday and is a far cry from Tyron Smith. Both Packers' edge rushers should be able to pad their stats Thursday night.
Advantage: Packers
Aaron Rodgers versus Chicago's Secondary
Rodgers' road to redemption begins Thursday night in Lambeau Field where he was last seen getting showered with boos in a dismal performance in which he not only missed open throws from the pocket, but also showcased deficiencies in his field vision skills, as evidenced by his interception to Cowboys' safety Barry Church.
To put things in perspective from a numerical standpoint, Pro Football Focus (PFF) ranked Rodgers 25th among quarterbacks in Week 6 with a grade of 37.8. None of his fellow teammates on offense scored worse.
The two-time MVP isn't benefitting from the fact that his line protection is affording him the second-highest average time to throw (3.01 seconds) since Rodgers is one of those rare specimens that operates better against the blitz.
With that being the case, can the Bears afford to keep their blitzes to a minimum in order let No. 12 throw from the pocket?
That certainly sounds reasonable except for the fact that Vic Fangio's defense gave up pass plays of 13 and 14 yards to Blake Bortles on the Jags' game-winning drive when they opted not to send an extra rusher.
The Bears are simply not getting enough production from their edge players outside of Willie Young who remains the only threat to sack the quarterback in light of injuries to Pernell McPhee, Lamarr Houston and Leonard Floyd.
As for how Rodgers matches up against a young Bears' secondary, Fangio's group of backfield defenders have given up their share of big plays and are especially weak at strong safety where Harold Jones-Quartey and Chris Prosinski have been exchanging reps.
Their cornerbacks, including Jacoby Glenn, Diondre Hall and elder statesmen Tracy Porter, have been beaten by a variety of receivers on big plays. In their Week 5 loss to the Colts, this secondary saw four different pass catchers make plays of 20 yards plus.
Last week, their most experienced corner man (Porter) badly blew his coverage of Arrelious Benn on a 55-yard game-winning touchdown catch. The last time the seventh-year veteran scored a touchdown was 2011.
Anticipate Rodgers building on his newfound chemistry with Ty Montgomery this week, as Chicago will be more heavily focused on keeping Jordy Nelson and Randall Cobb under wraps.
Advantage: Packers
The X-factor
Knile Davis/Don Jackson: In case you've been holed up in cave over the past week, both Lacy and Starks are out with lower-body injuries, which have necessitated the Packers to pull off a trade with the Chiefs for Knile Davis.
The SEC product brings impressive size to the table at 227 pounds along with uncommon speed for man his size and the ability to make defenders miss. Unfortunately for the 25-year-old back, his measurables haven't been enough to offset an assortment of injuries that have plagued him since his college days and ball-security issues.
He will undoubtedly play a role versus the Bears, but how big of a workload he'll be able to assume with one of practice under his belt remains to be seen.
The Packers may also bring up Don Jackson from the practice squad. The rookie ball carrier features toughness and speed, but isn't nearly as big as Davis at about 210 pounds.
The Bears' middle-of-the-road run defense has taken a major hit in recent weeks with an ankle injury suffered by nose tackle Eddie Goldman, who remains very iffy for Thursday night's tilt.
This article originally appeared on