Chicago Bears: Brian Hoyer vs. Jay Cutler Stat Comparison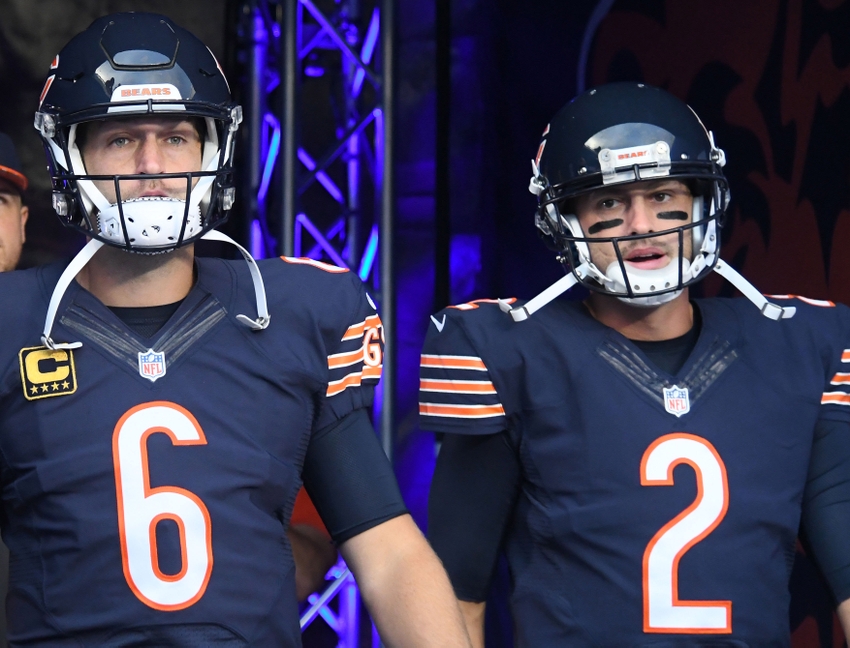 The Chicago Bears are caught up in their second quarterback controversy in four seasons. This time it involves Brian Hoyer and Jay Cutler.
Debates have raged both internally and externally about what the teams should do. On the one hand is Hoyer, an efficient player who doesn't turn the ball over. On the other is Cutler, the more erratic but also more talented passer. Some believe Hoyer has played well enough to keep the starting job for the time being. Others think he's merely doing his job as a backup and Cutler is the best chance the Bears have to win.
Often the best way to help settle such arguments is with stats. Does Cutler's talent superiority reflect in the numbers? Over the past 16 games the two quarterbacks have played dating back to 2015, here is how they match up.
Cutler:
3,875 passing yards
22 touchdowns
12 interceptions
59.78 completion percentage
Hoyer:
3,834 passing yards
26 touchdowns
8 interceptions
61.98 completion percentage
Please keep in mind that this is not about making excuses for either player. It is merely using actual statistics to enforce a comparison. The fact of the matter is over the past 16 games played by the two quarterbacks, Hoyer holds a pretty decisive edge over Cutler. He just jut 40 fewer passing yards but four more touchdowns, four fewer interceptions and a better completion percentage.
Yes, Cutler is more physically talented than Hoyer. That's beyond dispute. He can make the Bears offense more explosive. However, there is more to playing quarterback than just talent. Hoyer has demonstrated a keener sense of how to run the offense more efficiently. He plays with a greater rhythm, understanding how to get the ball out fast. This eases pressure on the offensive line. He also spreads the ball around more.
In his past three games Hoyer has hit 7,7, and 8 different receivers in the game with at least one pass. During his last three (completed) starts Cutler has hit 6, 6, and 5 different receivers. This is another reason added to the list of why Jay has a higher interception rate. He tends to favor certain targets and sticks with them. That makes it easier for defenses to concentrate their coverages.
People are piling on Hoyer for not being good enough, but is that really fair? Just one team ever really gave him the chance to remain a starter and he took them to the playoffs. Then the Houston Texans dumped him because of one bad playoff performance in favor of a more talented Brock Osweiler. Now the Texans offense is a mess and Hoyer has clearly outplayed his replacement every week since taking over.
So far the biggest drawback about him is a lack of willingness to target Alshon Jeffery. While a fair criticism, it's also one that can be adjusted. Don't forget Hoyer and Jeffery never really practiced together much during training camp. They're still unfamiliar with each other. That will change with time. The bottom line is the Hoyer vs. Cutler debate cannot be solved as long as one is still hurt and the other is playing well. It's the duty of any head coach to stay with the hot hand until it's no longer hot.
Marc Trestman went back to Cutler in 2013 after Josh McCown scored five touchdowns against Dallas. The Bears went 1-2 in the final three games even though Cutler played well in two of them. It's not just about ability. It's also about maintaining familiarity and rhythm. Constantly changing who the starting quarterback is can really upset the effectiveness of an offense. That is why Chicago can't remove Hoyer until they have a good excuse to.
This article originally appeared on